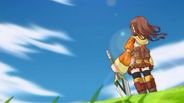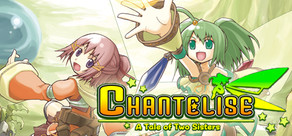 Een wispelturige actie-RPG van de makers van de alom bekende Recettear ~ An Item Shop's Tale. Koop alvast voor 5 augustus en bespaar!
Releasedatum: 29 jul 2011
HD-video bekijken
Chantelise - A Tale of Two Sisters kopen
Pakketten die deze game bevatten
Carpe Fulgur Collection kopen
Bevat 3 items: Recettear: An Item Shop's Tale, Chantelise - A Tale of Two Sisters, Fortune Summoners
Info over het spel
Vijf jaar geleden veranderde de vloek van een heks onder een rode maan Chante in een fee. Nu zoeken zij en haar zus Elise een manier om haar weer terug te veranderen in een mens, en tijdens hun reis stuiten ze op een bepaalde stad, die het thuis is van meerdere dichtbijgelegen ruïnes, een eigenaardige winkeleigenaar die Aira heet, en een vreemde waarzegger die zichzelf Elma noemt. Zou deze plaats de oplossing kunnen hebben om Chante weer normaal te maken? Of zal het naar meer antwoorden leiden dan onze twee zussen ooit hadden willen weten?...
Belangrijkste onderdelen
Een actie-RPG voor de PC met een klassieke stijl!
Een schat om te vinden in elk gebied!
Creatieve baasgevechten om de speler uit te dagen!
Volledige controllerondersteuning, waaronder volledige Xinput-trigger en rechterstick-cameracontrole-ondersteuning!
Vijf hoofdkerkers, plus twee bonuskerkers! Uren en uren aan gameplay!
Sportvissen! Met verzamelbare vissen!
Systeemeisen
Besturingssysteem: Windows XP/Vista/7
Processor: Pentium 4 1,7 GHz of Athlon XP 1700+ (of een vergelijkbare processor)
Geheugen: 256 MB RAM (512 MB aangeraden voor Windows Vista en 7)
Videokaart: DirectX 8.1-compatibele videokaart van welk type dan ook met minstens 64 MB videogeheugen; Getest met NVIDIA en ATI (Intel Integrated Graphics ouder dan de Intel HD-serie niet aangeraden)
DirectX®: 8.1 of hoger
Harde schijf: 450 MB
Geluidskaart: DirectX 8.1-compatibele geluidskaarten
Nuttige klantrecensies