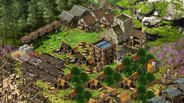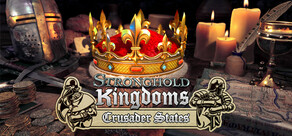 Live the life of a medieval lord in Stronghold Kingdoms, the world's first persistent Castle MMO.
Release Date: Feb 27, 2012
Watch HD video
Downloadable Content For This Game
Reviews
"There's a whole lot to keep strategy veterans happy"
8.5 – Strategy Informer

"A level of depth that goes beyond the normal Stronghold games"
Hooked Gamers

"It's truly NOT a pay to win game"
ZAM

About the Game

Update 13: Quests
Our June update adds nearly 30 new Quests to Stronghold Kingdoms, delivering one of the most popular requested features from players in 2014. With new AI lurking in the Kingdoms and areas of gameplay as of yet explored in Quests, we have decided to craft brand new Quest paths and extend a few old ones, giving players higher rewards for greater displays of skills and cunning.
This new set of objectives includes brand new Quest paths such as the Villain, Wolf's Nemesis and Peacemaker requiring players to attack friendly castles, AI opponents and prevent conflict through use of religion. Players who complete these new Quests will be rewarded with resources such as Gold, Wood and Stone. In addition there is also exclusive in-game content to be claimed, such as Premium Tokens, Faith points and new Coat of Arms designs to strike fear in the hearts of other players.
Game Description
Live the life of a medieval lord in Stronghold Kingdoms, the world's first persistent castle MMO. A unique PC Strategy game, Stronghold Kingdoms brings together online interactivity and community, with a richly-depicted medieval world and thousands of real world players.
Besiege the castle that's never been taken, overthrow ruthless tyrants, bankroll your faction's war effort, pillage your neighbour's resources, peacefully raise cattle or do it all! A range of stats, rankings and achievements gives every player something to aim for, from 'Banquet King' and 'Peacebringer' to 'Besieger of the Month' and 'Lionheart'! Factions, elections, liege lords and their vassals all provide a real sense of structured community, with many different ways to chat with other players, discuss strategies and build allegiances.
While an impregnable castle should be at the heart of any lord or lady's domain, you can also specialise with a vast research tree. Starting as a humble peasant, each promotion brings with it valuable research points to spend on trading, diplomacy, warfare, farming, religion and more. Be aware though, as your power grows so does your responsibility. Your vassals and parishioners will look to you for guidance and leadership. You may find yourself fighting for the crown itself!
Key Features
Build Your Online Stronghold – Crush the invading hordes with impenetrable castle defences. Then launch a counterattack!

Plot the Perfect Village – Plan your village layout, arrange buildings for maximum productivity and watch it come to life.

Explore a Vast Research Tree – Are you a farmer, trader, diplomat or warlord? Research new technology to specialise and gain the edge.

Fight For Your Faction – Join a faction, attack its enemies and return triumphant with their captured banners!

Play for Free! – Stronghold Kingdoms is free to play, so no subscription or upfront payment is required.
System Requirements
OS: Windows XP SP2, Windows Vista SP1 or Windows 7 (Windows Update Recommended)

Processor: 1GHz or Faster

Memory: 512Mb RAM for Windows XP (1GB for Windows Vista & 7)

Hard Disk Space: 150 Mb of Hard Drive Space

Video Card: DirectX 9 Compatible Graphics Card

©2014 FIREFLY STUDIOS LIMITED. All rights reserved. Stronghold Kingdoms and FIREFLY STUDIOS LIMITED are trademarks or registered trademarks of FIREFLY HOLDINGS LIMITED.
Helpful customer reviews