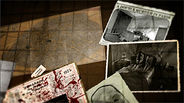 Tras volver a las tranquilas calles de París en busca de una vida de pintor, Gus Macpherson no pudo escapar de su verdadero arte…
Fecha de lanzamiento: 1 de Nov, 2002
Ver vídeo en alta definición
Paquetes que incluyen este juego
Análisis
"Concebido con belleza y ejecutado de la misma forma."
88% – ActionTrip
"Un thriller escalofriante, desafiante, inteligente y tenebroso."
75% – JustAdventure
"Cuenta una historia racional de una forma interesante y ofrece giros insólitos en el contexto de los asesinatos esotéricos."
87% – PC Gameworld
Acerca del juego
¡ADÉNTRATE EN UN THRILLER PURO EN EL QUE NADA ES LO QUE PARECE!
Tras volver a las tranquilas calles de París en busca de una vida de pintor, Gus Macpherson no pudo escapar de su verdadero arte…
El anteriormente detective de Nueva York se encuentra a sí mismo patrullando una vez más, contratado por una sensual mujer para investigar las horribles decapitaciones de su hermana y su cuñado. Estando en las oscuras y misteriosas calles de París y asediado por su agudo sexto sentido, Gus descubrirá una conspiración escrita en sangre, con rituales y artefactos tan antiguos como el propio tiempo.
Características principales:
Impresionantes y hermosas vistas panorámicas de 360 grados
Personajes intrigantes y profundos
Escenarios realistas y detallados
Rutas alternativas de juego integradas en la historia
Puzles creativos y originales
Precuela del juego de aventuras Still Life
Requisitos del sistema
SO: Windows® XP / Vista™ / Windows® 7
Procesador: 1.0 GHz
Memoria: 512 MB de RAM
Disco Duro: 1 GB de espacio libre
Gráficos: Gráfica con 64 MB de memoria dedicada
Sonido: Dispositivo compatible con DirectX 9.0c
Versión de DirectX®: 9.0c
2011 © Meridian4. All rights reserved. Post Mortem is a trademark of Microids and Anuman. All rights reserved. All other trademarks and copyrights are the properties of their respective owners.
Análisis útiles de usuarios