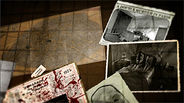 Nach seiner Rückkehr zu den leisen Straßen von Paris kann Gus Macpherson sich dem Sog seiner wahren Kunst nicht entziehen…
Veröffentlichung: 1. Nov. 2002
HD-Video ansehen
Pakete, die dieses Spiel enthalten
Reviews
"Wunderschön erdacht und ausgezeichnet ausgeführt."
88% – ActionTrip
"Eine gruseliger, herausfordernder, intelligenter und atmosphärischer Thriller."
75% – JustAdventure
"Eine fesselnde Geschichte wird hier auf interessante Weise erzählt und bietet einige neue Wendungen im Bereich okkulter Mordfälle."
87% – PC Gameworld
Über das Spiel
ERLEBEN SIE EINEN EINZIGARTIGEN THRILLER, IN DEM NICHTS SO IST, WIE ES ZUERST ERSCHEINT!
Nachdem er in die ruhigen Straßen Paris zurückkehrte um dort einem Leben als Maler nachzugehen, konnte sich Gus Macpherson seiner wahren Begabung nicht entziehen…
Der ehemalige Detektiv aus New York drehte wieder seine Runden, als er von einer sinnlichen Frau beauftragt wird die grausame Enthauptung ihrer Schwester und deren Schwager zu untersuchen. In den dunklen und mysteriösen Straßen von Paris und geplagt von seinem hellseherischen sechsten Sinn, wird Gus eine blutige Verschwörung aufdecken müssen, die auf uralten Ritualen und Artefakten basiert...
Besondere Eigenschaften:
Atemberaubend schöne 360° Panoramaszenen
Prächtige und faszinierende Charaktere
Detaillierte, realistische Umgebungen
Mehrere Spielwege in der Geschichte integriert
Originelle und kreative Rätsel
Die Vorgeschichte zum Adventure 'Still Life'
Systemvoraussetzungen
Betriebssystem:Windows® XP / Vista™ / Windows® 7
Prozessor:1.0 GHz CPU
Speicher:512 GB
Festplatte:1 GB
Grafik:Grafikkarte mit 64 MB Speicher
Sound:Soundkarte mit DirectX 9.0c Unterstützung
DirectX®:9.0c
2011 © Meridian4. All rights reserved. Post Mortem is a trademark of Microids and Anuman. All rights reserved. All other trademarks and copyrights are the properties of their respective owners.
Hilfreiche Kundenreviews