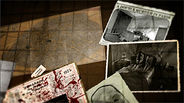 Après son retour dans les rues tranquilles de Paris pour vivre son destin de peintre, Gus Macpherson ne pouvait échapper à son vrai art...
Date de parution: 1 nov 2002
Visionner la vidéo HD
Packages qui comprennent ce jeu
Articles
"Magnifiquement conçu et tout aussi bien réalisé."
88% – ActionTrip
"Un thriller effrayant, difficile, intelligent à l'atmosphère pesante."
75% – JustAdventure
"Raconte une histoire irrésistible d'une manière intéressante et offre des rebondissements sur le thème occulte du meurtre."
87% – PC Gameworld
À propos du jeu
PLONGEZ DANS CE THRILLER OÙ LES CHOSES NE SONT FINALEMENT PAS CE QU'ELLES ON L'AIR D'ÊTRE !
De retour à Paris pour s'adonner à la peinture, Gus Macpherson ne pouvait pas échapper à son destin…
Le détective New-Yorkais se retrouve ainsi, une fois de plus, sur les lieux du crime : il est engagé par une femme enquêter sur la décapitation de sa sœur et de son beau-frère. C'est dans les ruelles de Paris que Gus va découvrir une conspiration écrite dans le sang.
Comprend :
Vues panoramiques à 360 degrés
Personnages riches et intriguants
Environnement détaillé et réaliste
Plusieurs façons de suivre l'histoire
Énigmes originales
Prologue à l'aventure de Still Life (nature morte)
Configuration requise
Système d'explotation : Windows® XP / Vista™ / Windows® 7
Processeur : Processeur 1.0 GHz
Mémoire vive : 512 Mo de RAM
Espace disque : 1 Go d'espace disque disponible
Carte graphique : Carte graphique comportant 64 Mo de mémoire vidéo
Son : Carte son compatible DirectX 9.0c
DirectX® : 9.0c
2011 © Meridian4. All rights reserved. Post Mortem is a trademark of Microids and Anuman. All rights reserved. All other trademarks and copyrights are the properties of their respective owners.
Évaluations intéressantes des utilisateurs