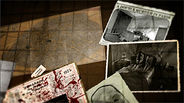 After returning to the quiet streets of Paris to pursue a life of painting, Gus Macpherson could not escape his true art…
Data de lançamento: 1/nov/2002
Assistir ao vídeo em HD
Pacotes que incluem este jogo
Análises
"Beautifully conceived and just as well executed."
88% – ActionTrip
"A creepy, challenging, intelligent and atmospheric thriller."
75% – JustAdventure
"Tells a compelling story in an interesting way, and offers some novel twists on the occult murder theme."
87% – PC Gameworld
Sobre o jogo
ENTRE NUM PURO SUSPENSE ONDE NADA É O QUE PARECE!
Após retornar às quietas ruas de Paris para seguir uma vida de pintura, Gus Macpherson não pôde escapar da sua verdadeira arte…
O ex-detetive de Nova Iorque encontra-se em serviço mais uma vez, quando contratado por uma mulher sensual para investigar os horrendos decapitamentos da sua irmã e do seu cunhado. Nas sombrias e misteriosas ruas de Paris e atormentado pelo seu sexto sentido clarividente, Gus desvendará uma conspiração escrita em sangue, com rituais e artefatos tão antigos quanto o próprio tempo.
Características principais:
Cistas panorâmicas estonteantes em 360º.
Personagens ricos e intrigantes.
Ambiente detalhado e realista.
Múltiplos caminhos de jogo integrados à história.
Quebra-cabeças originais e criativos.
Prólogo do jogo de aventura Still Life.
Requisitos de sistema
Operating system:Windows® XP / Vista™ / Windows® 7
Processor:1.0 GHz CPU
Memory:512 GB
Hard disk space:1GB
Video:Video Card with 64MB dedicated memory
Sound:Sound card with DirectX 9.0c support
DirectX®:9.0c
2011 © Meridian4. All rights reserved. Post Mortem is a trademark of Microids and Anuman. All rights reserved. All other trademarks and copyrights are the properties of their respective owners.
Análises úteis de usuários