6 août 2014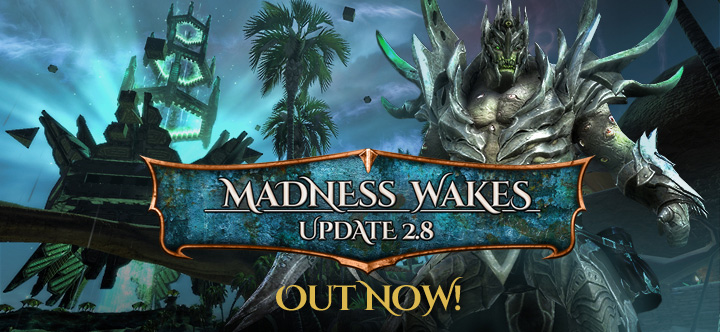 The Infinity Gate lumbers through portentous skies as a dark presence returns to Telara. From the forests of Silverwood to the shores of Pelladane, mortals succumb to a magical sleep. And somewhere off Fortune's Shore, across a bridge unopened, nightmares plot a haunting reunion with their unwitting creators. Madness Wakes has arrived!

RIFT 2.8 unleashes a story arc surging toward the Nightmare Tide expansion. It throws open the gates to Nightmare Coast, the first RIFT 3.0 Dungeon pitting the Ascended against Lord Arak and his troubled minions with huge implications for the future of the planes. Meanwhile, seas of change bring major additions to Auction House features, a full revamp for the Pyromancer Soul, and more. Check out the trailer for a first look at Madness Wakes, or jump to the RIFT Community Blog for all the details!
8 commentaires
Lire la suite
1 juillet 2014

We recently introduced four epic Starter Packs for your RIFT playing pleasure! These all-new bundles are loaded with bonus items and goodies to aid in your quest to save Telara. From the Classic Collector's Pack (including a mount, pet, Patron time, and character and bag slots), to the mighty Laethys' Fortune (with its bottomless hoard of Ascended loot), there's a pack to fit your interests.


Purchase a pack today!
23 commentaires
Lire la suite
Articles
"RIFT delivers top notch gameplay in spades."
Ten Ton Hammer

"Puts the 'massive' back into MMORPG."
PC Gamer

"It's fantastic. Go get it."
Gaming Trend

À propos du jeu
Free-to-Play : Zéro limite. Zéro condition. Zéro piège.

Rejoignez des milliers de joueurs dans RIFT®, le MMORPG gratuit primé par la critique à de multiples reprises, sur le monde de Telara en qualité d'Élu immortel. Livrez-vous à de rudes batailles contre les armées primitives des Plans élémentaires au cœur d'un paysage d'une diversité inouïe, théâtre de combats dynamiques d'envergure gigantesque, ainsi qu'au sein d'une multitude de donjons et de raids. Créez votre classe sur mesure au moyen du Système des Élus, et commencez une aventure de conflits épiques qui vous plongeront toujours plus loin dans l'histoire. Votre expérience du jeu de rôle atteindra de nouveaux sommets : en route vers d'uniques exploits et frissons à couper le souffle!

Créez votre propre classe: aucun autre jeu ne vous permet de créer votre classe comme RIFT®. Faites-vous spécialiste d'une même classe, ou profitez des nombreuses capacités pour vous créer un personnage sur mesure – prenez plaisir à expérimenter!

Choisissez votre rôle: chaque personnage peut adopter plus d'une dizaine de Rôles préétablis, afin que vous ayez une classe adaptée à chaque situation. Construisez une classe JcJ et une classe pour les raids, et pourquoi pas une autre avec par exemple des capacités offensives ou défensives élevées. Façonnez-vous des Rôles sur mesure, et permutez-les au moyen d'un simple bouton : à vous les pleins pouvoirs!

Des batailles dynamiques massives: les invasions de zone engendrent des affrontements épiques qui vous plongent au cœur de l'histoire ! Sauvez le monde aux côtés de centaines d'autres joueurs, et battez-vous pour reprendre les terres occupées par l'envahisseur.

Donjons et raids: l'univers de Telara est criblé de scènes de guerre et de périls, avec plus de 30 donjons et raids ! Quels que soient le défi que vous recherchiez et la taille de votre groupe, une myriade de choix s'offre à vous : instances de 2, 5 10 et 20 joueurs plus des modes de difficulté supérieure en donjons, pour ne citer qu'eux.

Combat JcJ: mesurez-vous à d'autres joueurs dans des combats en Joueur contre Joueur à couper le souffle ! Gravissez les rangs JcJ, remportez des titres en jeu et récupérez du butin pour améliorer votre personnage. Participez à un champ de bataille inter-serveur ou jouez au mode Conquête faisant s'opposer trois coalitions différentes, ou affrontez d'autres joueurs en monde ouvert JcJ.

Dimensions: des espaces habitables et personnalisables permettent aux joueurs et aux guildes de posséder leurs propres bouts de Telara. Utilisez une foule de blocs de construction et d'objets acquis au fil de vos aventures pour édifier vos rêves les plus fous!

Jeu gratuit et complet: Aventures instantanées, Assauts, événements mondiaux, guildes, artefacts, tenues pour vos personnages et plus encore ! RIFT est le MMORPG par excellence, dont le modèle Free-to-Play sans égal permet à ses joueurs de profiter gratuitement du jeu, et ce dans son intégralité.
Configuration requise
Minimum :


Système d'exploitation : Windows XP, Vista ou 7

Processeur : Dual Core 2.0 GHz ou meilleur

Mémoire vive : 2 Go

Affichage : Nvidia GeForce FX 5900, ATI/AMD Radeon X300, Intel GMA X4500 ou meilleure.

DirectX® : 9.0c mise à jour juin 2010

Disque dur : 15 Go

Son : Carte compatible DirectX 8.1

Other: Internet haut débit (ADSL ou autre)
© 2014 Trion Worlds, Inc. Trion, Trion Worlds, RIFT, Storm Legion, Telara et leurs logos respectifs sont des marques ou marques déposées de Trion Worlds, Inc. aux États-Unis et dans d'autres pays.
Évaluations intéressantes des utilisateurs
Récompenses
Vainqueur du Meilleur Nouveau Jeu en Ligne et Meilleure Technologie en Ligne de l'édition 2011 des
GDC Online Awards
.