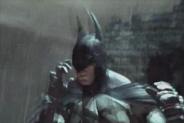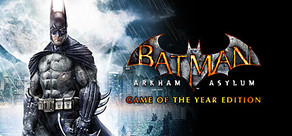 Tapasztald meg, milyen Batmanként szembeszállni Gotham leghírhedtebb bűnözőivel, közben szabadon felfedezve a hírhedt Arkham Asylum minden szegletét.
Megjelenés dátuma: 26 Márc 2010
Nézd meg a HD videót
A játékról:
A kritikailag elismert Batman: Arkham Asylum egy újragondolt Game of the Year kiadásban tér vissza, amelyben olyan 4 extra Challenge pálya kapott helyet, mint a Crime Alley; Scarecrow Nightmare; Totally Insane és a Nocturnal Hunter (utóbbi kettő az Insane Night Map Packből).
Használd az egyedi FreeFlow™ harcrendszert, hogy korlátlan számú kombót fűzve össze folyamatos sorba küzdj meg Joker csatlósaival brutális közelharcokban

Nyomozz Batman, a VILÁG LEGNAGYSZERŰBB DETEKTÍVJE szerepében, és oldj meg bonyolult fejtörőket olyan csúcstechnikás nyomszakértői eszközök segítségével, mint a röntgen-, és ujjlenyomat-leolvasó, az 'Amido Black' spray vagy a feromon nyomkövető.

Szállj szembe Gotham leghírhedtebb gonoszaival: JOKER, HARLEY QUINN, MÉREGCSÓK és GYILKOS KROK

Hatástalanítsd megfélemlített ellenfeleidet, miközben láthatatlanná válsz a Predator™ módban. Használd ki helyzeti előnyödet és vadászd le az ellenséget anélkül, hogy meglátnának.

Válaszd ki, miként hatástalanítod ellenfeleid. Csapj le az égből vagy törj át a falakon.

Fedezd fel az Arkham Asylum minden szegletét és barangold be szabadon a hírhedt szigetet, amit most láthatsz először a maga zord és teljes valójában.

Tapasztald meg, milyen BATMANKÉNT a DENERÁNGOT, a robbanó zselét, a Denevérkarmot, a hangrezonátort és a kötélvetőt használni.

Teljesíts rejtett kihívásokat a szigeten, amivel még több titokról ránthatod le a leplet és fejleszd, illetve szabd testre a felszerelésed az elért tapasztalati pontok felhasználásával.

Élvezd a teljes szuperhős szabadságot Batman csáklyapisztolyával, eljutva bármilyen látható helyre. Ugorj le bármekkora magasságból és vitorlázz bármely irányba.
Rendszerkövetelmények
OS: Vista/XP

Processor: 3Ghz Intel or AMD or any Dual Core

Memory: 1GB Ram(XP)/2GB Ram

Graphics: PCI Express SM3 NVidia 6600/ ATI 1300

DirectX®: 9

Hard Drive: 8GB free space

Sound: Any onboard sound card

BATMAN: ARKHAM ASYLUM software © 2013 Warner Bros. Entertainment Inc. Developed by Rocksteady Studios.

BATMAN and all characters, their distinctive likenesses, and related elements are trademarks of DC Comics © 2013. All Rights Reserved.
WB GAMES LOGO, WB SHIELD: ™ & © Warner Bros. Entertainment Inc.
(s13)
Hasznos vásárlói értékelések