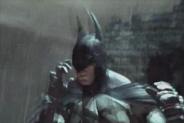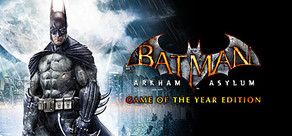 Experience what it's like to be Batman and face off against Gotham's greatest villians. Explore every inch of Arkham Asylum and roam freely on the infamous island.
Дата на излизане: 26 март 2010
Преглед на HD видео
Закупуване на Batman: Arkham Asylum GOTY Edition
СДЕЛКА НА УИКЕНДА! Приключва на 22 септември
Относно играта
Всепризнатата Batman: Arkham Asylum се завръща с подобрената "Игра на годината", включваща 4 карти с предизвикателства. Те са Crime Alley, Scarecrow Nightmare, Totally Insane и Nocturnal Hunter (двете са от пакета карти Insane Night).
Използвайте уникалната бойна система FreeFlow™, за плавно свързване на неограничен брой комбинации при битки с големи групи от последователите на Жокера в брутални ръкопашни схватки;

Разследвайте като Батман, НАЙ-ВЕЛИКИЯ ДЕТЕКТИВ НА СВЕТА, разкривайки заплетени пъзели с помощта на най-съвременните криминалистични инструменти, които включват рентгеново зрение, сканиране на отпечатъци, "Амидо блек" спрей и феромонен следотърсач;

Опълчете се срещу най-големите злодеи на Готъм, които включват Жокера, ХАРЛИ КУИН, ОТРОВНАТА АЙВИ и УБИЙСТВЕНИЯ КРОК;

Превърнете се в Invisible Predator™(Невидимия хищник) със страховитите поваляния и системата с уникални позиции за нападение на Батман, така че да не бъде забелязан, докато ловува своите врагове;

Изберете разнообразни методи за поваляне, които включват спускане от висините и разбиване през стени;

Проучете всеки сантиметър от лудницата Аркъм, движете се свободно по позорния остров, представен за пръв път в своята реалистична цялост и със специфичния си характер;

Преживейте какво е да си БАТМАН, който ползва БАТАРАНГИ, експлозивен аерозолен гел, Батприхващача, сонарния резонатор и въжето за бързо придвижване;

Разкрийте още тайни завършвайки скрити предизвикателства в света, развийте и персонализирайте екипировката като печелите точки опит;

Насладете се на пълната свобода да сте супер герой в тази обстановка като използвайте пистолета с абордажна кука на Батман, за да стигнете до всяко място, което виждате, скочете от всяка височина и се спуснете плавно във всяка посока.
Системни изисквания
Операционна система: Vista/XP;

Процесор: 3Ghz Intel, AMD или който и да е Dual Core;

Памет: 1GB (XP)/2GB;

Видеокарта: PCI Express SM3 NVidia 6600/ ATI 1300;

DirectX®: 9;

Свободно дисково пространство: 8GB свободно място;

Звукова карта: Каквато и да е налична;

Други изисквания: Играта в мрежа изискване влизане в Games For Windows — Live.

BATMAN: ARKHAM ASYLUM software © 2013 Warner Bros. Entertainment Inc. Developed by Rocksteady Studios.

BATMAN and all characters, their distinctive likenesses, and related elements are trademarks of DC Comics © 2013. All Rights Reserved.
WB GAMES LOGO, WB SHIELD: ™ & © Warner Bros. Entertainment Inc.
(s13)
Полезни рецензии от клиенти