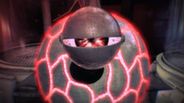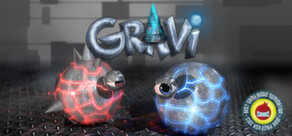 Το Gravi είναι ένα δυνατό puzzle-platformer παιχνίδι το οποίο θα δοκιμάση την αντοχή σας για πόνο. Χτύπιστε και λίγιστε τον δρόμο σας προς την νίκη παίζοντας Gravi, μια μπλε αξιολάτρευτη μπάλα γεμάτη ενέργεια.
Ημερομηνία κυκλοφορίας: 8 Οκτ 2013
Δείτε βίντεο υψηλής ευκρίνειας
Παιχνίδι με Early Access
Αποκτήστε άμεση πρόσβαση και ασχοληθείτε με το παιχνίδι καθώς εξελίσσεται.
Note: This Early Access game may or may not change significantly over the course of development. If you are not excited to play this game in its current state, then you may want to wait until the game progresses further in development. Learn more
Τι λένε οι παραγωγοί:
"We wanted to take a few minutes and discuss with you all what our plan is for Gravi, what will be included with Early Access, and what will be added into the final release of Gravi on Steam.

First off, for those of you who don't know, Early Access is a way that you can buy a game on Steam before all the features have been added to the game. It's kind of like Steam's way of making a purchasable beta of the game. Some games in Early Access are more complete than others, and some games have the core concept down while the developers continue to add features, goodies, and polish to the game.

While many of Gravi's features are representative of what you should expect to find in the completed game, we felt a need to make the Steam version of Gravi the best it can possibly be. Therefore, anything we make from Early Access sales will be reinvested to make Gravi even better!

Here is the plan and what you get with Early Access.

Gravi currently has 40 levels of gameplay and you will get the ability to play all 40 levels.

Gravi already has 25 achievements that are possible to get and, with Early Access, you will be able to get these achievements as you would any other Steam Achievements.

We have added Trading Cards, which I've previously posted about, and those also will be available during Early Access.

Gamepad support will be enabled and working; however, we are going to need some time to ensure that ALL gamepad types are supported, so gamepad support may be partial, and we will rely on you to report if your gamepad is not working so we can fix it pronto!

Here is the plan for further development after the Early Access release, and keep in mind that those who have purchased Early Access will get constant updates as we add features.

We want to enhance the storyline of Gravi. Currently, the storyline doesn't really carry over from the game trailer into the gameplay, and we aim to change that. For an evil villain, Anti-Gravi doesn't really make much of an impact on Gravi for most of the game, only showing up at the end of each chapter. We plan to give Anti-Gravi more screentime by adding him to more levels and totally re-engineering his chapter-end battles so that they're bigger and better.

We've also designed a new type of collectibles which act as energy pickups for Gravi. You'll need to fill up an energy bar in order to proceed to the next level, as this energy will power a door at the end of each level.

These collectibles will serve two purposes. First, they will help to better define where you should be heading inside of any given level. Second, they will also add difficulty to each level and allow us to balance the levels in the each chapter a little better.

With the inclusion of new collectibles, we also have some plans to super-charge the current set of green collectibles found on each level — yeah, those ones that are a pain in the ass to get. Not only will you get achievements for collecting them, but you'll also be able to use them to purchase items from the Gravi Store. While nothing is set in stone yet, these items can range from anything like new visual flair for Gravi to game-changers like power-ups and other playable characters...even the ability to roll out as Anti-Gravi.

On top of all that, we'll be adding more achievements that you can acquire, rewarding players for taking risks and trying out some of the harder solutions to Gravi's puzzles.

Of course, we also want to add some highly-desired language support, and while we have translations in the works, there is significant UI (User Interface) redesign that has to take place to support a variety of languages. So when the final product is released, you will find a whole new Menu System in place as well as multiple language support.

Last, but not least, we want to provide quality support for gamepads and controllers as well as Steam's Big Picture Mode, so we will be dedicating quite a bit of resources to ensure that Gravi supports as many controllers as possible and guarantee that the game looks spectacular in Big Picture Mode. Can anyone say Gravi on Steam Machine? Yes!" Περισσότερα
Trading Cards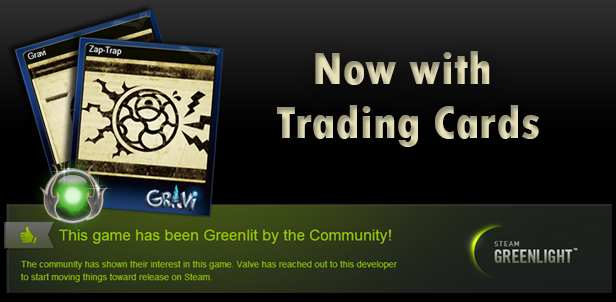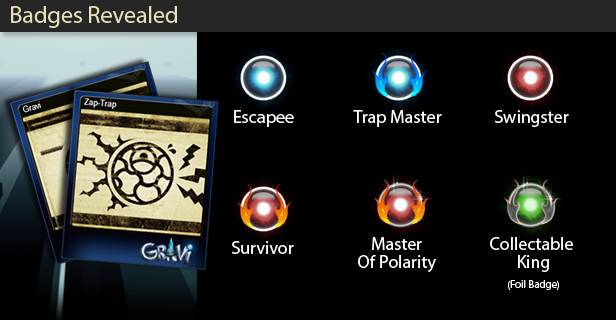 Platform Support
Released: Windows
Coming Soon: OSX & Linux
Σχετικά με το παιχνίδι
Το Gravi είναι ένα δυνατό puzzle-platformer παιχνίδι το οποίο θα δοκιμάση την αντοχή σας για πόνο. Χτύπιστε και λίγιστε τον δρόμο σας προς την νίκη παίζοντας Gravi, μια μπλε αξιολάτρευτη μπάλα γεμάτη ενέργεια. Καθώς προχωράτε παγίδες και λιγισμένοι δρόμοι θα αλλάζουν την βαρύτητά σας ενάντια την θέλησή σας, το Anti-Gravi, μια ατομική μπάλα απο οργή, που έρχετε προς τον δρόμο σας.

Μετά αφού χάσετε από τις γελίες παγίδες γεμάτες από υπογάστρια εξωγήινου μιας πειραματικής μονάδας, εσείς θα πρέπει να χρησιμοπιοίσεται το μιαλό σας και την επιμονή σας για να λύσετε μια σειρά απο μπερδεμένα puzzles. Στον δρόμο σας, τα όρια σας θα μπουν σε δοκιμασίες από όλα τα είδη κυνδίνου που περάσατε.

Μαζέψτε όλα τα συλλεκτικά αντικείμενα και παλέψτε εναντίον του Anti-Gravi για την ελευθερία σας. Αν μπορέσετε να επιβιώσετε στα 40 μοναδικά επίπεδα του Gravi και να νικήσετε το Anti-Gravi, τοτε μπορεί να καταφέρετε να βγείτε ζωντανοί.
Απαιτήσεις συστήματος
Minimum:


OS: Windows XP, Windows Vista, or Windows 7 / 8

Processor: Any - 1 core and up 1.5ghz and up

Memory: 2 GB RAM

Graphics: Any - Supports Direct X9 and up

DirectX: Version 9.0

Hard Drive: 500 MB available space

Sound Card: Any Sound Card Device
Recommended:


OS: Windows XP, Windows Vista, or Windows 7 / 8

Processor: Any - Dual Core or Quad Core 1.5ghz and up

Memory: 4 GB RAM

Graphics: Any - Supports Direct X9 and up

DirectX: Version 10

Hard Drive: 500 MB available space

Sound Card: Any Sound Card Device
Χρήσιμες κριτικές χρηστών
Τίτλος:
Gravi
Είδος:
Early Access
,
Indie
Δημιουργός:
Hashbang Games
Εκδότης:
Ημερομηνία κυκλοφορίας:
8 Οκτ 2013
Γλώσσες:
| | Διεπαφή | Πλήρης ήχος | Υπότιτλοι |
| --- | --- | --- | --- |
| Αγγλικά | | | |
Βραβεία
Προτάθηκε Best ήχου σε ένα παιχνίδι
- Casual Connect 2013