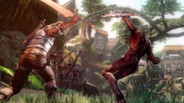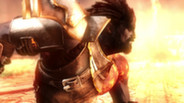 You are a mercenary possessed by a flame demon in a desperate world ravaged by seven Ice Lords. In this RPG where every choice counts, you will have to choose between unleashing the powers of the beast within and rejecting its demonic influence.
Data di rilascio: 8 mag 2014
Guarda tutti e 2 i trailer
5 maggio
Bound by Flame will be available on Friday! So to celebrate the week of the game launch on PC, here's a final teaser video of the most ambitious RPG from Spiders studio: a launch trailer with music by Olivier Derivière (Assassin's Creed, Remember Me), who has created an original Bound by Flame soundtrack that is thrilling and sublime.

https://www.youtube.com/watch?v=NZuHy2XZ7Z0

This latest Bound by Flame video highlights one of the important elements in the game, the background story and the gameplay: the relationship between the hero and the flame demon that possesses him. The choices and decisions you make in the game will determine if you allow your demonic side to predominate and gradually transform you physically in exchange for his powerful fire magic, or if you resist the demon's control and retain your humanity to develop your heroic skills.

Your human/demon duality will have a notable impact not only on your approach to the extremely tactical combat in the game, but also on the reaction of the people around you, particularly your relationship with your companions. It is therefore a central component in Bound by Flame that will influence your game experience depending on your choices and also assure gameplay longevity: players who want to try every possible way of progressing through the adventure are sure to start the game again to make totally different decisions from the first time!

Bound by Flame will be available on PC on May 9 2014.
12 commenti
Ulteriori informazioni
25 aprile
Bound by Flame, the most ambitious RPG to date from Spiders studios can now reveal its original soundtrack in a fabulous video with commentary from the composer Olivier Derivière and the singer Iré.

Olivier Derivière is a composer who won multiple awards for his work in video games (Remember Me, Assassin's Creed 4). In this video illustrated by many new sequences and enthralling excerpts from the game's soundtrack, Olivier tells us about his work on Bound by Flame. This is also the opportunity to discover singer Iré Zhekova, who gives her voice to some of the game's musics.


<iframe width="640" height="360" src="//www.youtube.com/embed/AP1_GYk6lyY" frameborder="0" allowfullscreen></iframe>
These two artists first explain how they steeped the music in an atmosphere of loneliness and despair conveyed in the dark atmosphere of the game. They also describe how they combined a murmuring choir with the clear sound of a single voice full of emotion to produce a sense of contrast between the game hero and the flame demon possessing him.
They invented an imaginary language for Iré's singing to explore the human voice and express emotions beyond the meaning of words and to express feelings of hope and fear. A total of several hours of original music was created for the game, which embraces many different styles and also enhances the somber and unique atmosphere that is the hallmark of this epic roleplay title. You can listen to more extracts from this extraordinary musical oeuvre on the
artist's SoundCloud page: Olivier Derivière!
Bound by Flame will be available on PC on May 9, 2104. The game pre-order phase for PC also opened yesterday on Steam with a special discount of 15%!
7 commenti
Ulteriori informazioni
Recensioni
"The mix of combat styles, spells, and abilities is fantastic"
IGN

"Bound by Flame is like Mass Effect set in a Medieval fantasy world"
GAMESRADAR

"We're pretty impressed with Bound by Flame"
DESTRUCTOID

Informazioni sul gioco
In un mondo senza speranza devastato dai sette Signori del Ghiaccio e dal loro esercito di non-morti, tu assumi il ruolo di Vulcan, un mercenario posseduto da un demone del fuoco.

In questo RPG in cui ogni tua decisione avrà le sue conseguenze, dovrai scegliere se liberare i poteri del tuo demone interno o rifiutare l'influenza demoniaca che intende privarti della tua umanità. Sviluppa liberamente le tue capacità e il tuo stile di combattimento attraverso tre alberi delle abilità: le armi pesanti del Lottatore, le furtive armi doppie del Ranger o i devastanti incantesimi infernali del Piromante. Recluta compagni che vivranno, ameranno, odieranno e combatteranno al tuo fianco contro le orribili creature di Vertiel in spettacolari combattimenti tattici in tempo reale.

Più grande è il pericolo, maggiore sarà la tentazione di ricorrere al potere demoniaco sacrificando la tua anima… quale strada sceglierai?
Requisiti di sistema
Minimum:


OS: WINDOWS XP SP3/WINDOWS VISTA SP2/WINDOWS 7/WINDOWS 8

Processor: AMD/INTEL DUAL-CORE 2.2 GHZ

Memory: 2048 MB RAM

Graphics: 512 MB 100% DIRECTX 9 E SHADERS 4.0 COMPATIBILE ATI RADEON HD 4850/NVIDIA GEFORCE 8800 GT O SUPERIORE

Hard Drive: 6 GB available space

Sound Card: DIRECTX 9 COMPATIBILE

Additional Notes: CONNESSIONE INTERNET RICHIESTA PER LA ATTIVAZIONE DEL GIOCO
© 2013 Spiders Studios and Focus Home Interactive. Bound By Flame is developed by Spiders Studios and published by Focus Home Interactive. Bound By Flame and its logo are trademarks or registered trademarks of Spiders Studios.
Recensioni utili dai clienti
Titolo:
Bound By Flame
Genere:
Azione
,
GDR
Sviluppatore:
Spiders
Editore:
Focus Home Interactive
Data di rilascio:
8 mag 2014
Lingue:
| | Interfaccia | Audio completo | Sottotitoli |
| --- | --- | --- | --- |
| Italiano | | | |
| Inglese | | | |
| Francese | | | |
| Tedesco | | | |
| Spagnolo | | | |
| Ceco | | | |
| Polacco | | | |
| Russo | | | |
| Cinese tradizionale | | | |
Mostra tutte e 9 le lingue supportate