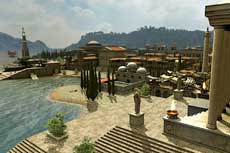 Raise massive armies, embark on epic campaigns to expand the Empire, and take control of the known world! Engage in grand-scale city building and create magnificent cities with creativity and control like never before.
Udgivelsesdato: 20 Mar 2009
Vis alle 2 trailere
Pakker, der indeholder dette spil
Køb Grand Ages: Rome GOLD
Includes Grand Ages: Rome and Grand Ages: Rome - Reign of Augustus
Om spillet
GRAND AGES ROME er den længe ventede opfølger til det storsælgende strategispil Imperium Romanum.
Du er guvernør i en romersk provins i det hæderkronede romerske imperium, og dets fremtid ligger i høj grad i dine hænder. Vælg en af fem romerske adelsfamilier som f.eks. Caesars Julii med forskellige muligheder for at gennemføre de omfattende missioner. Forsvar dig imod barbariske stammer, gør forretninger med andre kulturer, opbyg et velstående økonomisk miljø, og tilfredsstil folkets behov i en enorm singleplayer-kampagne eller med op til 3 menneskelige spillere i multiplayer-tilstand!
Og husk — selv Rom blev ikke bygget på én dag!
Samarbejds-multiplayer-tilstand — spil med dine venner via internettet. Hver enkelt spiller kan skabe og udbygge sin egen by eller nyde den unikke Team City-tilstand, hvor alle spillerne bygger på en enkelt by.

Konkurrerende multiplayer-tilstand — konkurrer imod dine venner via internettet i en af seks multiplayer-tilstande ("Last Man Standing", "King of the Hill", "Monument Victory", "100.000 Denarii", "Last Barbarians" og "All In One")

Vedholdende spillerfigur — talenter og ejendomme, der er tilegnet af figuren, lagres og bruges i efterfølgende missioner i kampagne, frit spil og multiplayer-tilstand.

Ikke-lineær kampagne med 40 missioner med historiske byer og lokaliteter

Over 60 bygninger

Over 50 enheder — inkl. byer, dyr og 18 militærenheder

Søkrig og kolonisering af øer

Ny og forbedret — brugervenlig ressourcemekanik, reduktionsområder for effekter på bygninger

Bystater — specialeffekter som f.eks. opstand, plage og guldalder, som ændrer gameplayet

Forskning — 30 teknologier, der giver nye bygninger, opgraderinger og militærenheder

Kaster — slaver, plebejere (den største gruppe af romerske borgere), ryttere (medlemmer af den romerske middelklasse mellem plebejerne og patriciere) og patriciere

Forbedret kampsystem med standard-RTS-styring over grupper

Militærenheder opnår erfaring og bliver bedre med tiden

Overlay-vinduer med informationer visualiserer byøkonomien og folkets tilfredshed på hver eneste lokalitet på kortet

Storslåede monumenter som f.eks. Colloseum, Circus Maximus og Pantheon
Systemkrav
Operativsystem: Windows® XP & Vista

Processor: CPU med 2 - 2,5 GHz

Hukommelse: 1 GB RAM

Harddiskplads: 4 GB

Video: 3D-grafikkort med 128 MB Ram

DirectX®-version: 9c
Helpful customer reviews