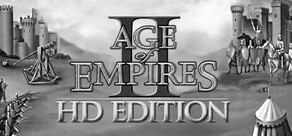 透過《世紀帝國 2 HD》(Age of Empires II: HD Edition),原作的愛好者和新玩家都將愛上經典的《世紀帝國 2》遊戲體驗。體驗探索原作和《征服者入侵》資料片的單人戰役劇情,選擇 18 種不同的文明並穿越數千年的歷史軌跡,並且透過 Steam 平台與線上玩家一較高下,稱霸世紀。
發售日: 2013年4月9日
觀看 HD 影片
購買 Age of Empires II HD - 4-Pack
Includes four copies of Age of Empires II HD - Send the extra copies to your friends!
包含此遊戲之套件
此遊戲的可下載內容
2014年4月2日
Hi AoE fans!

You can see the Age of Mythology Extended Edition trailer here: http://www.gamespot.com/videos/age-of-mythology-extended-edition-trailer/2300-6418101/

For more information about AoM: EE, be sure to visit the official webpage at http://www.ageofempires.com/aom.aspx

Enjoy! ːwololoː
44 則回應
繼續閱讀
2014年3月4日
----------
----------

There's a lot coming to AOE II HD in the next several months, the first of which is available today! If you've got The Forgotten expansion, make sure to check out the new free campaign (El Dorado) available now:

More information on the campaign and upcoming content can be found here: http://steamcommunity.com/app/221380/discussions/1/558749191529836657/
33 則回應
繼續閱讀
Steam Workshop
Advance to the Steam Age!
Explore new maps, multiplayer scenarios, and user created campaigns. Or reinvent your game experience with new sounds, visuals, AI, units, and more! Ready to share your creations with the world? Upload right from the map editor, or collaborate with friends to create a masterpiece collection.
推出新 DLC


Explore a host of new features with Age of Empires II - The Forgotten including

Five New Civilizations


Italians

Indians

Slavs

Magyars

Incas

Four New Campaigns


Alaric

Sforza

Bari

Dracula

New LudaKRIS map size

New Game Modes

Twitch streaming integration

Spectator Mode
Download the expansion today!
Steam Trading Cards


Steam Trading cards are now available for Age of Empires II: HD. Collect them all to craft badges, emoticons, coupons, and unique profile backgrounds!
關於此遊戲
透過《世紀帝國 2 HD》(Age of Empires II: HD Edition),原作的愛好者和新玩家都將愛上經典的《世紀帝國 2》遊戲體驗。體驗探索原作和《征服者入侵》資料片的單人戰役劇情,選擇 18 種不同的文明並穿越數千年的歷史軌跡,並且透過 Steam 平台與線上玩家一較高下,稱霸世紀。原版由 Ensemble Studios 開發,並經由 Hidden Path Entertainemnt 提升至高解析度相容,微軟工作室很榮幸能將《世紀帝國 2 HD》帶到 Steam 平台上!
系統需求
最低配備:


作業系統:Windows XP, Vista, 7, 8 Pro+

處理器:1.2GHZ CPU

記憶體:1 GB RAM

顯示卡:相容 Direct X 9.0c 的顯示晶片

DirectX® 版本:9.0c

硬碟空間:2 GB 可用硬碟空間
具參考價值的客戶評論