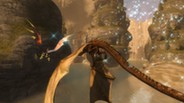 Dragons: they have been hunted, they have been slain, but now the hour to strike back has come.
Utgivningsdatum: 29 okt, 2012
Se HD-film
Köp Divinity II Developer's Cut
Paket som innehåller detta spel
Köp Divinity Anthology
Innehåller 3 saker: Divine Divinity, Beyond Divinity, Divinity II: Developer's Cut
Recensioner
"Divinity II is a wonderful, welcome surprise. It's been a long time since I've played an RPG that manages to balance a lengthy, in-depth story with such a self-aware and hilarious script"
– IncGamers
"The writing is consistently terrific, from the genuinely creative quests with multiple solutions to the NPCs which are all hand-crafted and infused with personality. Where other games would have copy + pasted Unclickable Villager A and B a few dozen times, Divinity 2 gives you an actual village, complete with gossipers, philanderers, military deserters, the occasional secret murderer, and even a few normal people"
9/10 – SomethingAwful
"It's amazing such a good game remained undiscovered until this "remastered" version was released. (...) The quests are surprisingly good, with charming voicework and a great sense of humour - and then there's the exploration, with hidden caverns and keys rewarding diligent players"
– RPGWatch
Om spelet
Dragons: they have been hunted, they have been slain, but now the hour to strike back has come. Break free from the confines of the human body and take to the skies in this epic RPG adventure that challenges your wits and pits you against a thousand foes. Spread your wings, burn your enemies: become the dragon!
This Developer's Cut includes the ultimate edition of Divinity II, good for 100+ hours of highly acclaimed RPG gameplay, as well as the brand new Developer Mode and many more amazing extras!
Key Features:
Developer Mode: Play the original version, or experience the game like the designers did and fool around with console commands to your heart's content! Ever wanted to test some new skills on a hoard of a hundred goblins? Go for it! Ever wondered what it would be like to explore the game-world in the guise of a troll? Well there you go! Discover a whole range of spectacular developer commands and feel like a wizard at play!
Hatching the Dragon: Watch this unique, behind-the-scenes documentary that gives you insights into the creative process of Divinity II: its ups and downs, its triumphs and defeats.
Treasure Vault: Rummage through a wealth of design documents, concept art and videos that give you an uncensored look at Divinity II not as a finished game, but as a work in progress. Experience firsthand just how a game is made!
Fight as both human and dragon: For the first time, an RPG unleashes the power of the Dragon on you! Climb high and vaporize all that stands in your way as you strategically use both your human & dragon forms to defeat the enemy and become the ultimate Dragon Knight!
Dynamically unfolding storyline depending on your choices and skills: Divinity II gives you a wide range of moral choices when deciding on how to act on quest objectives.
Use your powerful Battle Tower as base of operations: Looming like a colossal stone claw over Sentinel Island stands the Battle Tower, a vast citadel built many centuries ago by a long forgotten Dragon Mage. Become bound to the Battle Tower through a mystical relic known as the Dragon Stone.
Build your very own ultimate fighting creature: Conjure the spirits to bring to life a creature made from body parts you have collected during your battles. This creature's power is literally the sum of his body parts; once you are able to assemble this abomination, summon it to support you in combat!
Systemkrav
Minimum:

OS: Windows XP SP3 or higher
Processor: Intel Core 2 Duo 1.8Ghz or equivalent
Memory: 1 GB RAM
Graphics: Nvidia GeForce 7600 with 256MB RAM or equivalent
DirectX®: 9.0c
Hard Drive: 15 GB HD space
Sound: DirectX9.0c compatible
Additional: When running Windows Vista or higher, double the required memory
Rekommenderat:

Operativsystem: Windows XP SP3 eller högre
Processor: Intel Core 2 Duo 2.6Ghz eller motsvarande
Minne: 2 GB RAM
Grafik: Nvidia GeForce 8800 med 512MB RAM eller motsvarande
DirectX®: 9.0c
Hårddisk: 15 GB hårddiskutrymme
Ljud: DirectX9.0c-kompatibelt
Ytterligare: När Windows Vista eller högre körs krävs dubbelt av det minne som krävs
© 2002 - 2012 Larian Studios (Arrakis NV). All rights reserved.
Divinity and Larian are the registered trademarks of Larian Studios (Arrakis NV).
All trademarks are the property of their respective owners.
Hjälpsamma kundrecensioner
Titel:
Divinity II: Developer's Cut
Genre:
RPG (rollspel)
Utvecklare:
Larian Studios
Utgivare:
Larian Studios
,
Focus Home Interactive
Utgivningsdatum:
29 okt, 2012
Språk:
| | Gränssnitt | Fullt ljud | Undertexter |
| --- | --- | --- | --- |
| Engelska | | | |
| Tyska | | | |
| Franska | | | |
| Ryska | | | |
| Polska | | | |
| Italienska | | | |
| Spanska | | | |
Se alla 7 språk som stöds