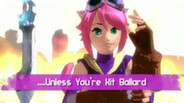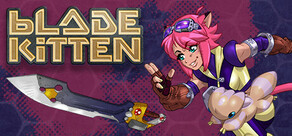 En Blade Kitten, únete a Kit Ballard mientras explora el misterioso mundo de Hollow Wish para cazar pícaros mechs y blancos fáciles.
Fecha de lanzamiento: 22 Sep 2010
Ver vídeo en alta definición
17 junio 2014
Hi all,

We set Skiffy free in amongst the codebase and he's come up with something.
This is what he said:
Ska-Skee Skeeee

That wasn't particularly helpful, so we went and had a look at what he did in the code.
Turns out that...

Camera state transitions when you enter and exit a camera override region are now improved.
There are three major components to the improvements.

When transitioning between two "Side Scroll Camera" states (the most common transition type by far), instead of blending the resulting camera state the code now remains in the one state and instead blends the state parameters.

For the remaining state transitions, transitions between different states when entering an override are now performed as a cosine blend, instead of a linear blend. (Looks the code used to attempt something overly complex with springs before switching to linear.)

The camera code now maintains a running approximation of the camera's velocity. When a state blend is performed, the old 'from' state is extrapolated based on the velocity when the state changed rather than being a fixes position.
Long story short, these changes fix the *CLUNK* the camera would experience when entering and existing the camera override regions.
So yeah - check it out on OpenBeta and let us know what your thoughts are on it. We think it's pretty cool.
Cheers
Linds
3 comentarios
Leer más
6 junio 2014
Hi all!

We've pushed the build that was up on the OpenBeta on to the default/normal branch now - so everybody can switch off the OpenBeta if they want to.
This means that the following is in place for a standard install:


60 fps selection

There is an option to set "60 Hz" on and off in the graphics menu now – to unlock to 60 fps

60fps is the new default setting
Demo
The demo build should be working again! Hooray!
Graphics
Hopeful fixes to some peoples' inability to select fullscreen resolutions. Full screen resolution window now shows display rate (Hz) and resolutions.

Added fix for Nvidia 660 issue, which stops some textures displaying as white

Added some new larger window sizes, that correspond to UHD display resolutions
Borderless Window Mode
As a work around for those people who are having full screen resolution issues, we have implemented borderless window mode, as a command line option

In the Properties panel for Blade Kitten, click "set launch option" and use the following commandline: noborder x=0 y=0

This will create a window at the top left of your screen, at whatever resolution you have set as your "window" resolution in the graphics settings

You can then use the x= and y= offsets to change the position of the borderless window

It will not remember the last window position, so that you don't accidentally "lose" the position

Borderless window mode supports minimize and maximize via the system menu
User Interface
Added smooth/continuous scrolling with the mouse on the scroll lists in the breaker menu and PC options screen

Swap to use X360 controller icons when the gamepad control configuration is selected, instead of "generically similarly colored" icons

Added basic mouse scroll wheel support to the Resolution Select, Control Config and Breaker Item screens

Added crowd-sourced translations for 60 fps mode - for "Frame Rate Lock"
Language Selection
The game now selects the appropriate language, based off the Steam language setting (in Steam Preferences -> Interface)

If Steam is set to a language that doesn't exist in the game, it will default to English

The game supports English, French, German, Spanish and Italian
Background gamepad support
There's another command line that will turn on background gamepad support – so you could (eg) run the game on one screen with gamepad, while somebody else is doing something on the 2nd monitor with keyboard/mouse

Add the following to the launch options (with a space between any other options): MKBackgroundGamepad
Have fun!
Linds
10 comentarios
Leer más
Análisis
"Con unos espléndidos valores de producción y una jugabilidad sólida, este hack-and-slash de plataformas y puzles con gráficos cel-shading avanza a toda velocidad con un ritmo frenético"
8/10 – Eurogamer
Oferta exclusiva de Steam
Precompra el juego en Steam y consigue el exclusivo Traje Gótico de Kit. Acércate a su lado oscuro con estas perturbadoras vestimentas.

Acerca del juego
Bienvenido a Hollow Wish... A primera vista puede parecer la típica frontera sin ley. Sin embargo este misterioso planetoide hueco está repleto de oscuros secretos y figuras misteriosas. Es aquí donde Kit Ballard, también conocida como Blade Kitten, se gana la vida como una de las mejores cazarrecompensas del mundillo. No te dejes engañar por su pelo de color rosa, Kit es mitad gata, mitad chica, toda letal. Es una de las últimas de su especie, que abandonó su tierra natal tras el genocidio perpetrado contra su gente por una antigua raza mística denominada los Darques.
Desde entonces Kit se ha labrado una reputación atrapando a algunos de los seres más despreciables de la galaxia. Con su singular Espada Darque flotando a su lado y obedeciendo todas sus órdenes, Kit puede atravesar hasta al más duro de los drones enemigos mientras persigue a otros objetivos más blandos para hacer del planeta un lugar más seguro en el que vivir. En esta aventura también contamos con Skiffy, su pequeño y despreocupado compañero que, si es necesario, la ayudará y la protegerá.
Características Principales:
Una historia épica que "traerá cola"
Sigue a Kit durante 13 niveles incluyendo 2 niveles de exploración a lomos de su montura alien Noot mientras descubre el colorido y frenético mundo de Hollow Wish.
Intuitiva "exploración a gatas"
Las habilidades felinas innatas de Kit le permiten desplazarse con facilidad por los distintos escenarios y descubrir zonas ocultas.
Rápida acción arcade
Comienza enseguida a explorar y a luchar para abrirte camino durante múltiples niveles cargados de zonas secretas y coleccionables ocultos.
Diálogo totalmente hablado
Con un reparto de 9 actores profesionales que darán voz a los 23 personajes. ¡Únete a Kit, Skiffy y la Espada Darque en este nuevo juego de acción y aventuras!
Requisitos del sistema
Mínimo:


SO: Windows XP SP2 / Vista SP2 / 7

Procesador: Intel Core 2 Duo a 1.8 GHz o AMD Athlon X2 +3800 o superior


Memoria: 1 GB de RAM

Gráficos: ATI Radeon X1800 o nVidia GeForce 7800 o superior


DirectX®: DirectX 9.0c

Disco Duro: 3 GB de espacio libre

Sonido: Compatible con DirectX 9.0c

Otros Requisitos: Conexión a internet
Recomendado:


SO: Windows XP SP2 / Vista SP2 / 7

Procesador: Intel Core 2 Duo E8400 o AMD Phenom II X2 555 o superior

Memoria: 2 GB de RAM

Gráficos: ATI Radeon HD 3850 o nVidia GeForce 8800 o superior

DirectX®: DirectX 9.0c

Disco Duro: 3 GB de espacio libre

Sonido: Compatible con DirectX 9.0c

Periféricos: Controlador de Xbox 360 para Windows, Logitech Dual Action, Logitech Rumblepad 2


Otros Requisitos: Conexión a internet
BLADE KITTEN © 2010 - 2014 Krome Studios, Inc. BLADE KITTEN and KROME STUDIOS are trademarks of Krome Studios PTY, Ltd. All other trademarks are the property of their respective owners. The ESRB rating icons are registered trademarks of the Entertainment Software Association.
Análisis útiles de usuarios