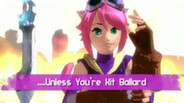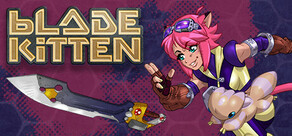 In Blade Kitten können Sie Kit Ballard auf Ihrer Entdeckungsreise in die mysteriöse Welt von Hollow Wish folgen, um die boshaften Mechs und die Soft-Targets zu erwischen.
Veröffentlichung: 22 Sep. 2010
HD-Video ansehen
17 Juni 2014
Hi all,

We set Skiffy free in amongst the codebase and he's come up with something.
This is what he said:
Ska-Skee Skeeee

That wasn't particularly helpful, so we went and had a look at what he did in the code.
Turns out that...

Camera state transitions when you enter and exit a camera override region are now improved.
There are three major components to the improvements.

When transitioning between two "Side Scroll Camera" states (the most common transition type by far), instead of blending the resulting camera state the code now remains in the one state and instead blends the state parameters.

For the remaining state transitions, transitions between different states when entering an override are now performed as a cosine blend, instead of a linear blend. (Looks the code used to attempt something overly complex with springs before switching to linear.)

The camera code now maintains a running approximation of the camera's velocity. When a state blend is performed, the old 'from' state is extrapolated based on the velocity when the state changed rather than being a fixes position.
Long story short, these changes fix the *CLUNK* the camera would experience when entering and existing the camera override regions.
So yeah - check it out on OpenBeta and let us know what your thoughts are on it. We think it's pretty cool.
Cheers
Linds
3 Kommentare
Weiterlesen
6 Juni 2014
Hi all!

We've pushed the build that was up on the OpenBeta on to the default/normal branch now - so everybody can switch off the OpenBeta if they want to.
This means that the following is in place for a standard install:


60 fps selection

There is an option to set "60 Hz" on and off in the graphics menu now – to unlock to 60 fps

60fps is the new default setting
Demo
The demo build should be working again! Hooray!
Graphics
Hopeful fixes to some peoples' inability to select fullscreen resolutions. Full screen resolution window now shows display rate (Hz) and resolutions.

Added fix for Nvidia 660 issue, which stops some textures displaying as white

Added some new larger window sizes, that correspond to UHD display resolutions
Borderless Window Mode
As a work around for those people who are having full screen resolution issues, we have implemented borderless window mode, as a command line option

In the Properties panel for Blade Kitten, click "set launch option" and use the following commandline: noborder x=0 y=0

This will create a window at the top left of your screen, at whatever resolution you have set as your "window" resolution in the graphics settings

You can then use the x= and y= offsets to change the position of the borderless window

It will not remember the last window position, so that you don't accidentally "lose" the position

Borderless window mode supports minimize and maximize via the system menu
User Interface
Added smooth/continuous scrolling with the mouse on the scroll lists in the breaker menu and PC options screen

Swap to use X360 controller icons when the gamepad control configuration is selected, instead of "generically similarly colored" icons

Added basic mouse scroll wheel support to the Resolution Select, Control Config and Breaker Item screens

Added crowd-sourced translations for 60 fps mode - for "Frame Rate Lock"
Language Selection
The game now selects the appropriate language, based off the Steam language setting (in Steam Preferences -> Interface)

If Steam is set to a language that doesn't exist in the game, it will default to English

The game supports English, French, German, Spanish and Italian
Background gamepad support
There's another command line that will turn on background gamepad support – so you could (eg) run the game on one screen with gamepad, while somebody else is doing something on the 2nd monitor with keyboard/mouse

Add the following to the launch options (with a space between any other options): MKBackgroundGamepad
Have fun!
Linds
10 Kommentare
Weiterlesen
Reviews
"eine aufwendige Produktion und ein rasantes Spieltempo machen diesen akrobatischen Hack-and-Slash-Plattformpuzzler zu einem einzigartigen Erlebnis"
8/10 – Eurogamer
Exklusives Steam-Angebot
Inklusive Kits exklusivem Gothic Kostüm. Machen Sie sich mit in diesen Klamotten mit Kits dunkler Seite vertraut.

Über das Spiel
Willkommen in Hollow Wish... Auf den ersten Blick sieht das Land ganz nach einem typischen gesetzlosen Grenzplaneten aus. Dieser mysteriöse Planetoid ist jedoch voller dunkler Geheimnisse und verhüllter Gestalten. Genau hier arbeitet Kit Ballard, auch Blade Kitten genannt, als eine der zur Zeit besten Kopfgeldjägerinnen. Lassen Sie sich von ihren pinken Haaren nicht täuschen, denn Kit ist zwar halb Katze und halb Mädchen, aber zu 100% tödlich. Als eine der letzten Überlebenden ihrer Art musste Sie nach dem Völkermord durch die historische und mystische Rasse der Darques aus ihrer Heimat flüchten.
Kit hat sich seither einen Namen gemacht, indem sie den tödlichsten Abschaum der Galaxie einmal gründlich aufgemischt hat. Mit Ihrer einzigartigen Darque Klinge, die ihr ständiger Begleiter ist, kann Kit auf der Jagd nach weichen Gegenständen sogar die stärkste Monsterdrohne zerschlagen, um letztendlich die Sicherheit des Planeten zu gewährleisten. Dabei steht ihr Skiffy zur Seite, Kit's lockerer kleiner Kumpel, der bei Gefahr auch als ihr Beschützer dient.
Eigenschaften:
Ein episches "Katzen-Abenteuer" wie Sie es so noch nie erlebt haben
Folgen Sie Kit durch insgesamt 13 Level mit 2 Erkundungsabschnitten auf ihrem reitbaren Alienpferd Noot bei ihrer Reise durch die farbenfrohe und wilde Welt von Hollow Wish.
Intuitive Erkundung im "Kletterstil"
Kit's angeborenen Katzeneigenschaften ermöglichen ihr, verschiedene Welten leicht zu durchqueren und versteckte Gegenden einfach zu finden.
Legen Sie sofort los uns begeben Sie sich in dieses Action-Abenteuer
Sie können am Anfang ganz einfach die Umwelt erkunden und sich allmählich durch die verschiedenen Levels voller Geheimstätten und versteckten Sammlungsgegenständen kämpfen.
Gesprochener Dialog im ganzen Spiel
Ein Ensemble an 9 professionellen Synchronsprechern stellt den insgesamt 23 Charakteren ihre Stimme zur Verfügung. Begeben Sie sich zusammen mit Kit, Skiffy und der Darque Klinge in dieses brandneue Action-Abenteuer!
Systemvoraussetzungen
Minimum:


Betriebssystem: Windows XP SP2, Vista SP2, 7

Prozessor: Intel Core2 Duo 1.8 GHz oder AMD Athlon X2 +3800
oder besser


Speicher: 1 GB RAM

Grafik: ATI Radeon X1800 oder NVIDIA GeForce 7800 oder besser


DirectX®: DirectX 9.0c

Festplatte: 3 GB frei

Sound: DirectX 9.0c-kompatibel

Andere Anforderungen: Internet Verbindung vorausgesetzt
Empfohlen:


Betriebssystem: Windows XP SP2, Vista SP2, 7

Prozessor: Intel Core2Duo E8400 oder AMD Phenom II X2 555
oder besser

Speicher: 2 GB RAM

Grafik: ATI Radeon HD 3850 oder NVIDIA GeForce 8800 oder besser

DirectX®: DirectX 9.0c

Festplatte: 3 GB frei

Sound: DirectX 9.0c-kompatibel

Peripherie: Xbox 360 Controller für Windows, Logitech Dual Action, Logitech Rumblepad 2

Andere Anforderungen: Internet Verbindung vorausgesetzt
BLADE KITTEN © 2010 - 2014 Krome Studios, Inc. BLADE KITTEN and KROME STUDIOS are trademarks of Krome Studios PTY, Ltd. All other trademarks are the property of their respective owners. The ESRB rating icons are registered trademarks of the Entertainment Software Association.
Hilfreiche Kundenreviews