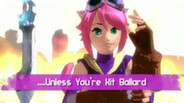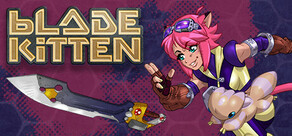 Tarts Kit Ballarddal a Blade Kitten-ben, miközben felderíti Hollow Wish titokzatos világát, hogy lázadó droidokat és élő célokat vadásszon le.
Megjelenés dátuma: 22 Szept 2010
Nézd meg a HD videót
This item does not have support for your local language. Please review the supported language list before purchasing
17 június 2014
Hi all,

We set Skiffy free in amongst the codebase and he's come up with something.
This is what he said:
Ska-Skee Skeeee

That wasn't particularly helpful, so we went and had a look at what he did in the code.
Turns out that...

Camera state transitions when you enter and exit a camera override region are now improved.
There are three major components to the improvements.

When transitioning between two "Side Scroll Camera" states (the most common transition type by far), instead of blending the resulting camera state the code now remains in the one state and instead blends the state parameters.

For the remaining state transitions, transitions between different states when entering an override are now performed as a cosine blend, instead of a linear blend. (Looks the code used to attempt something overly complex with springs before switching to linear.)

The camera code now maintains a running approximation of the camera's velocity. When a state blend is performed, the old 'from' state is extrapolated based on the velocity when the state changed rather than being a fixes position.
Long story short, these changes fix the *CLUNK* the camera would experience when entering and existing the camera override regions.
So yeah - check it out on OpenBeta and let us know what your thoughts are on it. We think it's pretty cool.
Cheers
Linds
3 megjegyzés
Tovább
6 június 2014
Hi all!

We've pushed the build that was up on the OpenBeta on to the default/normal branch now - so everybody can switch off the OpenBeta if they want to.
This means that the following is in place for a standard install:


60 fps selection

There is an option to set "60 Hz" on and off in the graphics menu now – to unlock to 60 fps

60fps is the new default setting
Demo
The demo build should be working again! Hooray!
Graphics
Hopeful fixes to some peoples' inability to select fullscreen resolutions. Full screen resolution window now shows display rate (Hz) and resolutions.

Added fix for Nvidia 660 issue, which stops some textures displaying as white

Added some new larger window sizes, that correspond to UHD display resolutions
Borderless Window Mode
As a work around for those people who are having full screen resolution issues, we have implemented borderless window mode, as a command line option

In the Properties panel for Blade Kitten, click "set launch option" and use the following commandline: noborder x=0 y=0

This will create a window at the top left of your screen, at whatever resolution you have set as your "window" resolution in the graphics settings

You can then use the x= and y= offsets to change the position of the borderless window

It will not remember the last window position, so that you don't accidentally "lose" the position

Borderless window mode supports minimize and maximize via the system menu
User Interface
Added smooth/continuous scrolling with the mouse on the scroll lists in the breaker menu and PC options screen

Swap to use X360 controller icons when the gamepad control configuration is selected, instead of "generically similarly colored" icons

Added basic mouse scroll wheel support to the Resolution Select, Control Config and Breaker Item screens

Added crowd-sourced translations for 60 fps mode - for "Frame Rate Lock"
Language Selection
The game now selects the appropriate language, based off the Steam language setting (in Steam Preferences -> Interface)

If Steam is set to a language that doesn't exist in the game, it will default to English

The game supports English, French, German, Spanish and Italian
Background gamepad support
There's another command line that will turn on background gamepad support – so you could (eg) run the game on one screen with gamepad, while somebody else is doing something on the 2nd monitor with keyboard/mouse

Add the following to the launch options (with a space between any other options): MKBackgroundGamepad
Have fun!
Linds
10 megjegyzés
Tovább
Értékelések
"Ez a pompázatos kidolgozással és sima játékmenettel kényeztető akrobatikus cel-shaded "üsd-vágd" platform-fejtörő játék elképesztő tempóban robog előre"
8/10 – Eurogamer
Steam exkluzív ajánlat
Tartalmazza Kit exkluzív gótikus jelmezét. Ezzel a komor külsejű rucival érvényre juttathatod Kit sötét oldalát.

A játékról:
Üdvözlünk Hollow Wish-ben... Első pillantásra egy szokásos, törvényt nem ismerő határvilág. Ám ezt a rejtelmes, üreges planetoidot sötét titkok és köpönyeges alakok töltik meg. Itt dolgozik Kit Ballard, más néven Blade Kitten, a legjobb fejvadászok egyike a szakmában. Ne vezessen félre rózsaszín haja; Kit félig macska, félig lány, és egészen halálos. Ő faja utolsó egyedeinek egyike, aki elmenekült anyabolygójáról, miután a Darques néven ismert ősi és rejtelmes faj kiirtotta népét.
Kit azóta – előkerítve néhányat a galaxis leghalálosabb szemétládái közül – nevet szerzett magának. Az oldala mellett lebegő különleges, minden parancsának engedelmeskedő Darque Blade segítségével Kit a legmasszívabb lázadó droidot is felszeleteli, miközben élő célpontokra vadászik, hogy biztonságosabbá tegye a bolygót. Vele tart Skiffy is, Kit laza segítőtársa, aki, ha szükség van rá, a védelmére is kel.
Fő jellemzők:
Semmihez sem fogható, epikus kaland
Tarts Kittel és Noot nevű idegen hátasával tizenkilenc, köztük három felfedezés-orientált pályán, miközben beutazzák Hollow Wish színpompás és nyüzsgő világát.
Intuitív "kúszó-mászó" felfedezés
Kit vele született macskaügyessége lehetővé teszi, hogy bárhová könnyen eljusson és rejtett helyeket is megtaláljon.
"Vágj csak bele" árkád jellegű akció
Csak kezdj játszani, és meglátod, milyen könnyedén fedezheted fel a titkos helyekkel és rejtett kincsekkel teli pályákat, és küzdheted át magad rajtuk.
Teljesen szinkronizált párbeszédek
Kilenc hivatásos szinkronszínész által játszott összesen huszonhárom karakter. Csatlakozz Kithez, Skiffyhez és a Darque Blade-hez ebben az új akció-kalandjátékban!
Rendszerkövetelmények
Minimum:


Operációs rendszer: Windows XP SP2, Vista SP2, 7

Processzor: Intel Core2 Duo 1.8 GHz vagy AMD Athlon X2 +3800 vagy jobb

Memória: 1 GB RAM

Grafika: ATI Radeon X1800 vagy NVIDIA GeForce 7800 vagy jobb

DirectX®: DirectX 9.0c

Merevlemez: 3 GB szabad hely

Hang: DirectX 9.0c kompatibilis

Egyéb követelmények: Internet-kapcsolat szükséges
Ajánlott:


Operációs rendszer: Windows XP SP2, Vista SP2, 7

Processzor: Intel Core2Duo E8400 vagy AMD Phenom II X2 555 vagy jobb

Memória: 2 GB RAM

Grafika: ATI Radeon HD 3850 vagy NVIDIA GeForce 8800 vagy jobb

DirectX®: DirectX 9.0c

Merevlemez: 3 GB szabad hely

Hang: DirectX 9.0c kompatibilis

Perifériák: Xbox 360 Controller for Windows, Logitech Dual Action, Logitech Rumblepad 2

Egyéb követelmények: Internet-kapcsolat szükséges
BLADE KITTEN © 2010 - 2014 Krome Studios, Inc. BLADE KITTEN and KROME STUDIOS are trademarks of Krome Studios PTY, Ltd. All other trademarks are the property of their respective owners. The ESRB rating icons are registered trademarks of the Entertainment Software Association.
Hasznos vásárlói értékelések