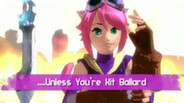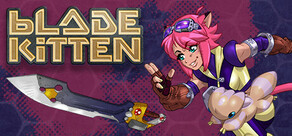 Dans Blade Kitten, rejoignez Kit Ballard dans son exploration du monde mystérieux de Hollow Wish et dans sa chasse aux robots.
Date de parution: 22 sep 2010
Visionner la vidéo HD
17 juin 2014
Hi all,

We set Skiffy free in amongst the codebase and he's come up with something.
This is what he said:
Ska-Skee Skeeee

That wasn't particularly helpful, so we went and had a look at what he did in the code.
Turns out that...

Camera state transitions when you enter and exit a camera override region are now improved.
There are three major components to the improvements.

When transitioning between two "Side Scroll Camera" states (the most common transition type by far), instead of blending the resulting camera state the code now remains in the one state and instead blends the state parameters.

For the remaining state transitions, transitions between different states when entering an override are now performed as a cosine blend, instead of a linear blend. (Looks the code used to attempt something overly complex with springs before switching to linear.)

The camera code now maintains a running approximation of the camera's velocity. When a state blend is performed, the old 'from' state is extrapolated based on the velocity when the state changed rather than being a fixes position.
Long story short, these changes fix the *CLUNK* the camera would experience when entering and existing the camera override regions.
So yeah - check it out on OpenBeta and let us know what your thoughts are on it. We think it's pretty cool.
Cheers
Linds
3 commentaires
Lire la suite
6 juin 2014
Hi all!

We've pushed the build that was up on the OpenBeta on to the default/normal branch now - so everybody can switch off the OpenBeta if they want to.
This means that the following is in place for a standard install:


60 fps selection

There is an option to set "60 Hz" on and off in the graphics menu now – to unlock to 60 fps

60fps is the new default setting
Demo
The demo build should be working again! Hooray!
Graphics
Hopeful fixes to some peoples' inability to select fullscreen resolutions. Full screen resolution window now shows display rate (Hz) and resolutions.

Added fix for Nvidia 660 issue, which stops some textures displaying as white

Added some new larger window sizes, that correspond to UHD display resolutions
Borderless Window Mode
As a work around for those people who are having full screen resolution issues, we have implemented borderless window mode, as a command line option

In the Properties panel for Blade Kitten, click "set launch option" and use the following commandline: noborder x=0 y=0

This will create a window at the top left of your screen, at whatever resolution you have set as your "window" resolution in the graphics settings

You can then use the x= and y= offsets to change the position of the borderless window

It will not remember the last window position, so that you don't accidentally "lose" the position

Borderless window mode supports minimize and maximize via the system menu
User Interface
Added smooth/continuous scrolling with the mouse on the scroll lists in the breaker menu and PC options screen

Swap to use X360 controller icons when the gamepad control configuration is selected, instead of "generically similarly colored" icons

Added basic mouse scroll wheel support to the Resolution Select, Control Config and Breaker Item screens

Added crowd-sourced translations for 60 fps mode - for "Frame Rate Lock"
Language Selection
The game now selects the appropriate language, based off the Steam language setting (in Steam Preferences -> Interface)

If Steam is set to a language that doesn't exist in the game, it will default to English

The game supports English, French, German, Spanish and Italian
Background gamepad support
There's another command line that will turn on background gamepad support – so you could (eg) run the game on one screen with gamepad, while somebody else is doing something on the 2nd monitor with keyboard/mouse

Add the following to the launch options (with a space between any other options): MKBackgroundGamepad
Have fun!
Linds
10 commentaires
Lire la suite
Articles
"Gâté par une production généreuse et une jouabilité astucieuse, ce hack-and-slash acrobatique en cel-shading se joue à un rythme frénétique" –

Eurogamer 8/10
Offre exclusive Steam
Le costume gothique de Kit est inclus. Affichez la couleur avec ce costume.

À propos du jeu
Bienvenue à Hollow Wish... en apparence, c'est une zone frontière sans foi ni loi. Cette planète mystérieuse cache bien des secrets. C'est ici que Kit Ballard, alias Blade Kitten, travaille comme chasseur de prime. Kit est moitié félin, moitié humaine. Elle est la dernière représentante de sa race jadis massacrée par les Darques.
Depuis, Kit s'est entourée d'une bande de mercenaires, rebuts de la galaxie. Avec sa fameuse épée Darque Kit peut venir à bout des matières les plus résistantes. Skiffy, le compagnon de Kit, la protégera en cas de coup dur.
Comprend :
Une histoire épique
Suivez Kit parmi les 13 niveaux et chevauchez des aliens dans le monde coloré d'Hollow Wish.
Exploration et attaque intuitives
La nature féline de Kit lui permettra d'évoluer dans les environnements les plus difficiles et de trouver les zones cachées.
Action directe arcade
Plongez immédiatement dans l'action et l'exploration pour découvrir des secrets et des objets cachés.
Dialogues complets
9 professionnels pour 23 personnages. Kit, Skiffy et l'épée Darque !
Configuration requise
Minimum :


Système d'exploitation : Windows XP SP2, Vista SP2 ou 7

Processeur : Intel Core 2 Duo 1.8 GHz ou AMD Athlon X2 3800+
ou meilleur


Mémoire vive : 1 Go de RAM

Affichage : ATI Radeon X1800 ou NVIDIA GeForce 7800 ou
meilleure


DirectX® : DirectX 9.0c

Disque dur : 3 Go d'espace disque disponible

Son : Compatible DirectX 9.0c

Autres : Connexion Internet requise
Recommandée :


Système d'exploitation : Windows XP SP2, Vista SP2, 7

Processeur : Intel Core 2 Duo E8400 ou AMD Phenom II X2 555
ou supérieur

Mémoire vive : 2 Go de RAM

Affichage : ATI Radeon HD 3850 ou NVIDIA GeForce 8800 ou
supérieure

DirectX® : DirectX 9.0c

Disque dur : 3 Go d'espace disque disponibles

Son : Carte Son compatible DirectX 9.0c

Périphériques : Contrôleur Xbox 360 pour Windows,
Logitech Dual Action, Logitech Rumblepad 2


Autres : Connexion Internet requise
BLADE KITTEN © 2010 - 2014 Krome Studios, Inc. BLADE KITTEN and KROME STUDIOS are trademarks of Krome Studios PTY, Ltd. All other trademarks are the property of their respective owners. The ESRB rating icons are registered trademarks of the Entertainment Software Association.
Évaluations intéressantes des utilisateurs