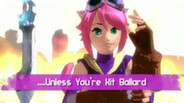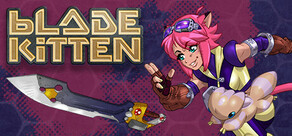 In Blade Kitten, join Kit Ballard as she explores the mysterious world of Hollow Wish to hunt down rogue mechs and soft targets.
Data wydania: 22 Wrz 2010
Obejrzyj film HD
17 Czerwiec 2014
Hi all,

We set Skiffy free in amongst the codebase and he's come up with something.
This is what he said:
Ska-Skee Skeeee

That wasn't particularly helpful, so we went and had a look at what he did in the code.
Turns out that...

Camera state transitions when you enter and exit a camera override region are now improved.
There are three major components to the improvements.

When transitioning between two "Side Scroll Camera" states (the most common transition type by far), instead of blending the resulting camera state the code now remains in the one state and instead blends the state parameters.

For the remaining state transitions, transitions between different states when entering an override are now performed as a cosine blend, instead of a linear blend. (Looks the code used to attempt something overly complex with springs before switching to linear.)

The camera code now maintains a running approximation of the camera's velocity. When a state blend is performed, the old 'from' state is extrapolated based on the velocity when the state changed rather than being a fixes position.
Long story short, these changes fix the *CLUNK* the camera would experience when entering and existing the camera override regions.
So yeah - check it out on OpenBeta and let us know what your thoughts are on it. We think it's pretty cool.
Cheers
Linds
Komentarzy: 3
Więcej
6 Czerwiec 2014
Hi all!

We've pushed the build that was up on the OpenBeta on to the default/normal branch now - so everybody can switch off the OpenBeta if they want to.
This means that the following is in place for a standard install:


60 fps selection

There is an option to set "60 Hz" on and off in the graphics menu now – to unlock to 60 fps

60fps is the new default setting
Demo
The demo build should be working again! Hooray!
Graphics
Hopeful fixes to some peoples' inability to select fullscreen resolutions. Full screen resolution window now shows display rate (Hz) and resolutions.

Added fix for Nvidia 660 issue, which stops some textures displaying as white

Added some new larger window sizes, that correspond to UHD display resolutions
Borderless Window Mode
As a work around for those people who are having full screen resolution issues, we have implemented borderless window mode, as a command line option

In the Properties panel for Blade Kitten, click "set launch option" and use the following commandline: noborder x=0 y=0

This will create a window at the top left of your screen, at whatever resolution you have set as your "window" resolution in the graphics settings

You can then use the x= and y= offsets to change the position of the borderless window

It will not remember the last window position, so that you don't accidentally "lose" the position

Borderless window mode supports minimize and maximize via the system menu
User Interface
Added smooth/continuous scrolling with the mouse on the scroll lists in the breaker menu and PC options screen

Swap to use X360 controller icons when the gamepad control configuration is selected, instead of "generically similarly colored" icons

Added basic mouse scroll wheel support to the Resolution Select, Control Config and Breaker Item screens

Added crowd-sourced translations for 60 fps mode - for "Frame Rate Lock"
Language Selection
The game now selects the appropriate language, based off the Steam language setting (in Steam Preferences -> Interface)

If Steam is set to a language that doesn't exist in the game, it will default to English

The game supports English, French, German, Spanish and Italian
Background gamepad support
There's another command line that will turn on background gamepad support – so you could (eg) run the game on one screen with gamepad, while somebody else is doing something on the 2nd monitor with keyboard/mouse

Add the following to the launch options (with a space between any other options): MKBackgroundGamepad
Have fun!
Linds
Komentarzy: 10
Więcej
Recenzje
"Luxuriating in lavish production values and slick playability, this acrobatic cel-shaded hack-and-slash platform-puzzler barrels along at a frenetic pace"
8/10 – Eurogamer
Oferta specjalna Steam
Zawiera ekskluzywny gotycki kostium dla Kit. Połącz się z jej ciemną stroną dzięki temu złowieszczemu ubranku.

Informacje o grze
Witaj na Hollow Wish… Na pierwszy rzut oka jest to typowe pogranicze pełne bezprawia. Tak naprawdę ta tajemnicza skorupiasta planetoida jest jednak pełna mrocznych sekretów i zamaskowanych postaci. To tutaj Kit Ballard, znana także jako Blade Kitten, pracuje jako jedna z najlepszych łowców nagród w branży. Nie pozwól dać się zwieść jej różowym włosom; Kit jest po części kotem, po części dziewczyną i jest całkowicie zabójcza. Jest także jedną z ostatnich osób swego gatunku po tym, jak uciekła ze swoich rodzinnych stron, kiedy starożytna i tajemnicza rasa znana jako Darque bestialsko wymordowała jej lud.
Od tamtego czasu Kit wsławiła się łapaniem jednych z najbardziej śmiercionośnych opryszków w galaktyce. Z jej wyjątkowym ostrzem Darque unoszącym się przy niej i słuchającym się każdego jej rozkazu Kit może przeciąć nawet najsilniejszego wrogiego drona, polując jednocześnie na mniejsze cele, aby planeta, na której mieszka, była bezpieczniejszym miejscem do życia. Towarzyszem w jej podróży jest mały wyluzowany kompan Skiffy, który, jeśli trzeba, służy za jej obrońcę.
Główne cechy:
Legendarna opowieść jak nigdzie indziej
Podążaj z Kit poprzez 13 poziomów, w tym poprzez 2 poziomy do eksploracji jej kosmicznym wierzchowcem Noot podczas podróży wokół kolorowego, rozgorączkowanego świata Hollow Wish.
Intuicyjna wspinaczkowa eksploracja
Wrodzone kocie zdolności Kit pozwalają jej w prosty sposób przemierzać otoczenie i odkrywać ukryte obszary.
Natychmiastowa akcja typu "przyłącz się i zagraj"
Rozpocznij grę i od razu zacznij zwiedzać i przedzierać się przez wiele poziomów posiadających sekretne obszary i ukryte znajdźki.
W pełni mówione dialogi
9 profesjonalnych aktorów odgrywających łącznie 23 postacie. Dołącz do Kit, Skiffy'ego i ostrza Darque w tej nowego rodzaju przygodowej grze akcji!
Wymagania systemowe
Minimum:


OS: Windows XP SP2, Vista SP2, 7

Processor: Intel Core2 Duo 1.8 GHz or AMD Athlon X2 +3800 or better

Memory: 1GB RAM

Graphics: ATI Radeon X1800 or NVIDIA GeForce 7800 or better

DirectX®: DirectX 9.0c

Hard Drive: 3GB free

Sound: DirectX 9.0c-compatible

Other Requirements: Internet connection required

Recommended:


OS: Windows XP SP2, Vista SP2, 7

Processor: Intel Core2Duo E8400 or AMD Phenom II X2 555 or better

Memory: 2GB RAM

Graphics: ATI Radeon HD 3850 or NVIDIA GeForce 8800 or better

DirectX®: DirectX 9.0c

Hard Drive: 3GB free

Sound: DirectX 9.0c-compatible

Peripherals: Xbox 360 Controller for Windows,
Logitech Dual Action, Logitech Rumblepad 2

Other Requirements: Internet connection required

BLADE KITTEN © 2010 - 2014 Krome Studios, Inc. BLADE KITTEN and KROME STUDIOS are trademarks of Krome Studios PTY, Ltd. All other trademarks are the property of their respective owners. The ESRB rating icons are registered trademarks of the Entertainment Software Association.
Pomocne recenzje klientów