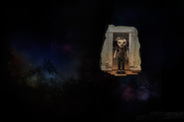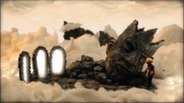 Victor Und Alicia sind gerade erst in ihr neues Apartment in der großen Stadt eingezogen. Wahrend sie sich eingewöhnen entdecken sie, dass nicht alles so ist, wie es erscheint...
Veröffentlichung: 11 Mai 2012
Alle 2 Trailer ansehen
The Dream Machine (Chapter 1 and 2) kaufen
Pakete, die dieses Spiel enthalten
Inhalte zum Herunterladen für dieses Spiel
28 März 2014
Citizen!

We've just released an update that improves the game in several ways. Not the meatiest of updates, we agree, but it represents yet another small step towards inevitable gaming perfection.

So without further ado, here's the change list:

• Engine: Optimized depth sorting
• Engine: Fixed inventory sliding bug
• Chapter 1: Fixed burned note freeze bug
• Chapter 2: Fixed graphical issue in Mr Morton's dream
• Chapter 2: Swapped lens graphics to hand-made equivalents
• Chapter 1 & 2: Upgraded graphical assets to high-resolution versions

As always, don't be shy if you encounter something strange or buggy in the game.

Cheers,

- a
3 Kommentare
Mehr erfahren
26 Februar 2014
We've just released another update to delight and amuse you. It contains a little bit of everything - reminiscent of what we in Sweden call a "Smörgåsbord". My personal favourite is the additional reading aid cues you can get if you have problems reading small text. I wouldn't recommend it to anyone not afflicted, but it's always fun to play around with voice synthesizers. I think it's strange that more games don't have such features.

Oh well. Enough ranting.

• Engine: Addressed general stability issues
• Engine: Optimized depth sorting
• Game: Tweaked UI
• Game: Added reading aid cues (Steam PC version only)
• Chapter 1: Reinserted high-resolution guitar (due to overwhelming popular demand)
• Chapter 1: Tweaked elevator buttons
• Chapter 4: Tweaked recipe puzzle
2 Kommentare
Mehr erfahren
Reviews
"Etwas wie The Dream Machine zu spielen, das von so hervorragendem Aufbau, geschickter Gestaltung und einzigartiger Atmosphäre ist, stellt ein außergewöhnliches Vergnügen dar." - Rock, Paper, Shotgun

"Es ist sowohl von der erzählerischen als auch der spielerischen Warte derart überzeugend zusammengeschnürt, dass man vergessen könnte, dass es lediglich das Werk zweier Indie-Entwickler ist."
8/10 ‐ Eurogamer

"Eine Spieleserie von Mysteriösität und Charm, die durch eine schrullige Optik aus Lehm und Pappe, eine surreal anmutende Handlung und einer herzergreifenden Detailfreude in ungeahnte Höhen vordringt."
4/5 ‐ Adventure Gamers
Über das Spiel
The Dream Machine ist ein preisgekröntes Point-and-Click-Abenteuer, das allein aus Lehm und Pappe besteht.
Im ersten Kapitel des fünfteiligen Dream Machine-Epos spielen Sie Victor Neff, der mit seiner Getrauten in eine neue Wohnung gezogen ist. Als Sie gerade dabei sind, sich einzurichten, wird Ihnen klar, das etwas mit diesem stillen und bescheidenen Wohnhaus nicht stimmt...
Im zweiten Kapitel, macht sich Victor auf den Weg, um den Hausherren, Mr. Morton, aufzusuchen, doch findet er dessen Wohnung leer vor. Kann Victor den entschwundenen Vermieter rechtzeitig ausfindig machen und steckt möglicherweise mehr hinter Mr. Morton als auf den ersten Blick zu erkennen ist?
Hauptmerkmale
Welt: Erforschen Sie einen unheimlichen Wohnungskomplex und decken Sie die in ihm schwelenden Mysterien auf. Lernen Sie Ihre Nachbarn kennen und kommen Sie hinter ihre Geheimnisse.

Geschichte: Versetzen Sie sich in den Geist von Fremden und Geliebten, um sie vor der Traummaschine zu retten.

Grafik: Durchstreifen Sie unglaublich detaillierte Umgebungen, kreiert aus physikalischen Lehm-Modellen und handgefertigten Gegenständen.

Rätsel: Um voranzukommen, müssen Sie Rätsel lösen, die von kinderleicht bis hirnzermaternd reichen.

Musik: Ein unvergesslicher, origineller Soundtrack begleitet Sie durch die Handlung und unterstreicht die surreale Atmosphäre des Spiel.
Systemvoraussetzungen (PC)
OS: Windows XP or later
Processor: 1.8 GHz processor
Memory: 1 GB RAM
Hard Drive: 350 MB HD space
Systemvoraussetzungen (Mac)
OS: OSX Leopard 10.5.8, Snow Leopard 10.6.3, or later
Processor: Intel Mac 1.8 GHz processor
Memory: 1 GB RAM
Hard Drive: 350 MB HD space
©2014 The Sleeping Machine AB all rights reserved.
Hilfreiche Kundenreviews
Auszeichnungen