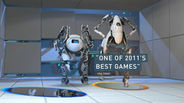 The "Perpetual Testing Initiative" has been expanded to allow you to design co-op puzzles for you and your friends!
Data lansării: 18 apr., 2011
Urmăreşte toate cele 17 videoclipuri
Pachete care includ acest joc
17 iunie
We have updated the public release of Portal 2. This update contains all the changes from the recent beta. We would like to thank the community for the testing and suggestions that have been provided.

Changes:

Linux / SteamOS beta is now available

Steam controller support beta

Some translation updates

Fixed bugs with triple-monitor displays

Some other bug fixes
211 comentarii
Află mai multe
Perpetual Testing Initiative



The "Perpetual Testing Initiative" has just been expanded to allow users to design co-op puzzles in Portal 2! This update also introduces a "Quick Play" feature, giving you quick access to the top-rated maps in various categories.
Despre joc
Portal 2 se bazează pe aceeaşi formulă de succes care i-a adus primului Portal peste 70 de premii, cu poveste, gameplay şi muzică inovatoare.
Porţiunea single-player din Portal 2 va introduce noi personaje, mai multe elemente pentru puzzle-uri şi numeroase camere de testare. Jucătorii vor explora zone nemaivăzute din laboratoarele Aperture Science şi se vor întâlni din nou cu GLaDOS, inteligenţa artificială cu tendinţe uneori criminale care i-a ghidat în primul joc.
Modul cooperativ pentru 2 jucători va beneficia de o campanie separată cu o poveste unică, noi camere de testare şi propriile personaje. Acest mod va forţa jucătorii să reconsidere tot ce ştiau despre puzzle-uri, fiindcă pentru a avea succes vor trebui să şi gândească cooperativ.
Informaţii esenţiale
Single-player extensiv: Cu un gameplay evoluat şi o poveste captivantă.

Co-op pentru 2 jucători: Mod multiplayer cu poveste, gameplay şi personaje proprii.

Efecte fizice avansate: Permit realizarea unei game noi de provocări interesante pentru un joc mai mare, dar nu mai dificil.

Coloană sonoră originală.

Continuare impresionantă: Primul Portal a fost declarat Jocul Anului 2007 de peste 30 de publicaţii din întreaga lume.

Unelte de editare: Uneltele de editare Portal 2 vor fi incluse. Notă: Vor fi disponibile după lansare.
Cerinţe de sistem (PC)
OS: Windows 7 / Vista / XP

Processor: 3.0 GHz P4, Dual Core 2.0 (or higher) or AMD64X2 (or higher)

Memory: 1GB XP / 2GB Vista

Hard Disk Space: At least 7.6 GB of Space

Video: Video card must be 128 MB or more and should be a DirectX 9-compatible with support for Pixel Shader 2.0b (ATI Radeon X800 or higher / NVIDIA GeForce 7600 or higher / Intel HD Graphics 2000 or higher).

Audio: DirectX 9.0c compatible

Cerinţe de sistem (MAC)
OS: MAC OS X 10.6.7 or higher

Processor: Intel Core Duo Processor (2GHz or better)

Memory: 2GB

Hard Disk Space: At least 7.6 GB of Space

Video: ATI Radeon 2400 or higher / NVIDIA 8600M or higher / Intel HD Graphics 3000

Recenzii utile ale clienților