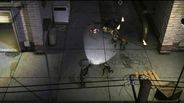 As a survivor of the mutant virus, make your way through the city and wipe out the hordes of flesh eating mutants. Teamwork is the key to survive the DEAD HORDE...
Data de lançamento: 27 Jul 2011
Assistir ao vídeo em HD
Comprar Dead Horde - Two Pack
Includes two copies of Dead Horde - Send the extra copy to your friend.
Sobre o jogo
Como um sobrevivente de um vírus mutante junto com seu parceiro ou sozinho, você precisa fazer seu caminho pelas fases da cidade, com cada nova área revelando novos desafios para superar e mutantes para destruir. Com uma imensa variedade de armas à sua disposição, juntos vocês precisam derrotar uma horda de mutantes sedentos por carne. Trabalho em equipe é a chave para a sobrevivência em DEAD HORDE...
Características do jogo:
Dead Horde é um jogo de tiro de horror e sobrevivência com visão do topo, cooperativo e cheio de ação

Jogue a campanha sozinho ou no modo cooperativo - local ou online - com um amigo

Faça seu caminho pelas fases com uma imensa variedade de armas. Use rifles de assalto, escopetas, granadas, metralhadores e muito mais armas para serem desbloqueadas durante o jogo

Ação rápida com hordas de mutantes que parecem nunca acabar.

Mutantes evoluem ficando, maiores, mais ágeis e fortes durante o jogo.

Use veículos sozinho ou com um parceiro para lutar contra os mutantes

Ganhe dinheiro matando os mutantes para comprar e melhorar armas
Requisitos de sistema
Minimum:


OS: Windows XP Sp3, Windows Vista Sp2, Windows 7

Processor: Intel Core 2 duo 2.4Ghz or higher

Memory: 2 GB RAM

Graphics: Shader 3.0 or better, NVIDIA 8800 GT 512MB RAM or better, ATI 3850HD 512Mb RAM or better

DirectX®: DirectX 9.0c

Hard Drive: 1 GB Space Free

Sound: DirectX 9.0c compatible sound card

Análises úteis de usuários