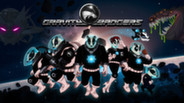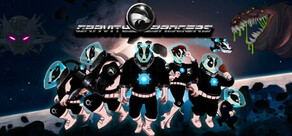 Schlüpfe in den Raumanzug des tapferen Gravity Badgers Captain T Bayback, der sich in die tödlichen Tiefen des Alls wagt um seine Freunde, seine Familie und das Universum selbst vor der Gefahr der tödlichen Teuflischen Honigdachse, den Hellsett, zu retten.
Veröffentlichung: 28 Nov. 2013
HD-Video ansehen
23 Juni 2014
Wales Interactive, creators of Master Reboot, are proud to announce our latest title... Infinity Runner!

Infinity Runner Steam Page http://store.steampowered.com/app/279920/
Infinity Runner Steam Group: http://steamcommunity.com/games/279920/

The Infinity is the largest spaceship ever built by man-kind; flung into the void of space to secure humanity a new home amongst the stars. However, instead of discovering paradise, the inhabitants of The Infinity unlocked the door to a long forgotten nightmare.

Deep inside this leviathan something terrible hunts, out of myth and legend the last werewolf stalks the ship. Infinity Runner centres on a prisoner desperately trying to escape the decaying ship and the clutches of the terror within. It's a sci-fi action running game for PC, Mac, and Linux that features 14 stunning levels, Oculus Rift support and multi-player.
0 Kommentare
Weiterlesen
Reviews
"Gravity Badgers impresses right from the get-go thanks to its pretty fun tutorial that explains the core elements of this physics simulator and introduces you to a few of the main characters....Gravity Badgers is a pretty fun physics-based puzzle game with lots of levels and a few clever ideas."
7/10 – Softpedia

"Gravity Badgers does offer fun, enjoyable, fast-paced, puzzles for you to solve. After some extremely hard puzzles I found myself rejoicing that I beat them. If you like a challenge and want to have some fun with badgers in space, then I suggest Gravity Badgers"
7/10 – TwoDashStash

"I'd gladly recommend the game to fans of physics based games as this one is well done for a game that only costs $4.99"
7/10 – Universal Gaming Reviews

Über das Spiel
Schlüpfe in den Raumanzug des tapferen Gravity Badgers Captain T Bayback, der sich in die tödlichen Tiefen des Alls wagt um seine Freunde, seine Familie und das Universum selbst vor der Gefahr der tödlichen Teuflischen Honigdachse, den Hellsett, zu retten. Zum ersten mal ÜBERHAUPT verbindet ein Spiel die spannenden Elemente von Dachsen und Schwerkraft um ein atemberaubend präsentiertes phyiskbasiertes Puzzlespiel auf die Beine zu stellen, das dich über das Reich der Möglichkeiten, der Vorstellung und der Logik hinaus zu einem Reich voller Sternenstaub mitnimmt, dem Reich der GRAVITY BADGERS!

Wirf dich in die Schwerkraft der Planeten, umgehe Asteroiden und unnachgiebigen Bossen in über einhundert Levels mit Vakuum-gefüllten Abenteuern und Gefahren, alles vereint in einem atemberaubenden Kunststil, der an all deine geliebten 80's Cartoons erinnert, komplett mit einem pochenden Mullet Rock Soundtrack!

Das Spiel beinhaltet hoch süchtig machende, physikbasierte Action mit 140 herausfordernden Levels, die dich immer wieder für mehr zurückkommen lässt. Und als ob das noch nicht genug gewesen wäre, gibt es auch fünf große Bosslevels inklusive dem gigantischen Weltraumwurm, der tödlichen Schreckensphäre und fünf Gravity Badgers Charakteren zum Freischalten. Kombiniere das mit einem großartigen Soundtrack und genialer Grafik; das macht Gravity Badgers zu einem qualitativ hochwertigen Spiel, zu dem du immer wieder zurückkehren wirst.

FEATURES
• Atemberaubendes, physikbasiertes Gravity Badger Chaos
• Einfach zu spielen, selbst mit Dachspfoten
• Über 140 Levels mit Gravity Badger Action
• Zehn Charaktere & fünf Bosslevels
• Irre Grafik
• Abgefahrener Soundtrack
Systemvoraussetzungen (PC)
Minimum:


OS: XP SP2

Processor: 1 GHz

Memory: 512 MB RAM

Graphics: OpenGL 1.1 compatible

DirectX: Version 9.0

Hard Drive: 670 MB available space
Systemvoraussetzungen (Mac)
Minimum:


OS: Mac OS X "Snow Leopard" 10.6 or later

Processor: 1 GHz

Memory: 512 MB RAM

Graphics: OpenGL 1.1 compatible

Hard Drive: 670 MB available space
Systemvoraussetzungen (Linux)
Minimum:


OS: Ubuntu 12.4

Processor: 1 GHz

Memory: 512 MB RAM

Graphics: OpenGL 1.1 compatible

Hard Drive: 670 MB available space
Hilfreiche Kundenreviews
Titel:
Gravity Badgers
Genre:
Gelegenheitsspiele
,
Indie
Entwickler:
Wales Interactive
Publisher:
Wales Interactive
Veröffentlichung:
28 Nov. 2013
Sprachen:
| | Oberfläche | Ton | Untertitel |
| --- | --- | --- | --- |
| Deutsch | | | |
| Englisch | | | |
| Französisch | | | |
| Italienisch | | | |
| Spanisch | | | |
| Japanisch | | | |
| Koreanisch | | | |
| Portugiesisch | | | |
| Brasilianisches Portugiesisch | | | |
| Russisch | | | |
| Chinesisch (vereinfacht) | | | |
Alle 11 unterstützten Sprachen anzeigen