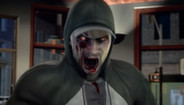 Contagion isn't your average Zombie Shooter but instead takes a more realistic and different approach to the popular genre with unique characters, environments, weapons, items, and a built in system that makes every round completely unpredictable with resources, objectives, and paths ever changing.
Release Date: Oct 25, 2013
Watch all 2 trailers
Buy Contagion 4 Pack
Includes four copies of Contagion - Send the extra copies to your friends!
September 15


Today's update may seem smaller than it really is which has more to do with a great deal of work than the lack there of. Since our July 31st/August 1st release our focus has been on the Free 1st DLC Bundle and the Core Game Mechanics much of which is still being prototyped and tested for upcoming releases.

There hasn't been a single day of inactivity and we may have some additional surprises coming your way. Even with me flying back home to the States to save the Company additional expenses and get me on a timezone to better run things with Alex Wright (COO) I already have a powerful NoteBook to continue my work and everyone knows what they're do. I will also be making my first public appearance via a popular Talk Show on October 10th, Sponsoring and Running a Large Venue with 32 high end machines in the center of ZombieFest (with possible special guest appearance), and I think we might hit up Universal and/or DisneyWorld (never been to Florida) the day before we return.

Our Changelog is missing a considerable amount of AI Code, Optimization to Code, and further steps towards including the features we've mentioned such as an improved and much needed lobby system for those not wanting to go through the trouble of setting up a server which requires the usual Port Forwarding and more or 3rd Party Lan related software, New Animation System for our MoCap Animations, Ranking, Unlockables, Stats, and cosmetic options for players.

I will not see my family for some time as we sort Immigration which means I will be lost in my work. This year is going to be a very exciting year!

Check out today's Update (Including additions that didn't make it in the Build Changelog Text)-


Contagion - Update September 14th Changelog:
Added new triggers and challenges to Biotec

Added new gates to CE_StoneCreek

Added new sounds to improve atmosphere and immersion

Improved Sound Zones

Optimized AI Code

Optimized Core Engine to boost Performance

Optimized a significant number of assets to improve quality of game-play

Optimized the following maps. CE_RoanokePD, CE_Biotec, CE_StoneCreek, and CE_BarloweSquare

Significantly improved Zombie Pathing & Nav Mesh in CE_RoanokePD,
CE_Biotec, CE_StoneCreek, and CE_BarloweSquare

Removed dozens of Bugs, Exploits, and Glitches in CE_RoanokePD,
CE_Biotec, CE_StoneCreek, and CE_BarloweSquare

Removed obsolete Sounds and other Assets

Rebuilt numerous Biotec and BarloweSquare Props to avoid issues with
Players & AI

Fixed a number of scripts for more accurate and improved game-play
More updates coming and without the major delays!
Very soon we will be leaking more about the upcoming Free DLC as you may have caught some of that in the past. All 4 weapons are nearing release status, All 4 new characters are looking great (Manuel, Yumi, Mia, & Curtis), Both Maps again right on track, and Flatline is looking very promising. There are rumors of a release date and originally was planned for 3rd quarter but too many deaths, babies, and overhauls have led to delays. We have no doubt that we'll release before years end only our 1st Free DLC Bundle and we promised 2 but while we have an internal date we do not have a public ETA just yet.
I've mentioned this before but the Engine we're currently on has led to numerous brick walls when trying to do as something as simple as creating working Linux Binaries let alone Linux & Mac Platforms. It wasn't built for it but we have a few tricks up our sleeve to try and sort this out. If for any reason this does not pan out our only option is to update to a later Engine which considering the fact we gutted the original for the most part is not an easy task.
We are currently interviewing some of the best and brightest to either work it out or take up Valve's suggestion to move to a new Engine which will require some delicate coordination so that we can still update the existing Engine while building up on the new. No matter what happens our goal is to keep our promise and release on both Linux & Mac. We owe it to our fans but more importantly to those who made sure we hit that Stretch Goal! I rarely make promises so I never have to break em and I don't plan to break this one.
We highly recommend Linux and Mac users NOT purchase Contagion until this is sorted unless you're comfortable with Wine or Crossover.
Again I am flying back home and this will require a lot of effort to get setup with me passing my work to the team but not being as available as I've been with the community (I will do whatever I can to sort this out ASAP and maybe sooner than I expect). This includes our Weekly "Friday Frenzy" Twitch Stream & Giveaway. Some good news on that front is we've got an eager member of the team working out a SFM intro with a new music track specifically made for it when it will most definitely start back up and may even return with DLC in mind! For now please enjoy the latest Episode 31 (check out any else you missed as well as Contagious Gaming Playlist)!
https://www.youtube.com/watch?v=49UHj7P1jUk
Expect a pretty epic year! Wish me a safe flight(s) and remember just cause I may not be around for a bit the team is still working day & night and your support has always kept us moving steadily forward!
-The Contagion Team
27 comments
Read more
September 9


It's finally here! We've created and released the Wwise Guide, Video Tutorials, Console Commands, Lists, and more for those using Workshop to create new maps for Contagion or would like to improve their existing maps!

Wwise proved to be considerably more adaptable and powerful a Sound System then the existing MILES Sound System and with the help of the information below, you can learn to use AudioKinetic's fantastic system yourself!


Contagion - Wwise Sound System Guide
http://steamcommunity.com/sharedfiles/filedetails/?id=311867564
Contagion - Wwise YouTube Tutorials
https://www.youtube.com/watch?v=vcZ_48IdB2U&list=PLQg5Va4A__zyEsZzZFwgaeyOk7qBzC63k
Note: We will be working on Game-Mode tutorials ASAP but these take time so please be patient!
Not only that but we've just updated our Official Contagion WebComic as well and with this Chapter nearing it's end it's best to catch up on anything you missed!
Official Contagion Comic - Chapter 3 :: Week 10
Don't forget! Contagion is Still 50% off after recently launching on the Humble Bundle Store with the discount promo ending in a little less than 2 1/2 days - https://www.humblebundle.com/store/p/contagion_storefront
Many of us have been working non-stop to fix, improve, and update Contagion based off of what many of you have reported, posted, or what our internal team came across. If all goes as planned we hope to have the latest Contagion Update out sometime near the end of this week!
-The Contagion Team
4 comments
Read more
About the Game

What they're saying about Contagion
"Contagion aims to save the zombie game genre from itself"
-GamesBeat
"Contagion does have a small role to play in the great gaming zombie apocalypse. I quite like it."
-RockPaperShotgun
"Contagion is a gory, addictive horror game that's well worth its $20 price tag"
-Bloody-Disgusting
"Contagion presents a tense survival based horror game"
-Canadian Online Gamers
"Barlowe Square is one of the best levels featured in a multiplayer game"
-Hooked Gamers
Dynamic Gameplay
- Each play through is never the same with our built-in randomization system that changes the game/round each time you play!
State Of The Art Gore
- Our advanced gibbing system will immerse you into the game with limbs and organs being blown or hacked off!
Immersive Sound Effects
- Realistic ambient and sound effects that instantly draw you into the games dark apocalyptic atmosphere!
Traditional Zombies
- Slow moving undead that can only be truly laid to rest with a bullet to the brain or enough wasted lead in their body wasting away the ability to function.
Extensive Survival Equipment
- Over 28 vital pieces of equipment from a large selection of firearms, melee weapons, don't forget explosives, support items, tools, and much more to be added!
Unique Game Modes
- Choose from a multitude of classic and new game-modes that require co-op and survival skills in which you escape, extract civilians or hunt each other! Not to mention our Panic modes, upcoming Flatline (Survival) mode and more!
Stop paying more
- We will be releasing new content and 2 DLC Bundles in 2014... For Free! This was decided in 2010. Once you own Contagion you will never have to pay for updates or DLC bundles we develop for it... Ever.
System Requirements
Minimum:


OS: Windows® 7 32/64-bit / Vista 32/64 / XP 32/64

Processor: 2.4 GHz Intel Dual Core Processor

Memory: 4 GB RAM

Graphics: DirectX® 9 compatible video card with 256 MB, Shader model 2.0. ATI X800, NVidia 6600 or better

DirectX®: 9.0c

Hard Drive: 7 GB HDD Space

Sound: DirectX 9.0c Compatible

Hardware: Mouse & Keyboard

Other Requirements: Broadband Internet Connection
Recommended:


OS: Windows® 7 64-bit / Vista 64-bit / XP 32/64

Processor: 2.4 GHz Intel Dual Core Processor

Memory: 8 GB RAM

Graphics: DirectX® 9 compatible video card with 512 MB, Shader model 3.0. ATI X1600, NVidia 7600 or better

DirectX®: 9.0c

Hard Drive: 7 GB HDD Space

Sound: DirectX 9.0c Compatible

Hardware: Mouse & Keyboard

Other Requirements: Broadband Internet Connection
© 2013 Monochrome, the Monochrome logo, Contagion, and the Contagion logo are trademarks and/or registered trademarks of Monochrome.
Steam, Source, Valve Source are trademarks of Valve Corporation and are used under license from Valve. All other trademarks are properties of their respective companies.
Helpful customer reviews