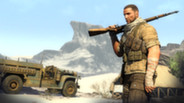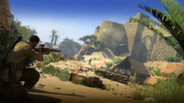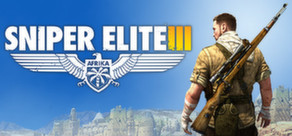 Sniper Elite 3 is a tactical third-person shooter that combines stealth, gameplay choice and genre-defining ballistics with huge, open levels and the exotic terrain of World War 2 North Africa.
Data de lançamento: 27 Jun 2014
Ver todos os 4 trailers
This item does not have support for your local language. Please review the supported language list before purchasing
Comprar Sniper Elite 3 Season Pass
Conteúdo transferível para este produto
15 agosto 2014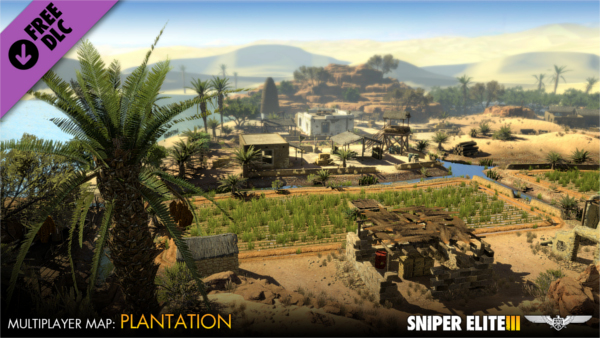 Our next FREE Multiplayer Map, Plantation is out now and available in all multiplayer modes!

Flanked by a traversable swamp while a water wheel irrigates the surrounding areas via a network of shallow trenches, offering opportunities for stealthy movement and quick escapes. Plantation offers an open and complex environment, challenging even the most experienced snipers.

Eastern Front Weapons Pack Out Now!

Imported from the bitter climes of Eastern Europe, some of World War Two's most iconic weapons are now available to play in Sniper Elite 3 via the Eastern Front weapons pack.

Available for use across all game modes the pack includes the Blyskawica submachine gun, the Tokarev TT-33 pistol and the iconic Mosin-Nagant rifle.


9 comentários
Ler mais
13 agosto 2014
New Content

- Plantation: A new multiplayer map, free to all owners of the game, supporting all multiplayer game modes including no-cross.

Bug Fixes:

- Improvements to texture streaming logic to try to improve performance in all configurations.

- Multiplayer "time limit reached" and "score limit reached" notifications added at the end of the game.

- Multiplayer now tolerates momentary disconnects from Steam rather than treating it as an immediate termination.

- DLC character skins now work in multiplayer when the host does not own the DLC.

- Fix for missing DLC prompts appearing incorrectly when moving between lobbies where only some of the DLC is available.

- Bulletcam impact effects are now more reliably synchronised between host and client (so engines don't explode before bullets hit them!).

- Penetration no longer slows down the entire path of the bullet, only the bit after the initial impact!

- Rifle customisation preserved more reliably.

- Yet another "weapons stop working " bug fixed.

- Headshots to AI now slightly more reliable.

- Dead players no longer suffer from camera shake and rumble effects.

- Campaign co-op collectable data at end-of-mission now shows the level just finished, rather than the next level in the campaign!

- Add access to the command console via Ctrl-Tab on variant keyboard layouts.

- Fix for a rare crash when searchlights alert other AI.

- Fix for a rare crash with halftrack and armoured car destruction.

- Several collision fixes for Lost Valley.


20 comentários
Ler mais
Análises
"Immensely satisfying ... a smart, unexpectedly memorable experience."
8.2/10 – IGN

"Polished and refined, this is the best and most satisfying sniping that Rebellion has ever crafted. Sniper Elite 3 is the game I always wanted from this franchise"
8/10 – Strategy Informer

"Sniper Elite 3 is just downright enjoyable."
4/5 – Digital Spy

Novo DLC disponível
All Sniper Elite 3 players now have access to the third FREE new multiplayer map - "Plantation" - hunker down and get sniping!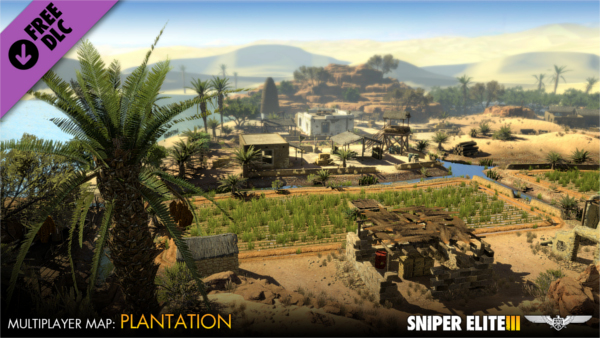 Acerca do Jogo
Observe. Plan. Execute. ADAPT.
The latest chapter in the award-winning series, SNIPER ELITE 3 takes players to the unforgiving yet exotic terrain of North Africa in a savage conflict against Germany's infamous Afrika Korps.
Stalk your targets through the twisting canyons, lush oases and ancient cities of the Western Desert in the deadly rush to sabotage a Nazi super-weapons programme that could end Allied resistance for good.
Use stealth, planning and execution to hunt your targets – whether human or machine. From signature long distance kills, to melee takedowns, distractions and explosive traps, you are as deadly up close as you are from afar.
It must end here. You are the turning point. Because one bullet can change history...
Key Features
Award-winning gunplay – Experience celebrated rifle ballistics honed to perfection. Take account of distance, gravity, wind, even your heart rate for intensely satisfying third person combat.

Expansive new environments – Stalk huge multi-route levels with multiple primary and secondary objectives than can be tackled in any order. Never play the same way twice.

Real tactical choice – Adapt to any situation. Use stealth, distraction, traps and sound masking . If things go hot, use the new Relocate mechanic to slip into the shadows and start the hunt again on your own terms.

Revamped human X-Ray Kill cam – The acclaimed X-Ray kill-cam is back and bolder than ever, including a detailed muscle layers, 3D mesh particles and the complete human circulatory system.

New X-Ray vehicle takedowns – See vehicles disintegrate in intricate detail with X-Ray vehicle takedowns. Multi-stage destruction allows you to take out armoured cars, trucks and Tiger tanks piece-by-piece.

Tense adversarial multiplayer – Five unique modes of online competitive action. Earn Medals and Ribbons as you play. Gain XP across all game modes, customise your character, weapons and loadout. Become a true Sniper Elite!

Explosive co-op play – Play the entire campaign in two player online co-op, or put your teamwork to the ultimate test in two dedicated co-op modes, Overwatch and Survival.

Customise your experience – Veteran or Rookie, play your way. Turn off all assistance and turn up the AI, or customise the experience to your preferred playstyle. Tweak the regularity of X-Ray kill cams, or turn them off all together.
Extra features
Supports Steam Big Picture Mode

Supports Stereoscopic 3D + Ultra Widescreen + Eyefinity screens


Requisitos do Sistema
Minimum:


OS: Microsoft® Windows® Vista (Service Pack 2) or Windows® 7 (Service Pack 1) or Windows® 8 or Windows 8.1. Windows® XP is NOT supported.

Processor: Dual-core CPU with SSE3 (Intel® Pentium® D 3GHz / AMD Athlon™ 64 X2 4200) or better

Memory: 2 GB RAM

Graphics: Microsoft® DirectX® 10.0 compatible graphics card with 256 MB of memory (NVIDIA® GeForce® 8800 series / ATI Radeon™ HD 3870) or better

DirectX: Version 11

Network: Broadband Internet connection

Hard Drive: 18 GB available space

Sound Card: Microsoft® DirectX® 10.0 compatible sound card or better

Additional Notes: Windows® XP is NOT supported. Ensure graphics and audio drivers are up to date.
©2014 Rebellion. The Rebellion name and logo and the Sniper Elite name and logo and the Sniper Elite Eagle are trademarks of Rebellion and may be registered trademarks in certain countries. All rights Reserved.
Análises úteis de clientes