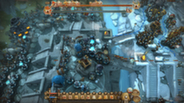 Tower Wars combina elementos de tower defense, RTS y caos multijugador para proporcionarte una experiencia completamente única, ¡todo con un divertido estilo a la no tan vieja usanza!
Fecha de lanzamiento: 14 de Ago, 2012
Ver vídeo en alta definición
Comprar Tower Wars Friend Pack
The Tower Wars Friend Pack includes 2 copies of Tower Wars
Comprar Tower Wars Team Pack
The Tower Wars Team Pack includes 3 copies of Tower Wars
29 de Julio
Since our last announcement, we've released several updates to the game. Here is a round-up of this month's changes!


Change log
Design Changes:
Tier I and Tier II units now grant a gold bounty of 50% of their construction cost. This is intended to make the the early stages of the game a little more forgiving of mistakes, and help the losing player rebound.

Multiplayer games (Ranked and Unranked modes) now have a randomly increased starting pool of gold and Battle Points. This gets you to the interesting part of each game quicker, and should get us away from a tired old build order formula. You can read more extensive commentary on this forum post.
Bugfixes:
Fixed a bug with keys or mouse buttons getting "stuck" in an inverted state where pressed = not pressed, and vice versa.

Decompression errors in PNG files no longer automatically quit the program. This will hopefully make TW more tolerant to corrupted PNG files.

Network communications with our servers are now more fault-tolerant and should fail more gracefully, and are less frequent and shorter in duration. This will hopefully reduce freezing behavior due to server load, and due to poor internet service.

Disabled an unused and broken screenshot feature which seems to have somehow unintentionally triggered on one user's game. This has no effect on Steam screenshots -- those still work.

Casualty Creek: fans and hammers orient correctly on the blue side.

Casualty Creek: collision fixes to stop units from getting stuck or falling through the map.

GUI: Tower update UI, upon opening, now properly refreshes to the currently selected tower.
Known issues:
Casualty Creek: fan wind visual effect seems to blow in reverse in some locations. Please note that the gameplay effect of the fan still works correctly. It's a subtle bug in the visuals only.

In any update, there is a small chance of files failing to download properly. If you have any trouble, please Verify Integrity first before reporting a bug.
8 comentarios
Leer más
20 de Junio
INTRODUCING TOWER WARS SEASON 3!

On the heels of our latest update which introduced NEW MAPS to all play modes and many balance changes within the game, today marks the start of Tower Wars Season 3! Both Season Play and participation is really simple and it doesn't require any special sign-ups or setup. All you need to do is play the game! From here on out, any time you play a Ranked game, it will count toward the current season! Easy! The more you play, the more you have a chance to climb the Season Leaderboard!

Of course, there is still a full suite of options for unranked, bot matches and custom game setups all which are playable on the new maps, so no pressure! We will finalize the end date and reveal prizes soon, so stay tuned!

For those who might have missed the information on the latest update, check out below!

Tower War Update v.1.1133 Information

New Map

We've added a new map for use in ranked/unranked Multiplayer and in Meat vs. Metal -- "Casualty Creek".
Maps added to multiplayer dedicated servers
Lava You Deeply (reinstated)

Casualty Creek (new)
Game balance update
Units:
Increased Zoombot's BP generation by 10%.

Buffed Mortimer by 10% to health, armor, and shield. Buffed Gold-level Mortimer by 20% to H/A/S.

Reduced gold cost to unlock Mortimer by 10% (leaving BP unlock cost alone).

Reduced gold cost to produce a Mortimer by 10%.

Removed 10% of Mortimers from scripted waves in single-player "tower defense challenges".

Bounties: all tier 3 units and up, gold bounty for killing these units increased to a flat 1/3 of build cost.

Increased berserk response to juggling -- units move faster and stay berserk longer, especially with repeated juggling.
Scout Tower:
Increased damage boost effect to 15 / 25 / 35%.
Lava Tower:
Specialized damage to health and armor; now does minimal damage to shields.

Damage-over-time to anyone who walks through, with an extra hit to anyone making a bucket pour.

The net result is expected to be a significant upgrade to the damage output of this tower.
Hammer Tower:
Increased stun duration to 2 / 2.5 / 3 seconds.
Level 3 Mines and Miners:
Reduced cost of a Level 3 miner to 300 gold, 90 BP.

Increased the gold disadvantage of Bots 1, 2, and 3, to prevent them from benefiting from this change.
Miscellaneous changes
Tips added to loading screens.

"Interactive tips" added to bots 1, 2, and 3 -- we chat hints and situational updates to the player.

Bots 1 and 2 made easier (slower progress up the tech tree). They are still allowed to win.

Clicking on a tower no longer upgrades the tower -- use shift-click to upgrade.

Text chat can be disabled. (type /off in the chat window)

Music volume reduced while in multiplayer queue.

Pre-game "ready" box no longer times out in bot games, so you can go to the fridge during the loading screen.
Bugfixs:
Fixed the elusive random "navmesh" crash.

Fixed invisible ready timer in multiplayer games. Now works as before.

Fixed text chat disable only working for bot tips. Now works for regular chat too.

Fixed high-level bots falsely introducing themselves as low-level bots, promising tips that never happen. Now high-level bots don't chat, as intended.

Fixed a bug in Unranked Private Match: if the host selected Random Map, and it picked Lava Mines or Casualty Creek, then the host would see many missing textures.
13 comentarios
Leer más
Recién actualizado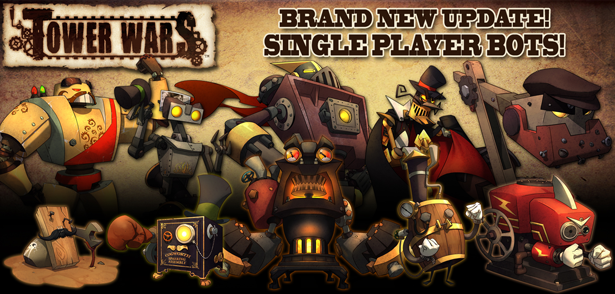 THEY'RE HERE! Our BRAND NEW SINGLE PLAYER Mode is LIVE!

Face off against a collection of the finest artificially intelligent opponents ever assembled...to play this game in particular! If you or a friend have been waiting for more Single Player features, now is definitely the time to get in on Tower Wars!
Key Features
All-NEW Single Player mode added! Challenge 10 unique AI bots with various skills and tactics!

New Steam Achievements for playing against and defeating the new AI bots!
NOW GET TO STORMING THOSE CASTLES!
Previously Updated
Introducing the all new co-op mode!

High above the clouds, there drifts a sad, derelict remnant of a once lively little drifter town... it was ruthlessly attacked by pirates intent on sacking the plump little plum in the sky, but in their greed they sank their own ship under the weight of the first load of plunder! A tempest wind soon thereafter arrived, driving the now un-manned island town far from where it had laid anchor for trade. The inhabitants had hastily fled during the pirate attack, but in so doing left all of their goods, munitions, and rum.... LOTS OF RUM. During one of his many pleasure cruises in his glorious, kingly dirigible, the KING happened to stumble across the abandoned stockpile. He immediately seized the derelict under his sovereign authority, claiming the rum (and other less important supplies) for his own reserves. BUT!! Providentially, the surviving pirates of the pillaging snafu had regrouped and showed up just shortly after the KING set up base, and thus found their long-lost gem in the hands of a belligerent, crown-waving buffoon. Having tasted some of the finest rum of the barrels his fat arse now reclined upon, their course of action was clear... This meant WAR!"
Key Features
Join up with your friends to protect the rum in the new 1-3 player co-op map, Royal Rum-Bowl!

Adjust and rebuild your maze after enemy pirates bomb, smash and utterly destroy your towers with randomized enemies and events!

Compete in 3 new leaderboards for solo, duo and trio scores!

Enjoy other goodies like a new environment, achievements and music!

Featuring the new and improved steel plate hex, state-of-the-art craftsmanship of the KING's own forges! Unfortunately, it has virtually no affect on towers built upon them... it simply has the appearance of being tougher.
Join the fight!
An all new editor makes it easy to create new battle maps, characters, and mods. Steam Workshop makes it easy to share those creations and for others to find, download, and play them. Check out the
Tower Wars Workshop
to get started.
Acerca del juego
"¡Saludos, buen señor! ¿O debería decir señora? ¡En realidad, no importa en absoluto! ¡Hay asuntos mucho más importantes que reclaman nuestra atención! Podría parecer que, gracias al peculiar artilugio óptico en el que te estás mirando, ¡acabas de encontrarte aquí! Pero ¿dónde es aquí?, te estarás preguntando... Por supuesto, ¡estás en Tower Wars! ¡Y debo añadir que es todo un privilegio contar contigo! Necesitamos toda la carnaz... EJEM, AYUDA, sí, eso eso, toda la ayuda que podamos recibir."
¡Tower Wars es una nueva vuelta de tuerca al género de tower defense competitivo multijugador! ¡El juego combina elementos del género tower defense, la estrategia en tiempo real y el caos multijugador para ofrecerte una experiencia absolutamente única con un estilo divertido a la antigua y querida usanza!
Características Principales
¡Juega online a Tower Wars en partidas clasificatorias o no clasificatorias de 1v1, 2v2 y 3v3!

¡Construye y mejora torres únicas, creando extensos laberintos para castigar a los enemigos que se aproximen!

¡Mejora, construye y desata multitud de unidades especializadas en masivas oleadas de ataque!

¡Desbloquea y mejora tecnologías para mejorar las estadísticas y las funciones de tus unidades y torres!

¡Compite en las tablas de clasificación online!

¡Steam! ¡Incluye logros, tablas de clasificación, matchmaking y estadísticas!

¿Necesitas un descanso? ¡Juega en uno de los cuatro mapas clásicos offline de tower defense para divertirte en la Contrarreloj!

¡Sube a bordo! ¡Ayúdanos a darte MUCHO MÁS! ¡Tower Wars tiene un futuro brillante!
Requisitos del sistema (PC)
Mínimo (o recomendado)


SO: Windows® XP SP3 / Windows® Vista SP2 / Windows® 7

Procesador: Dual Core a 2.0 GHz o superior (Intel Core 2 Duo o AMD Athlon 64 X2)

Memoria: 2 GB de RAM

Disco Duro: 1.5 GB de espacio libre

Gráficos: Gráfica con 512 MB de VRAM dedicada, compatible con DX 9.0c y con soporte para Shader Model 3 o superior. *Las gráficas con tecnología de memoria compartida no están soportadas

Versión de DirectX®: 9.0c

Sonido: Dispositivo compatible con Windows

Adicional: Es necesaria una conexión a Internet de banda ancha para las partidas clasificatorias y no clasificatorias
Requisitos del sistema (MAC)
Minimum (or Recommended)


OS: Snow Leopard (10.6.X)

Processor: Intel Core Duo Processor (2 GHz or better)

Memory: 2 GB RAM

Hard Disk Space: 1.6 GB

Video Card: ATI Radeon 2400/NVIDIA GeForce 8600

Additional: Broadband Internet Connection
© 2012 TSC Games, Inc. All rights reserved.
Tower Wars, the Tower Wars logo, SuperVillain Studios and the SuperVillain Studios logo are the trademarks and/or registered trademarks of TSC Games, Inc. and may not be used or reproduced without permission.
Análisis útiles de usuarios
Título:
Tower Wars
Género:
Indie
,
Estrategia
Desarrollador:
SuperVillain Studios
Editor:
SuperVillain Studios
Fecha de lanzamiento:
14 de Ago, 2012
Idiomas:
| | Interfaz | Voces | Subtítulos |
| --- | --- | --- | --- |
| Inglés | | | |