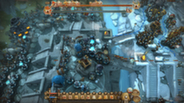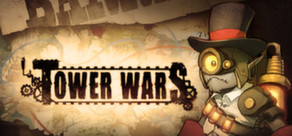 Tower Wars combines elements of tower defense, RTS, and all-out multi-player mayhem to bring you a completely unique experience, delivered with a fun and funny not-so-old world style!
Date de parution: 14 août 2012
Visionner la vidéo HD
Acheter Tower Wars Friend Pack
The Tower Wars Friend Pack includes 2 copies of Tower Wars
Acheter Tower Wars Team Pack
The Tower Wars Team Pack includes 3 copies of Tower Wars
21 novembre 2013
Huzzah! The Tower Wars soundtrack is now available! 7 tracks from composer extraordinaire Robb Mills (who is much more talented than the TW house band...as you can see). Now enjoy the music of Tower Wars while doing things besides raiding castles and firing cannons at your enemies...things like sitting in a traffic jam, or pretending to study!

Available at http://towerwarsgame.com/store.html for just $2.99!
3 commentaires
Lire la suite
4 novembre 2013
We will be restarting the Tower Wars game servers to convert all the levels to their pre-Halloween state. You will not be able to play games while we are performing this update.

Servers should all be playable by 4:30PST.
4 commentaires
Lire la suite
Mise à jour


THEY'RE HERE! Our BRAND NEW SINGLE PLAYER Mode is LIVE!

Face off against a collection of the finest artificially intelligent opponents ever assembled...to play this game in particular! If you or a friend have been waiting for more Single Player features, now is definitely the time to get in on Tower Wars!
Key Features
All-NEW Single Player mode added! Challenge 10 unique AI bots with various skills and tactics!

New Steam Achievements for playing against and defeating the new AI bots!
NOW GET TO STORMING THOSE CASTLES!
Previously Updated


Un tout nouveau éditeur simplifie la création de nouvelles cartes de bataille, de personnages et de mods. Le Steam Workshop facilite également le partage de ces créations et permet de les trouver, télécharger et d'en profiter aisément. Visitez le Workshop Tower Wars pour commencer.
À propos du jeu
"Hello there, good sir! Or is it madam, perhaps? Well, that's neither here, nor there! Matters of far greater importance are at hand! It would appear that, through the peculiar optical contraption that you're staring into, you have managed to find yourself here! Where is here, you ask? Why, in the midst of Tower Wars, of course! I must say, it's jolly good to have you on board! We need all of the fodder.... ERRR... HELP... yes, yes... all of the help we can get."
Tower Wars is a new and unique spin on the competitive multi-player tower defense genre! The game combines elements of tower defense, real-time strategy, and all-out multi-player mayhem to bring you a completely unique experience, delivered with a fun and funny not-so-old world style!
Key Features
Play Tower Wars online in 1v1, 2v2 and 3v3 ranked or unranked matches!

Build and upgrade unique towers, creating lengthy mazes to punish incoming enemy units!

Upgrade, assemble, and unleash multitudes of specialized units in massive attack waves!

Unlock and upgrade technologies to bolster the stats and functions of your units and towers!

Compete in the online leaderboards!

Steam! Features include achievements, leaderboards, matchmaking, and stat tracking!

Need a break? Play one of our offline classic tower defense maps for a quick Time Trial diversion!

Get on board! Help us bring you MUCH MORE! The future looks bright for Tower Wars!
Configuration requise (PC)
Minimum (ou recommandée)


Système d'exploitation : Windows® XP SP3/Windows® Vista SP2/Windows® 7

Processeur : Double-cœur à 2.0GHz ou mieux (Intel Core 2 Duo ou AMD Athlon 64 X2)

Mémoire vive : 2 Go de RAM

Disque dur : 1,5 Go d'espace disque disponible

Carte graphique : Carte vidéo avec 512 Mo de mémoire vidéo et compatible DX9.0c (Shader Model 3+) *Cartes vidéo avec mémoire vidéo partagée non supportées.

DirectX® : DirectX® version 9.0c

Son : Carte son compatible Windows

Supplémentaire : Le multijoueur en ligne classé et non classé de Tower Wars requiert une connexion Internet haut débit.
Configuration requise (MAC)
Minimum (or Recommended)


OS: Snow Leopard (10.6.X)

Processor: Intel Core Duo Processor (2 GHz or better)

Memory: 2 GB RAM

Hard Disk Space: 1.6 GB

Video Card: ATI Radeon 2400/NVIDIA GeForce 8600

Additional: Broadband Internet Connection
© 2012 TSC Games, Inc. All rights reserved.
Tower Wars, the Tower Wars logo, SuperVillain Studios and the SuperVillain Studios logo are the trademarks and/or registered trademarks of TSC Games, Inc. and may not be used or reproduced without permission.
Évaluations intéressantes des utilisateurs