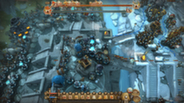 Tower Wars kombinuje prvky žánru tower defense, strategie v reálném čase a totálního mutli-playerového chaosu, aby vám přinesla úplně nový herní zážitek, dodávaný se zábavou a legračním, ne příliš starobylým, uměleckým stylem!
Datum vydání: 14 srp. 2012
Sledovat HD video
Koupit Tower Wars Friend Pack
The Tower Wars Friend Pack includes 2 copies of Tower Wars
Koupit Tower Wars Team Pack
The Tower Wars Team Pack includes 3 copies of Tower Wars
20 června 2014
INTRODUCING TOWER WARS SEASON 3!

On the heels of our latest update which introduced NEW MAPS to all play modes and many balance changes within the game, today marks the start of Tower Wars Season 3! Both Season Play and participation is really simple and it doesn't require any special sign-ups or setup. All you need to do is play the game! From here on out, any time you play a Ranked game, it will count toward the current season! Easy! The more you play, the more you have a chance to climb the Season Leaderboard!

Of course, there is still a full suite of options for unranked, bot matches and custom game setups all which are playable on the new maps, so no pressure! We will finalize the end date and reveal prizes soon, so stay tuned!

For those who might have missed the information on the latest update, check out below!

Tower War Update v.1.1133 Information

New Map

We've added a new map for use in ranked/unranked Multiplayer and in Meat vs. Metal -- "Casualty Creek".
Maps added to multiplayer dedicated servers
Lava You Deeply (reinstated)

Casualty Creek (new)
Game balance update
Units:
Increased Zoombot's BP generation by 10%.

Buffed Mortimer by 10% to health, armor, and shield. Buffed Gold-level Mortimer by 20% to H/A/S.

Reduced gold cost to unlock Mortimer by 10% (leaving BP unlock cost alone).

Reduced gold cost to produce a Mortimer by 10%.

Removed 10% of Mortimers from scripted waves in single-player "tower defense challenges".

Bounties: all tier 3 units and up, gold bounty for killing these units increased to a flat 1/3 of build cost.

Increased berserk response to juggling -- units move faster and stay berserk longer, especially with repeated juggling.
Scout Tower:
Increased damage boost effect to 15 / 25 / 35%.
Lava Tower:
Specialized damage to health and armor; now does minimal damage to shields.

Damage-over-time to anyone who walks through, with an extra hit to anyone making a bucket pour.

The net result is expected to be a significant upgrade to the damage output of this tower.
Hammer Tower:
Increased stun duration to 2 / 2.5 / 3 seconds.
Level 3 Mines and Miners:
Reduced cost of a Level 3 miner to 300 gold, 90 BP.

Increased the gold disadvantage of Bots 1, 2, and 3, to prevent them from benefiting from this change.
Miscellaneous changes
Tips added to loading screens.

"Interactive tips" added to bots 1, 2, and 3 -- we chat hints and situational updates to the player.

Bots 1 and 2 made easier (slower progress up the tech tree). They are still allowed to win.

Clicking on a tower no longer upgrades the tower -- use shift-click to upgrade.

Text chat can be disabled. (type /off in the chat window)

Music volume reduced while in multiplayer queue.

Pre-game "ready" box no longer times out in bot games, so you can go to the fridge during the loading screen.
Bugfixs:
Fixed the elusive random "navmesh" crash.

Fixed invisible ready timer in multiplayer games. Now works as before.

Fixed text chat disable only working for bot tips. Now works for regular chat too.

Fixed high-level bots falsely introducing themselves as low-level bots, promising tips that never happen. Now high-level bots don't chat, as intended.

Fixed a bug in Unranked Private Match: if the host selected Random Map, and it picked Lava Mines or Casualty Creek, then the host would see many missing textures.
13 komentářů
Zjistit více
Právě aktualizováno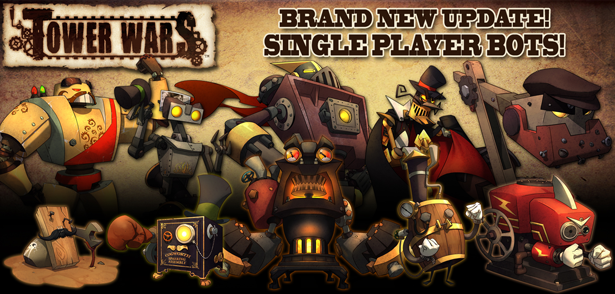 THEY'RE HERE! Our BRAND NEW SINGLE PLAYER Mode is LIVE!

Face off against a collection of the finest artificially intelligent opponents ever assembled...to play this game in particular! If you or a friend have been waiting for more Single Player features, now is definitely the time to get in on Tower Wars!
Key Features
All-NEW Single Player mode added! Challenge 10 unique AI bots with various skills and tactics!

New Steam Achievements for playing against and defeating the new AI bots!
NOW GET TO STORMING THOSE CASTLES!
Previously Updated
Introducing the all new co-op mode!

High above the clouds, there drifts a sad, derelict remnant of a once lively little drifter town... it was ruthlessly attacked by pirates intent on sacking the plump little plum in the sky, but in their greed they sank their own ship under the weight of the first load of plunder! A tempest wind soon thereafter arrived, driving the now un-manned island town far from where it had laid anchor for trade. The inhabitants had hastily fled during the pirate attack, but in so doing left all of their goods, munitions, and rum.... LOTS OF RUM. During one of his many pleasure cruises in his glorious, kingly dirigible, the KING happened to stumble across the abandoned stockpile. He immediately seized the derelict under his sovereign authority, claiming the rum (and other less important supplies) for his own reserves. BUT!! Providentially, the surviving pirates of the pillaging snafu had regrouped and showed up just shortly after the KING set up base, and thus found their long-lost gem in the hands of a belligerent, crown-waving buffoon. Having tasted some of the finest rum of the barrels his fat arse now reclined upon, their course of action was clear... This meant WAR!"
Key Features
Join up with your friends to protect the rum in the new 1-3 player co-op map, Royal Rum-Bowl!

Adjust and rebuild your maze after enemy pirates bomb, smash and utterly destroy your towers with randomized enemies and events!

Compete in 3 new leaderboards for solo, duo and trio scores!

Enjoy other goodies like a new environment, achievements and music!

Featuring the new and improved steel plate hex, state-of-the-art craftsmanship of the KING's own forges! Unfortunately, it has virtually no affect on towers built upon them... it simply has the appearance of being tougher.
Join the fight!
An all new editor makes it easy to create new battle maps, characters, and mods. Steam Workshop makes it easy to share those creations and for others to find, download, and play them. Check out the
Tower Wars Workshop
to get started.
O hře
"Zdravím vás, pane! Nebo snad paní? Na tom nesejde. Záležitosti mnohem většího významu jsou na dosah ruky! Mohlo by se zdát, že skrze podivný optický přístroj, do kterého zíráš, se vám tady podařilo najít sebe sama! Kde tady, ptáte se? Proč, ve středu Tower Wars přeci! Musím říct, že je vskutku dobře mít vás na palubě! Potřebujeme všechny nevolníky... ÉÉÉÉ... POMOC... ano, ano... všechnu pomoc, kterou můžeme dostat."
Tower Wars je nová a unikátní variace žánru tower defense s kompetitivní hrou více hráčů! Hra kombinuje prvky žánru tower defense, strategie v reálném čase a totálního mutli-playerového chaosu, aby vám přinesla úplně nový herní zážitek, dodávaný se zábavou a legračním, ne příliš starobylým, uměleckým stylem!
Klíčové prvky
Hrejte zápasy Tower Wars v online režimu 1v1, 2v2 a 3v3, započítávající se do žebříčku nebo jen zkušební!

Budujte a vylepšujte unikátní věže a tvořte z nich dlouhé bludiště, abyste zničili příchozí nepřátele!

Vylepšujte, shromažďujte a vypouštějte zástupy specializovaných jednotek v masivních útočných vlnách!

Odemykejte a vylepšujte technologie k posílení statistik a funkcí vašich jednotek a věží!

Soutěžte v online žebříčcích!

Steam! Zahrnuje achievementy, žebříčky, tvorbu zápasů a statistiky!

Potřebujete přestávku? Zahrejte si pro změnu jednu z našich klasických tower defense map offline v režimu na čas!

Dostaňte se na palubu! Pomozte nám přinést vám MNOHEM VÍC! Budoucnost Tower Wars vypadá nadějně!
Systémové požadavky (PC)
Minimum (or Recommended)


OS: Windows® XP SP3/ Windows® Vista SP2/ Windows® 7

Processor: Dual Core processor with 2.0GHz or greater (Intel Core 2 Duo or AMD Athlon 64 X2)

Memory: 2 GB RAM

Hard Disk Space: 1.5 GB

Video Card: Video Card with 512MB dedicated memory and DX9.0c support (Shader Model 3+) *Video cards with shared memory technology are not supported.

DirectX®: DirectX® version 9.0c

Sound: Windows compatible sound device

Additional: Tower Wars online ranked and unranked multiplayer matches require a broadband internet connection.
Systémové požadavky (MAC)
Minimum (or Recommended)


OS: Snow Leopard (10.6.X)

Processor: Intel Core Duo Processor (2 GHz or better)

Memory: 2 GB RAM

Hard Disk Space: 1.6 GB

Video Card: ATI Radeon 2400/NVIDIA GeForce 8600

Additional: Broadband Internet Connection
© 2012 TSC Games, Inc. All rights reserved.
Tower Wars, the Tower Wars logo, SuperVillain Studios and the SuperVillain Studios logo are the trademarks and/or registered trademarks of TSC Games, Inc. and may not be used or reproduced without permission.
Užitečné recenze od zákazníků
Název:
Tower Wars
Žánr:
Nezávislé
,
Strategické
Vývojář:
SuperVillain Studios
Vydavatel:
SuperVillain Studios
Datum vydání:
14 srp. 2012
Jazyky:
| | Rozhraní | Zvuk | Titulky |
| --- | --- | --- | --- |
| Angličtina | | | |