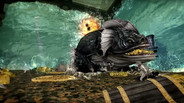 ¡Identifícate en Vindictus y reclama $20,00 en objetos! La oferta acaba el 28 de noviembre.
Fecha de lanzamiento: 22 Jun 2012
Ver los 3 trailers
Contenido descargable para este juego
Recién actualizado


With intimidating new dungeons and terrifying bosses, the mercenaries of Vindictus are in desperate need of a boost. The latest update offers revamped skills for Kai, Vella, Fiona, and Lann. Tap into new reservoirs of strength and resilience and become the ultimate warrior.
Acerca del juego
A malevolent force shrouds the land and monsters terrorize the last bastions of humanity. All seems lost and yet one hope remains:
you
.
Take control of a mighty mercenary and jump into the heart of the most action-packed MMORPG experience available. Master the art of combat as you utilize brutal combos, devastating magic and the environment itself to wreak destruction on your foes.
This is unlike any MMORPG you've experienced before. This is Vindictus!
Key features:
Brutal Combat – Vindictus features a robust and flexible combat system that raises the bar for the MMORPG genre. Choose from hundreds of weapons and dozens of player abilities as you unleash gory vengeance upon your enemies.

Avatar of War – Choose from seven distinct heroes, each featuring completely unique move sets and abilities. From the exotic blade mistress Vella to the crack-shot archer Kai and fearsome giant Karok, Vindictus features a combat style to suit every player.

Forged in Blood – Defeat vile enemies to collect materials for crafting legendary weapons and armor. Upgrade your creations further to become a nigh unstoppable killing machine.

Brothers in Arms – The world of Vindictus is filled with horrors, some too great to be faced alone. Team up with fellow mercenaries to crush terrifying raid bosses and conquer special events.

Visual Assault – From stunningly detailed characters to huge, elaborate boss fights, Vindictus assaults your senses with mind-blowing AAA graphics.
Requisitos del sistema
Mínimo:


SO: Windows XP o superior

Procesador: Dual Core

Memoria: 1 GB de RAM

Disco Duro: 10 GB de espacio libre

Gráficos: nVidia® GeForce® 7600

Versión de DirectX®: 9.0c

Sonido: Dispositivo de 16 bits
Recomendado:


SO: Windows XP o posterior

Procesador: Intel® Core™ i3 540, ® Phenom™ II X4

Memoria: 2 GB de RAM

Disco Duro: 10 GB de espacio libre

Gráficos: nVidia® GeForce® GTS 250, ATI Radeon™ HD 4850

Versión de DirectX®: 9.0c

Sonido: Dispositivo de 16 bits
© 2012 NEXON Korea Corp. and NEXON America Inc. All Rights Reserved.
Análisis útiles de usuarios