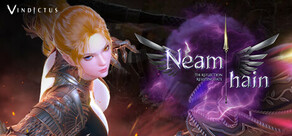 Melden Sie sich bei Vindictus an und erhalten Sie Gegenstände im Gegenwert von 20 US-Dollar! Das Angebot endet am 28. November.
Veröffentlichung: 22 Juni 2012
HD-Video ansehen
Inhalte zum Herunterladen für dieses Spiel
3 Juli 2014
A new pack for Vindictus is now available on Steam!

The Steam Powered Package is the perfect choice for players new to Vindictus. This package has everything you need to hit the ground running. It contains coupons that let you try out different looks and styles, a capsule that can reset skills so you can try a different play style, plus bonuses and other items that will keep you alive long enough to reach the deepest depths of the darkest dungeons.

Additionally, a new character has entered the world of Vindictus, Lynn. Lynn is the youngest mercenary and one of the nimblest. Leaping from one corner of the battlefield to the other, her glaive spinning, Lynn creates a mesmerizing war dance as she fights. Though she doesn't have high defense, her speed and rapid-fire strikes make her a deadly combatant in any scenario. Head to the Vindictus website to see more information.
12 Kommentare
Weiterlesen
Kürzlich aktualisiert



The island paradise of Malina has been shattered by the emergence of 2 horrifying foes; one born of the flames of hell, and the other, a once mighty paladin, now corrupt to his very core. Do these threats symbolize the end? Or are they just the beginning of a new world of chaos? Join the battle, or you may not live long enough to learn the answer.
Über das Spiel
In einer von Kampf und Verzweiflung zerrütteten Welt, klammern sich die Überreste der Menschheit an eine antike Prophezeiung: Eines Tages, wenn der Menschheit Gegner besiegt sind, wird die Göttin zurückkehren und ihnen ein mystisches Paradies namens Erinn bringen. Aber der Kampf dauert schon zu lange und die Menschen haben die Hoffnung verloren. Es ist Zeit für die Mutigen ihre Waffen zu ergreifen, einen Weg außerhalb ihrer kläglichen Festungen zu meißeln, und die Prophezeiung zu erfüllen.
Brutale, auf Physik basierende Action macht Vindictus zu einem rasanten Action RPG mit erstaunlichen Grafiken und zerstörbaren Umgebungen. Passen Sie Ihren Charakter und Ihr Zubehör individuell an, schließen Sie sich mit Freunden zusammen und besiegen Sie hartnäckige Bosse und entdecken Sie die Wahrheit über die antike Prophezeiung. Wird Ihr Einsatz genug sein um die Göttin zu erwecken und Erinn hervorzubringen?
Wesentliche Merkmale:
Action Gameplay durch modifizierte Source Engine™ ermöglicht

Dynamisches und herausforderndes Spiel in Gruppen

Innovatives Quest System

Erstellen und personalisieren von Zubehör und Waffen

Kostenlos spielen
Systemvoraussetzungen
Minimum:


Betriebssystem: Windows XP oder höher

Prozessor: Dual Core

Speicher: 1 GB

Festplatte: 10+ GB

Grafikkarte: NVIDIA® GeForce® 7600

DirectX®: 9.0c

Sound: 16 Bit Soundkarte
Empfohlen:


Betriebssystem: Windows XP oder höher

Prozessor: Intel® Core™ i3 540, ® Phenom™ II X4

Speicher: 2 GB

Festplatte: 10+ GB

Grafikkarte: NVIDIA® GeForce® GTS 250, ATI Radeon™ HD 4850

DirectX®: 9.0c

Sound: 16 Bit Soundkarte
© 2014 NEXON Korea Corp. and NEXON America Inc. All Rights Reserved.
Hilfreiche Kundenreviews