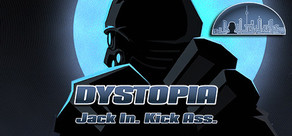 Dystopia is a cyberpunk game on the Source engine that places the player into tense combat situations in a high-tech world spanned by computer networks. Playing as either Punk mercenaries, or Corporate security forces, the player will fight through the physical world to gain access, via jack-in terminals, to cyberspace.
Data di rilascio: 10 Set 2005
Gioca a Dystopia
Mod di Half-Life 2
15 Agosto 2014
Hey guys I just pushed some more beta changes live. Here's the changes:

EMP and frag grenades now deploy 3x faster

"+0.00" on energy bar only shows up when you're not full energy

mediplant now heals self even if off (but not when emp'd)

knockback from explosives increased by 50%

maximum upwards velocity from damage tweaked: it used to be capped at 250, now it is uncapped, but any velocity over 250 is scaled down by 50%

smartlocks tracer lock timeout after losing line-of-sight reduced from 5 seconds to 1 second

smartlocks can now be reloaded to refill tracers even when out of reserve ammo

wired reflexes now reduces machpistol spread by 50% (up from 20%). machpistol with WR now has a higher pitch firing sound to alert you of this change (will have a custom sound soon probably)

GL nades are now more responsive when checking whether or not to explode while sitting on the ground (think time 200ms -> 100ms)

machpistol can now be fired even while holding +attack2! and there was much rejoicing.
18 commenti
Ulteriori informazioni
13 Agosto 2014
Yay for iterative builds~

Changes:

Achievements might be fixed (the code files were missing, wtf)

Steam cloud support for some config files and presets.txt (this is already live)

Can no longer callvote to change map to lobby

Light katana damage 45 -> 50

Light katana delay 0.525 -> 0.5

Minigun damage per bullet 5->6 (back up to 36 damage total per shot)

Heavies can horizontal legboost jump again

Legboosters now use different energy depending on your class:


Light: 15
Medium: 20
Heavy: 30

Energy stops refilling if you're holding a legboost charge

Mediplant range 512 -> 384

Soft collisions also disable if you're standing, but someone jumps through you
I'll probably get a doc set up somewhere later with total changes as of this beta patch (or if someone else wants to get that sorted for me, great! I gotta go to work~)
Thanks Vizzy, Azura, Crim + everyone else for the feedback and discussion, keep it coming
(Note: you might still be able to connect to the dedicated server Tom is running, but it will probably result in weirdness until he updates it probably later tonight)
And it's live, thanks Tom ːpinkheartː
ːdogfaceː
11 commenti
Ulteriori informazioni
Recensioni
"...a super sleek, fast paced , 100% Cyberpunk treat for the whole family."
Destructoid

"...an ambitious conversion for Half Life 2"
PC Gamer (UK)

"...translating that dirty 'hi-tech low-life' [Cyberpunk] chestnut into a balanced multiplayer game"
PC Zone

Informazioni sul gioco
Dystopia è una "total conversion mod" per il motore grafico Source, in continuo sviluppo dal Team Dystopia, che pone il giocatore in intense situazioni di combattimento attraverso un futuristico mondo high-tech legato da un network informatico. Giocando sia nel team dei Mercenari Punk (Punks) o in quello delle Forze di Sicurezza della Corporazione (Corps), il giocatore si ritroverà a combattere nel cosiddetto "mondo reale" per ottenere il controllo, attraverso i terminali di collegamento detti "jack-in points", al cyberspazio.
Il cyberspazio è una rappresentazione tridimensionale del network informatico intrinseco al mondo fisico. Dentro al cyberspazio i giocatori lanceranno programmi per hackerare e ottenere il controllo di sistemi di sicurezza collegati o collocati nel mondo fisico, combattendo hacker nemici e difendendo il loro stesso sistema. Il gioco procede attraverso obbiettivi interconnessi tra mondo fisico e cyberspazio: alcuni di questi possono essere completati solo nel mondo fisico o nel cyberspazio, altri solo da un'azione sincronizzata che comprenda entrambe le dimensioni.
Sia che il giocatore impersoni un mercenario dotato di innesti bionici per il combattimento e armato fino ai denti con gli ultimi ritrovati in materia di armi da fuoco, o un hacker dagli spasmodici riflessi dotato di cyberdeck che lanciandosi in un caos di proiettili cerca di infiltrarsi in un nodo del cyberspazio, esso si ritroverà comunque immerso in una battaglia piena d'azione. Solo attraverso l'esperienza nell'uso dell'arsenale high-tech messo a disposizione e ad un gioco di squadra intelligente, i giocatori potranno veramente "jackarsi e regnare"!
Il team Dystopia è un gruppo di dediti e talentuosi giocatori, i quali stanno creando un gioco cyberpunk dai ritmi intensi. Dystopia si basa sugli argomenti ed i concetti del genere cyberpunk e sviluppa idee nate da anni di esperienza di gioco. Con un sistema di gioco diligentemente progettato, speriamo di compiere un passo avanti nel panorama dei giochi multiplayer online.
Due livelli di gioco interconnessi: mondo reale e cyberspazio

Un "mondo reale" futuristico ed estremamente dettagliato

Un "cyberspazio" 3D costituente il network informatico

Un sistema di configurazione del personaggio veramente unico

10 mappe d'assalto

4 mappe per la modalità "Phistball", modalità dalle caratteristiche simili al gioco del calcio

12 potentissime armi primarie

14 innesti selezionabili

Requisiti di sistema
Requisiti minimi: Processore da 1,2 GHz, 256 MB di RAM, scheda grafica compatibile con DirectX 7, Windows XP, mouse, tastiera, connessione a Internet


Requisiti consigliati: Processore da 2,4 GHz, 512 MB di RAM, scheda grafica compatibile con DirectX 9, Windows XP, mouse, tastiera, connessione a Internet

Recensioni utili dai clienti
Titolo:
Dystopia
Genere:
Azione
,
Free-to-Play
,
Indie
Sviluppatore:
Puny Human
Editore:
Data di rilascio:
10 Set 2005
Lingue:
| | Interfaccia | Audio completo | Sottotitoli |
| --- | --- | --- | --- |
| Italiano | | | |
| Danese | | | |
| Olandese | | | |
| Inglese | | | |
| Finlandese | | | |
| Francese | | | |
| Tedesco | | | |
| Giapponese | | | |
| Coreano | | | |
| Norvegese | | | |
| Polacco | | | |
| Portoghese | | | |
| Russo | | | |
| Spagnolo | | | |
| Svedese | | | |
| Cinese tradizionale | | | |
| Tailandese | | | |
Mostra tutte e 17 le lingue supportate