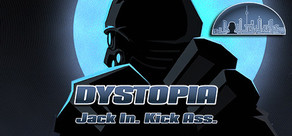 Dystopia is a cyberpunk game on the Source engine that places the player into tense combat situations in a high-tech world spanned by computer networks. Playing as either Punk mercenaries, or Corporate security forces, the player will fight through the physical world to gain access, via jack-in terminals, to cyberspace.
Fecha de lanzamiento: 10 Sep 2005
Jugar a Dystopia
Mod de Half-Life 2
24 agosto 2014
So basically with 1.4.1's release I accidentally created a huge mess and Tom spent all weekend cleaning it up. Thank you based god Tom Sawyer~

ːpinkheartː ːheartː ːpinkheartː ːheartː ːpinkheartː ːheartː ːpinkheartː ːheartː ːpinkheartː ːheartː ːpinkheartː ːheartː ːpinkheartː ːheartː ːpinkheartː ːheartː ːpinkheartː ːheartː ːpinkheartː ːheartː ːpinkheartː ːheartː ːpinkheartː
1 comentarios
Leer más
23 agosto 2014
The latest patch for Dystopia, 1.4.1 is out on Steam. Come play it ːpinkheartː

Check out the changelog here: http://steamcommunity.com/app/17580/discussions/0/34095684598888241/
4 comentarios
Leer más
Análisis
"...a super sleek, fast paced , 100% Cyberpunk treat for the whole family."
Destructoid

"...an ambitious conversion for Half Life 2"
PC Gamer (UK)

"...translating that dirty 'hi-tech low-life' [Cyberpunk] chestnut into a balanced multiplayer game"
PC Zone

Acerca del juego
Dystopia es una conversión total de Source Engine, en continuo desarrollo por el Team Dystopia, que pone al jugador en tensas situaciones de combate en un mundo de alta tecnología conectado en redes informáticas. Como los mercenarios Punk, o la fuerza de seguridad Corporativa, el jugador luchará en el mundo físico para ganar acceso, vía terminales, al ciberespacio.
El ciberespacio es una representación tridimensional de la red mundial. Dentro del ciberespacio los jugadores lanzarán programas para hackear sistemas conectados al mundo físico mientras rechazan deckers enemigos y defienden sistemas críticos. El juego progresa por objetivos entrelazados, algunos se completan en el mundo físico o el ciberespacio, otros solo por una combinación bien coordinada de los dos.
El jugador estará absorto en batallas llenas de acción, siendo un mercenario equipado hasta los dientes con lo último en tecnología militar, o un decker con rápidos reflejos corriendo para infiltrar un nodo en el ciberespacio. Solo con un hábil uso del arsenal de alta tecnología que disponemos y un inteligente juego en equipo, los jugadores podrán conectarse al ciberespacio y machacar a los enemigos.
El Team Dystopia es un grupo de jugadores con talento y dedicación que están creando un juego lleno de acción multijugador. El juego hace uso de temas y conceptos del género ciberpunk e implementa ideas nacidas de años de experiencia en videojuegos. Con un trabajado sistema de juego, esperamos producir la próxima etapa en videojuegos.
Dos capas de juego entrelazadas; mundos conectados de realidad y ciberespacio.

Un mundo detallado y futurista.

Un mundo virtual o ciberespacio 3D.

Sistema de configuración único.

10 mapas de asalto.

4 mapas de Phistball.

12 poderosas armas.

14 implantes.

Requisitos del sistema
Mínimo: procesador de 1,2 GHz, 256 MB de RAM, tarjeta de vídeo compatible con DirectX 7, Windows XP, ratón, teclado y conexión a Internet


Recomendado: procesador de 2,4 GHz, 512 MB de RAM, tarjeta de vídeo compatible con DirectX 9, Windows XP, ratón, teclado y conexión a Internet

Análisis útiles de usuarios
Título:
Dystopia
Género:
Acción
,
Free to Play
,
Indie
Desarrollador:
Puny Human
Editor:
Fecha de lanzamiento:
10 Sep 2005
Idiomas:
| | Interfaz | Voces | Subtítulos |
| --- | --- | --- | --- |
| Español | | | |
| Danés | | | |
| Holandés | | | |
| Inglés | | | |
| Finés | | | |
| Francés | | | |
| Alemán | | | |
| Italiano | | | |
| Japonés | | | |
| Coreano | | | |
| Noruego | | | |
| Polaco | | | |
| Portugués | | | |
| Ruso | | | |
| Sueco | | | |
| Chino tradicional | | | |
| Tailandés | | | |
Ver todos 17 idiomas disponibles