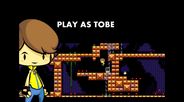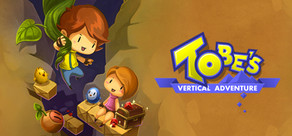 Två unika karaktärer och totalt 4 öar och 16 banor att utforska, gör att Tobe's Vertical Adventure kommer ta dig tillbaka till 16-bitars eran.
Utgivningsdatum: 18 Jul 2011
Se HD-film
Recensioner
"Fantastic Platforming and Cave Diving. Two player? Even better!"
– Xbox Hornet
"Tobe's Vertical Adventure is a fun little game reminiscent of the old Mario Bros games from the original Nintendo"
– XBLIG News, Reviews & Previews
"If you want a thrilling little platformer with waaaay too much cuteness for its own good, start downloading this gem!"
– The Indie Game Magazine
Om spelet
Tobe's Vertical Adventure är ett indie- och retroplattformsspel vars huvudperson är Tobe, den överdrivet hängivna gamern som har tvingats ut på en skattjakt av sin materialistiska förälskelse Nana. Duon med de stora huvudena kommer färdas fram och tillbaka i de sönderfallande grottorna i sitt sökande efter skatter medan de räddar fluffiga djur, så du utropar kawaii ne~ medan du spelar. Med två unika karaktärer och totalt fyra öar samt 16 nivåer att utforska så kommer Tobe's Vertical Adventure föra dig tillbaka till 16-bitseran.
Viktiga funktioner:
Timmar av klassisk plattformsaction på 16 nivåer över fyra öar
Spela som Tobe eller Nana, var och en med unik story och rörelseschema
Samarbetsläge med en vän, som både Tobe och Nana
16-bitsgrafisk retrokänsla
Upplev handlingen genom mellansekvenser och lås upp samlarsoundtracks och konsthäfte
Systemkrav
Operativsystem:Windows XP, Vista, 7
Processor:1.8GHz
Minne:512 MB RAM
Grafik:128 MB, Shader Model 2.0
DirectX®:9.0c
Hårddisk:200 MB hårddiskutrymme
Ljud:Direkt X9.0c-kompatibelt ljudkort
Hjälpsamma kundrecensioner