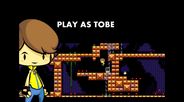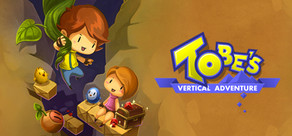 Two unique characters and a total of 4 islands and 16 levels to explore, Tobe's Vertical Adventure shall bring you back to the 16-bit era.
Data di rilascio: 18 Lug 2011
Guarda video HD
Recensioni
"Fantastic Platforming and Cave Diving. Two player? Even better!"
– Xbox Hornet
"Tobe's Vertical Adventure is a fun little game reminiscent of the old Mario Bros games from the original Nintendo"
– XBLIG News, Reviews & Previews
"If you want a thrilling little platformer with waaaay too much cuteness for its own good, start downloading this gem!"
– The Indie Game Magazine
Informazioni sul gioco
Tobe's Vertical Adventure è un platformer indie retro con protagonista Tobe, il giocatore estremamente devoto che è stato forzato ad una caccia al tesoro dalla sua infatuazione materialista, Nana. Il presuntuoso duo viaggerà avanti e indietro attraverso fragili caverne in cerca di tesori mentre si salvano soffici animali, facendoti gridare kawaii ne~ lungo la strada. Con 2 unici personaggi ed un totale di 4 isole e 16 livelli da esplorare, Tobe's Vertical Adventure ti riporterà indietro nell'era dei 16-bit.
Caratteristiche principali:
Ore di classica azione platform in 16 livelli attraverso 4 isole
Gioca come Tobe o Nana, ognuno con una storia e una set di movimenti unici
Modalità Co-op con un amico, giocando come Tobe e Nana
Grafica retro in splendidi 16 bit
Vivi la storia attraverso sequenze filmate e sblocca oggetti collezionabili come soundtrack e artbook
Requisiti di sistema
OS:Windows XP, Vista, 7
Processor:1.8GHz
Memory:512 MB RAM
Graphics:128 MB, Shader Model 2.0
DirectX®:9.0c
Hard Drive:200 MB HD space
Sound:Direct X9.0c compatible sound card
Recensioni utili dai clienti