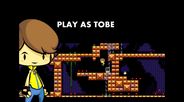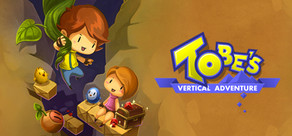 Two unique characters and a total of 4 islands and 16 levels to explore, Tobe's Vertical Adventure shall bring you back to the 16-bit era.
Utgivelsesdato: 18 Jul 2011
Se HD-video
Anmeldelser
"Fantastic Platforming and Cave Diving. Two player? Even better!"
– Xbox Hornet
"Tobe's Vertical Adventure is a fun little game reminiscent of the old Mario Bros games from the original Nintendo"
– XBLIG News, Reviews & Previews
"If you want a thrilling little platformer with waaaay too much cuteness for its own good, start downloading this gem!"
– The Indie Game Magazine
Om spillet
Tobe's Vertical Adventure er et uavhengig, retro, plattformspill med Tobe i hovedrollen som en litt vel engasjert gamer som har blitt tvunget på en skattejakt av Nana, den materialistiske jenta han er forelsket i. Duoen med de store hodene skal reise frem og tilbake i de falleferdige hulene på jakt etter skatter, i tillegg til å redde koselige dyr og få deg til å skrike kawaii ne~ på veien. Med 2 unike karakterer og hele 4 øyer og 16 brett å utforske, vil Tobe's Vertical Adventure bringe deg tilbake til 16-bit æraen.
Hovedtrekk:
Timevis med klassisk plattformaction gjennom 16 brett over 4 øyer
Spill som Tobe eller Nana, hver med sin egen historie og sett av bevegelser
Samarbeidsmodus med en venn, som både Tobe og Nana
16-bit grafisk retro-nytelse
Opplev historien gjennom videosekvenser og lås opp lydsporet og kunstboken
Systemkrav
OS:Windows XP, Vista, 7
Processor:1.8GHz
Memory:512 MB RAM
Graphics:128 MB, Shader Model 2.0
DirectX®:9.0c
Hard Drive:200 MB HD space
Sound:Direct X9.0c compatible sound card
Hjelpsomme kundeanmeldelser