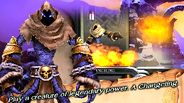 This role-playing game, set in an alternate medieval Europe, combines poker mechanics with power ups and collectible cards.
Data di rilascio: 20 lug 2011
Guarda video HD
Informazioni sul gioco
Runespell: Overture è un gioco di ruolo che combina le regole del poker con potenziamenti e carte collezionabili. Ambientato in un'Europa medievale alternativa che unisce personaggi storici e mitologia Scandinava, il giocatore assume il ruolo del Changeling, il figlio di un dio mostruoso alla ricerca della propria nemesi.
Caratteristiche Principali:
Usa l'innovantivo sistema mythic poker, sfruttando le meccaniche del poker, per confrontarti con i tuoi avversari
Sblocca potenziamenti e attacchi speciali sotto forma di carte ottenibili durante il gioco
Abbina la tua abilità in rapidi scontri o in lunghe sessioni di avventure e battaglie
Sconfiggi più di 30 tipi di mostri, ognuno con un proprio mazzo di carte e strategia di combattimento
Rendi tuoi servi o alleati i nemici sconfitti
Avventurati e sblocca nuovi campi di battaglia
Una miscela di magnifici sfondi dipinti a mano ed evocativi personaggi in 3D
Un'avvincente ed originale storia ambientata in un'Europa medievale alternativa
Classifica in locale ed online
20 Obbiettivi Steam
Requisiti di sistema (PC)
OS: XP / Vista / 7
Processor: 2 GHz Intel Pentium 4 / AMD Athlon 64
Memory: 1GB RAM
Hard Disk Space: 350 MB
Video Card: 256 MB Shader Model 2.0 (Geforce 6 series, Radeon X1000 series)
DirectX®: DirectX® 9.0c
Sound: DirectX® 9.0c compatible sound card
Requisiti di sistema (MAC)
OS: OS X version Snow Leopard 10.6.3, or later
Processor: 1.8 GHz Intel CPU
Memory: 1 GB RAM
Hard Disk Space: 350MB
Video Card: GMA 950 or Dedicated Video Card w/ 128MB of Video Memory and Shader Model 2.0
Recensioni utili dai clienti