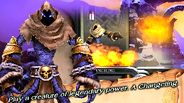 This role-playing game, set in an alternate medieval Europe, combines poker mechanics with power ups and collectible cards.
Datum vydání: 20 čerc. 2011
Sledovat HD video
This item does not have support for your local language. Please review the supported language list before purchasing
Koupit Runespell: Overture
O hře
Runespell: Overture je RPG spojující pravidla pokru s vylepšeními a sběratelskými kartami. Herní svět je založen na alternativní středověké Evropě, spojující historické osobnosti s Norskou mytologií a ságami. Hráč převezme roli Mněnivce (Changelinga), syna příšerného boha, hledajícího svou odplatu.
Klíčové prvky:
Inovativní mýtický pokrový systém používající pokr k boji s nepřáteli
Odemkněte vylepšení a speciální útoky dostupné ve hře jako sběratelské karty
Kombinujte svůj um buďto v rychlých dávkách aktivní hry nebo dlouhých seancích úkolů a bitev
Poražte více než 30 druhů monster, každý mající unikátní sadu karet a styl útočení
Porážejte nepřátele a udělejte z nich své oblíbence nebo spojence
Odemkněte nová bojiště plněním úkolů
Směsice krásných 2D pozadí a působivých 3D postav
Přesvědčivý a originální příběh odehrávající se ve středověké Evropě
Místní a online tabulka hráčů
20 Steam cílů
Systémové požadavky (PC)
Operační systém: XP / Vista / 7
Procesor: 2 GHz Intel Pentium 4 / AMD Athlon 64
Paměť: 1 GB RAM
Pevný disk: 350 MB
Grafická karta: 256 MB Shader Model 2.0 (série Geforce 6, série Radeon X1000)
DirectX®: DirectX® 9.0c
Zvuková karta: DirectX® 9.0c kompatibilní zvuková karta
Systémové požadavky (MAC)
OS: OS X version Snow Leopard 10.6.3, or later
Processor: 1.8 GHz Intel CPU
Memory: 1 GB RAM
Hard Disk Space: 350MB
Video Card: GMA 950 or Dedicated Video Card w/ 128MB of Video Memory and Shader Model 2.0
Užitečné recenze od zákazníků