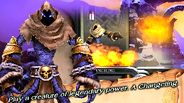 This role-playing game, set in an alternate medieval Europe, combines poker mechanics with power ups and collectible cards.
Çıkış Tarihi: 20 Tem 2011
HD Videoyu İzle
Oyun Açıklaması
Runespell: Overture, güçleri ve toplanabilir kartları birleştiren bir rol yapma oyunudur. Olaylar, tarihi karakterlerin İskandinav mitolojisi ve destanlarıyla bir araya geldiği alternatif bir Orta Çağ Avrupa'sında geçmektedir. Oyuncu, baş düşmanını arayış içerisinde olan, canavar bir tanrının oğlu Changeling'in rolünü üstlenmektedir.
ANA ÖZELLİKLER:
Rakiplerinizle savaşlarınızda poker mekaniklerini kullanan yenilikçi efsanevi poker sistemi
Oyunda toplanabilir kartlar halindeki güçleri ve özel saldırıları açın
Becerilerinizi kısa süreli etkin oyunlarda veya uzun süren görev tamamlama ve savaşlarda birleştirin
Her birinin eşsiz kart seti ve saldırı stili olan 30'dan fazla canavar tipi ile savaşın
Düşmanlarınızı alt edin ve evcil hayvanlarınız veya müttefikleriniz hâline getirin
Görev yaparak yeni savaş alanları açın
Elle boyanmış şahane arkaplanlar ve çağrışımlarla dolu 3 boyutlu karakterler
Alternatif Orta Çağ Avrupasında geçen düşündürücü ve özgün bir hikaye
Yerel ve çevrimiçi puan tabloları
20 adet Steam Başarımı
PC Sistem Gereksinimleri
İşletim Sistemi: XP / Vista / 7
İşlemci: 2 GHz Intel Pentium 4 / AMD Athlon 64
Bellek: 1GB RAM
Sabit Disk Alanı: 350 MB
Ekran Kartı: 256 MB Shader Model 2.0 (Geforce 6 serisi, Radeon X1000 serisi)
DirectX®: DirectX® 9.0c
Ses: DirectX® 9.0c uyumlu ses kartı
Mac Sistem Gereksinimleri
İşletim Sistemi: Snow Leopard 10.6.3 veya sonrası
İşlemci: 1.8 GHz Intel işlemci
Bellek: 1 GB RAM
Sabit Disk Alanı: 350MB
Ekran Kartı: 128MB video belleğine sahip, Shader Model 2.0 destekli, GMA 950 veya tümleşik ekran kartı
Yararlı müşteri incelemeleri