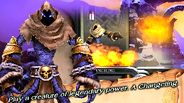 This role-playing game, set in an alternate medieval Europe, combines poker mechanics with power ups and collectible cards.
Megjelenés dátuma: 2011. júl. 20.
Nézd meg a HD videót
A játékról:
A Runespell: Overture a póker játékmechanizmusát az erősítők és gyűjthető kártyák használatának lehetőségével egyesítő szerepjáték. A játék egy alternatív középkori Európában játszódik, nagy történelmi alakokat kötve össze a norvég mitológiával és mondákkal. A játékos a Changeling, egy szörny-isten fia, szerepében próbálja megtalálni nemezisét.
Főbb jellemzők:
Innovatív mitikus pókerrendszer, mellyel a póker játékmenetét használva küzdesz ellenfeleiddel
Szerezz erősítőket és speciális támadásokat a játék részét képező gyűjthető kártyák formájában
Kombináld a képességeidet rövid, intenzív játékokhoz, hosszúra nyúló küldetésekhez és csatákhoz
Győzz le több mint 30 szörnytípust, melyek mindegyike egyedi kártyakészlettel és támadási stílussal rendelkezik
Győzd le ellenfeleid, és tedd őket rabszolgáiddá, vagy szövetségeseiddé
Nyiss meg új csatatereket küldetések teljesítésével
Gyönyörű kézzel festett hátterek és hangulatos 3D-s karakterek keveréke
Eredeti és lenyűgöző történet egy alternatív középkori Európában
Helyi és online ranglista
20 Steam Teljesítmény
PC-s rendszerkövetelmények
Operációs rendszer: XP / Vista / 7
Processzor: 2 GHz Intel Pentium 4 / AMD Athlon 64
Memória: 1 GB RAM
Merevlemez-terület: 350 MB
Videokártya: 256 MB, Shader Model 2.0 (Geforce 6 sorozat, Radeon X1000 sorozat)
DirectX®: DirectX® 9.0c
Hang: DirectX® 9.0c kompatibilis hangkártya
Mac-es rendszerkövetelmények
OS: OS X version Snow Leopard 10.6.3, or later
Processor: 1.8 GHz Intel CPU
Memory: 1 GB RAM
Hard Disk Space: 350MB
Video Card: GMA 950 or Dedicated Video Card w/ 128MB of Video Memory and Shader Model 2.0
Hasznos vásárlói értékelések