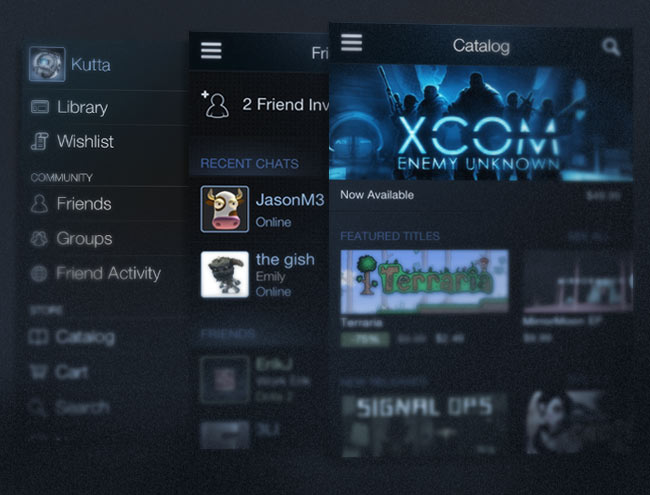 This week we shipped an update to the Steam Mobile app for iOS (v1.3) which adds new features and updates the visual style to make the mobile experience feel more at home alongside the desktop and Big Picture interfaces. We also revamped the mobile web experience for all users, which includes user profiles, groups, the storefront, and many other pages.
Offline Chat
With the new iOS app, you can send messages to users who are offline as well as view any messages you have received while offline. This includes the ability to see your chat history with other users.
Friends & Groups
We've added support to the iOS Friends view for nicknames, Facebook suggested friends, and what platform (mobile, big picture, desktop) a friend is currently active on. The UI for responding to friend & group invites has been streamlined.
Notifications
The notification badge on the iOS application icon will tell you at a glance how many pending notifications you have. This includes offline messages, pending friend invites, and pending group invites. The in-app menu will also break these down by type. Mobile users can control which types of notifications they receive by visiting the Steam Preferences page in their app settings menu. There are also iOS and Android system-wide settings which control how applications receive and display push messages, so users should make sure those settings are enabled if they wish to see Steam notifications.
Catalog
The new mobile app and web storefront features an updated carousel and grid design, with the ability to easily filter titles by platform and DLC.
Feedback
Your feedback is important to us as we continue to prioritize improvements to the Steam Mobile experience. If you have input, please visit the
Steam Mobile Discussions
and let us know!