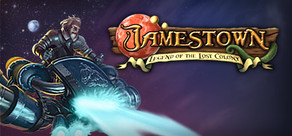 "...la sensación que transmiten las armas, la música, el ritmo, todo es fabuloso.
Fecha de lanzamiento: 8 de Jun, 2011
Ver vídeo en alta definición
Paquetes que incluyen este juego
Comprar Jamestown Deluxe Pack
Incluye 3 artículos: Jamestown, Jamestown: Gunpowder, Treason, & Plot, Jamestown Soundtrack
Comprar Jamestown Soundtrack
Contenido descargable para este juego
Análisis
"La sensación que transmiten las armas, la música, el ritmo, todo es fabuloso."
– Rock, Paper, Shotgun
Acerca del juego
Jamestown: Legend Of The Lost Colony
es un shooter neoclásico en perspectiva cenital para un máximo de 4 jugadores que transcurre en un Marte colonial británico del siglo XVII. Cuenta con toda la intensidad, profundidad y píxeles de un shooter arcade clásico con un toque moderno: un sistema de juego cooperativo totalmente integrado.
A diferencia de la mayoría de shooters en perspectiva cenital, los cuales ofrecen a los jugadores un montón de vidas o continues, Jamestown hace algo diferente. Siempre y cuando algún jugador sobreviva, el equipo puede ser devuelto de la muerte. Al ofrecer a cada jugador el poder para rescatar a su equipo de las garras de la destrucción, Jamestown crea una estimulante experiencia cooperativa donde la cooperación de cada uno es lo que realmente importa. Ya sea ganando o perdiendo, tu equipo lo hará unido.
Características principales:
Ábrete paso a través de un Marte histórico con un equipo de 4 jugadores en el modo cooperativo por red local

Maravíllate y regocíjate con las grandes extensiones de píxeles dibujadas a mano

Escapa hacia una trepidante historia de redención llena de aventuras

Épicos temas orquestales compuestos por Francisco Cerda, únicos en cada nivel

Enfréntate en la hostil frontera marciana con tu selección de armamento steampunk de 1619

Domina una innovadora mecánica cooperativa combinada con un shooter clásico en perspectiva cenital

Pon a prueba tus habilidades contra más de 20 desafiantes niveles

Dale un vistazo al modo arcade "Gauntlet" y juega a Jamestown como en 1996

Aprovéchate del sistema de puntuación único para llegar a lo más alto de las tablas de clasificación online

Desbloquea más de 30 logros de Steam... ¡si puedes!
Requisitos del sistema (PC)
SO: Microsoft® Windows® XP SP2 / Vista / 7

Procesador: Intel® Pentium™ 4 a 2.4 GHz o superior

Memoria: 512 MB de RAM

Disco Duro: 250 MB de espacio libre

Gráficos: Tarjeta de 256 MB de VRAM compatible con OpenGL 2.0

DirectX®: DirectX® 9.0c

Extra: Un teclado, controlador o ratón para cada jugador. Soporta múltiples teclados y ratones. Para jugar con ratón necesitas uno de 3 botones
Requisitos del sistema (MAC)
SO: OS X versión Leopard 10.5.8, Snow Leopard 10.6.3 o posterior.

Procesador: Intel® Core 2 Duo a 2.1 Ghz o superior

Memoria: 2 GB de RAM

Disco Duro: 250 MB de espacio libre

Gráficos: Cualquier gráfica con 256 MB de VRAM y compatible con OpenGL 2.0

Versión de DirectX®:

Adicional: Un teclado, controlador o ratón necesario por jugador. Múltiples joysticks soportados. 3 botones necesarios para el juego con ratón
Análisis útiles de usuarios
Premios