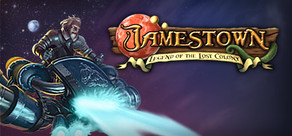 "...the way the guns feel, the music, the pacing, it's all fabulous.
Çıkış Tarihi: 8 Haz 2011
HD Videoyu İzle
Bu oyunu içeren paketler
Jamestown Deluxe Pack Satın Alın
3 ürün içerir: Jamestown, Jamestown: Gunpowder, Treason, & Plot, Jamestown Soundtrack
Jamestown Soundtrack Satın Alın
Bu Oyun İçin İndirilebilir İçerikler
İncelemeler
"the way the guns feel, the music, the pacing, it's all fabulous."
– Rock, Paper, Shotgun
Oyun Açıklaması
Jamestown: Legend Of The Lost Colony
is a neo-classical top-down shooter for up to 4 players, set on 17th-century British Colonial Mars. It features all the intensity, depth, and lovingly handcrafted pixels of a classic arcade shooter, with a modern twist: deeply-integrated cooperative gameplay.
Unlike most top-down shooters, which give multiple players a shared pool of lives or continues, Jamestown does something different. So long as any player survives, the team can be brought back from death. By giving every player the power to rescue their team from the jaws of destruction, Jamestown creates an exhilarating cooperative experience where everyone's contribution truly matters. Win or lose, your team will do it together.
Key features:
Blast your way through historic Mars as a crack team of up to 4 friends in local co-op mode

Marvel and rejoice at vast expanses of lovingly handcrafted pixels

Escape into a fast-paced story of swashbuckling redemption

Epic orchestral scores composed by Francisco Cerda, unique to each level

Brave the hostile Martian frontier with your pick of 1619's finest steampunk weaponry

Master innovative co-op mechanics paired with classical top-down shooter gameplay

Test your skills against 20+ rule-bending bonus levels

Run the "Gauntlet" arcade mode, and play Jamestown like it's 1996

Leverage the unique scoring system to claw your way up the online leaderboards

Unlock all 30+ Steam achievements... if you can!

PC Sistem Gereksinimleri
İşletim Sistemi: Microsoft® Windows® XP ile SP2 / Vista / 7

İşlemci: Intel® Pentium™ 4 2.4 GHz veya daha iyisi

Bellek: 512 MB RAM

Sabit Disk Alanı: 250 MB

Ekran Kartı: Herhangi bir OpenGL 2.0 ekran kartı ve 256MB+ ekran kartı belleği

DirectX®: DirectX® 9.0c

Ek Olarak: Oyuncu başuna bir klavye, oyun kumandası veya fare gereklidir. Birden fazla fare ve/veya klavyeyi destekler. Fareyle oynamak için 3 tuşlu gerekmektedir.
Mac Sistem Gereksinimleri
OS: OS X version Leopard 10.5.8, Snow Leopard 10.6.3, or later.

Processor: Intel® Core2 Duo 2.1 Ghz or better

Memory: 2 GB RAM

Hard Disk Space: 250 MB

Video Card: Any OpenGL 2.0 graphics card with 256MB+ video RAM

DirectX®:

Additional: One keyboard, controller, or mouse required per player. Supports multiple joysticks. 3-buttons required for mouse play.

Yararlı müşteri incelemeleri
Ödüller