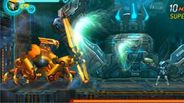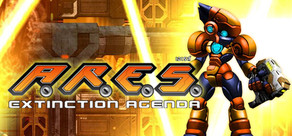 Tú eres el arma definitiva con un objetivo definitivo – Recoge objetos secretos y obtén mejoras para convertirte en un arma perfecta
Fecha de lanzamiento: 20 de Ene, 2011
Ver vídeo en alta definición
Comprar A.R.E.S.: Extinction Agenda
Paquetes que incluyen este juego
Comprar A.R.E.S. Complete Edition
Incluye 3 artículos: A.R.E.S.: Extinction Agenda, A.R.E.S.: Berzerker Suit, A.R.E.S.: Original Soundtrack
Contenido descargable para este juego
Oferta exclusiva de Steam
Carbon Stealth Suit: (Yellow)

A light weight and non metal alternative to ARES traditional armor. Proves to be pleasing to the eye.

 

Indigo Pulse Suit: (Blue)

A prototype suit made of special materials discovered by United Earth which was estimated to be immune to Zytron Gas.
Acerca del juego
A.R.E.S.: Extinction Agenda es el primer capítulo de un juego de plataformas con scroll lateral y acción frenética por episodios al estilo de los clásicos retro en el que juegas como Ares, un robot de combate creado con el único propósito de salvar a la humanidad. ¿Estarás a la altura de la tarea o quedarás reducido a tornillos y chatarra?
Tú eres Ares, el primer robot inmune al Zytron. Como símbolo del poderío de la tecnología humana, eres el robot más avanzado que existe; construido para correr más veloz, saltar más alto y disparar más rápido. Además de estos atributos básicos, tu diseño incluye un sistema que recicla piezas sueltas y recursos para transformarlos en valiosos objetos, armadura y armamento. Deberás utilizar todo lo que encuentres en tu camino para alcanzar y rescatar a los supervivientes que se encuentran en la estación espacial infectada por el Zytron.
Características Principales:
Juega en varios lugares del universo de A.R.E.S., cada uno representa un entorno en 3D único y bonito repleto de peligrosos obstáculos.

Tú eres el arma definitiva con un objetivo definitivo – Recoge objetos secretos y obtén mejoras para convertirte en un arma perfecta.

Enfréntate cara a cara contra oponentes colosales, descubre sus patrones para vencerlos en la batalla.

Destruye enemigos, recoge sus piezas y recíclalas para construir objetos increíbles, incluyendo packs de salud, munición y mejoras para las armas.
Requisitos del sistema
SO: Microsoft Windows XP / Windows Vista / Windows 7

Procesador: Intel Core™2 Duo, AMD Athlon x2

Memoria: 1 GB de RAM en Windows XP, 2 GB de RAM en Windows Vista y 7

Gráficos: familia nVidia GeForce 7600, familia ATI Radeon HD 2400

DirectX®: DirectX 9.0c

Disco Duro: 300 MB de espacio libre

Sonido: Compatible con DirectSound (DirectX 9.0c o superior)
Análisis útiles de usuarios