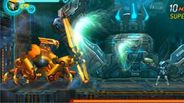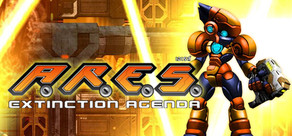 Sie sind die ultimative Waffe mit einem ultimativen Begleiter – Sammeln Sie die geheimen Gegenstände und erhalten Sie Power-ups um zur perfekten Waffe zu werden.
Veröffentlichung: 20. Jan. 2011
HD-Video ansehen
A.R.E.S.: Extinction Agenda kaufen
Pakete, die dieses Spiel enthalten
A.R.E.S. Complete Edition kaufen
Enthält 3 Artikel: A.R.E.S.: Extinction Agenda, A.R.E.S.: Berzerker Suit, A.R.E.S.: Original Soundtrack
Inhalte zum Herunterladen für dieses Spiel
Exklusives Steam-Angebot
Carbon Stealth Suit: (Yellow)

A light weight and non metal alternative to ARES traditional armor. Proves to be pleasing to the eye.

 

Indigo Pulse Suit: (Blue)

A prototype suit made of special materials discovered by United Earth which was estimated to be immune to Zytron Gas.
Über das Spiel
A.R.E.S.: Extinction Agenda ist das erste Kapitel in einem episodischen hardcore-action Seitwärts-Plattformer, in denen Sie die traditionellen Elemente von Retro-Klassikern wiederfinden und als Ares spielen, einem Kampfroboter dessen einziger Zweck es ist die Menschheit zu retten. Können Sie sich dieser Aufgabe stellen oder werden Sie in Ihre Einzelteile zerlegt werden?
Sie sind Ares, der erste Roboter, der gegen Zytron immun ist. Sie sind der fortschrittlichste Roboter dieser Zeit und ein Symbol zum technischen Fortschritt der Menschheit, gebaut um schnell zu rennen, hoch zu springen und augenblicklich zu feuern. Zusätzlich zu diesen Kernfähigkeiten beinhaltet Ihr Design ein System Rohstoffe und Ersatzteile in wertvolle Gegenstände, Rüstung und Waffen zu verwandeln. Sie werden all diese Dinge benötigen, um die Überlebenden in der von Zytron befallenen Weltraumstation zu erreichen und zu retten.
Eigenschaften:
Spielen Sie an unterschiedlichsten Schauplätzen im A.R.E.S. Universum, jeder einzelne wunderschöne, einzigartige, 3D Umgebungen mit herausfordernden Hindernissen.

sie sind die ultimative Waffe mit dem ultimativen Helfer – Sammeln Sie die geheimen Gegenstände und verbessern Sie Ihre ausrüstung und Fähigkeiten, um zur perfekten Waffe zu werden.

Stellen Sie sich Angesicht zu Angesicht kolossalen Gegnern, erlernen Sie deren Angriffsmuster und schlagen Sie sie im Gefecht.

Zerstören Sie feinde, sammeln Sie deren Überreste und recyceln Sie diese zu unglaublichen Gegenständen, inklusive Heilpaketen, Munition und Waffenupgrades.
Systemvoraussetzungen
Betriebssystem: Microsoft Windows XP, Windows Vista oder Windows 7

Prozessor: Intel Core™2 Duo Prozessor, AMD Athlon x2 Prozessor

Speicher: Windows XP:1 GB, Windows Vista, 7:2 GB

Grafik: NVIDIA GeForce 7600 Serien, ATI Radeon HD 2400 Serien

DirectX®: DirectX 9.0c

Festplatte: 300 MB

Sound: DirectSound kompatibel (DirectX 9.0c oder höher)
Hilfreiche Kundenreviews