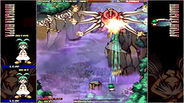 Lődd szét őket a Gundemonium Collection sorozat harmadik játékában.
Megjelenés dátuma: 27 Szept 2011
Nézd meg a HD videót
A játékról:
Lődd szét őket a Gundemonium Collection sorozat harmadik játékában. A Hitogata Happa-t minden idők egyik legnehezebb doujin stílusú lövöldözős játékának tekintik! Az első két résszel ellentétben a Hitogata Happa függőleges mozgású felfelé lövöldözős játék, a játékbeli akció pedig mindenféle fegyverzet olyan vizuális keveréke, ami teljesen túlterheli az érzékszerveidet. Egy a vidéket terrorizáló inváziós hadsereg fenyegetése miatt Rosa egy boszorka, Kreutzer mágiájához folyamodik, aki mágikus babák hadát bűvöli életre, melyek mindegyikének rendkívüli ereje és őrületes fegyverei vannak. Ezeket a babákat használva állj bosszút a betolakodókon, végigküzdve magad hat intenzív játékszakaszon. Válassz tizenkét (négy feloldható), saját speciális képességekkel rendelkező játszható karakter közül, és oldj fel titkos játékfunkciókat.
Fő jellemzők:
6 játékszakasznyi függőleges mozgású lövöldözős őrület

Kellemesen régies, retró, anime stílusú grafika

8 játszható karakter, és 4 feloldható karakter

2 feloldható speciális mód

13 Steam teljesítmény

Teljes körű online ranglisták

Új zenei anyag Woofle-tól
Rendszerkövetelmények
Operációs rendszer: Windows® XP, Vista, vagy Windows 7

Processzor: Intel® 1 GHz processzor (Ajánlott: 2 GHz)

Memória: 256 MB RAM (Ajánlott: 512 MB RAM)

Merevlemez-terület: 500 MB

Video: DirectX® 9 szintű videokártya

Hang: DirectSound kompatibilis hangkártya

DirectX®: DirectX 9 vagy magasabb
©2007-2011 Gundemonium Collection, Gundemonium Recollection, GundeadliGne, Hitogata Happa, ©Rockin' Android Inc. ©2007-2010 Platine Dispositif. Translation and localization are ©Rockin'Android Inc. The ratings icon is a registered trademark of the Entertainment Software Association. All other trademarks are properties of their respective owners. All rights reserved.
Hasznos vásárlói értékelések
Cím:
Hitogata Happa
Műfaj:
Akció
,
Indie
Fejlesztő:
Platine Dispositif
Kiadó:
Rockin' Android
Megjelenés dátuma:
27 Szept 2011
Nyelvek:
| | Felület | Hang | Feliratozás |
| --- | --- | --- | --- |
| Angol | | | |
| Francia | | | |
| Olasz | | | |
| Német | | | |
| Spanyol | | | |
| Japán | | | |
Mind a(z) 6 támogatott nyelv megnézése