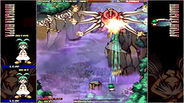 Shoot 'em up with the 3rd game in the Gundemonium Collection series.
Çıkış Tarihi: 27 Eyl 2011
HD Videoyu İzle
Hitogata Happa Satın Alın
Bu oyunu içeren paketler
Gundemonium Collection Satın Alın
3 ürün içerir: Gundemonium Recollection, Hitogata Happa, GundeadliGne
Oyun Açıklaması
Shoot 'em up with the 3rd game in the Gundemonium Collection series. Hitogata Happa is considered one of the hardest doujin style shooters ever! – Unlike the first two games, Hiitogata Happa is a vertical scrolling upward shooter, the action in this game is a visual mish-mash of weaponry that will give your senses a total overload. Threatened by an invading army who is terrorizing the land, Rosa enlisted the magic of a witch, Kreutzer – who has charmed her own army of magic dolls, each with extreme power and crazy weapons. Use these dolls to take revenge on the invaders as you blast through six, intense stages. Choose from twelve playable characters (four unlockable), each with their own special abilities, and unlock secret game features.
Key features:
6 stages of vertical-scrolling bullet insanity

Sweet old-school retro anime-style art

8 playable characters, and 4 unlockable characters

2 unlockable special modes

13 Steam achievements

Full online leaderboards

New arranged soundtrack by Woofle

Sistem Gereksinimleri
İşletim Sistemi: Windows® XP, Vista veya Windows 7

İşlemci: Intel® 1 GHz işlemci (Önerilen: 2 GHz)

Bellek: 256 MB RAM (Önerilen: 512 MB RAM)

Sabit Disk Alanı: 500MB

Ekran Kartı: DirectX® 9 seviyesi

Ses: DirectSound uyumlu ses kartı

DirectX®: DirectX 9 veya üstü
©2007-2011 Gundemonium Collection, Gundemonium Recollection, GundeadliGne, Hitogata Happa, ©Rockin' Android Inc. ©2007-2010 Platine Dispositif. Translation and localization are ©Rockin'Android Inc. The ratings icon is a registered trademark of the Entertainment Software Association. All other trademarks are properties of their respective owners. All rights reserved.
Yararlı müşteri incelemeleri
Başlık:
Hitogata Happa
Tür:
Aksiyon
,
Bağımsız Yapımcı
Geliştirici:
Platine Dispositif
Yayımcı:
Rockin' Android
Çıkış Tarihi:
27 Eyl 2011
Diller:
| | Arayüz | Seslendirme | Altyazı |
| --- | --- | --- | --- |
| İngilizce | | | |
| Fransızca | | | |
| İtalyanca | | | |
| Almanca | | | |
| İspanyolca | | | |
| Japonca | | | |
Tümünü gör 6 desteklenen diller