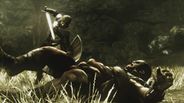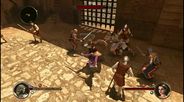 Uncover the mysteries behind the Templar Order! Steam Exclusive Edition includes bonus mission "The Arena".
Megjelenés dátuma: 2011. máj. 12.
Mind a(z) 2 előzetes megnézése
Steam exkluzív ajánlat
Special edition contains bonus mission "The Arena":
Caught by the vile Byzantine, you have to survive the perils of the Arena. Fight for your life, face the Gauntlet and stage your escape. Choose who will stand beside you as you confront the Byzantine and his minions.
A játékról:
A The First Templar két fő karakter történetét követi; egy francia Templomosét, és társáét, egy eretneknek kikiáltott nemes hölgyét. E két valószerűtlen szövetséges irányítását átvéve a játékosnak kell felfednie a Templomos Rend mögötti rejtélyeket, szerepet játszania egy nagy összeesküvésben, és felfedeznie a Szent Grál titkát. A hősök minden lépésnél erős ellenfelekkel, köztük szaracénokkal, IV. Fülöp francia királlyal, és az Inkvizícióval, kerülnek szembe.
A The First Templar mind egyjátékos, mind együttműködő móddal rendelkezik. Egyedül játszva a játékos válthat a két karakter között, a másik hős irányítását a játék MI-jére hagyva. A játékhoz bármikor csatlakozhat egy második játékos, átvéve az MI által irányított hős vezérlését.
Fő jellemzők
Kiterjedt történelmi játékvilág: Visszatérés a 13. századba, mikor az európai kultúra az összeomlás szélén áll. A játékos 20 történelmileg pontosan életre keltett helyszínt fedezhet fel Európa különféle tájain.

Egy játékos, több szerep: Azonnali váltás a játszható karakterek között, a feladathoz leginkább megfelelő képzettségre összpontosítva. Az együttműködő módba való szabad ki- és belépés lehetővé teszi, hogy egy barát segítséget nyújtson!

Gyors tempójú, akcióalapú játékmenet: Oldj fel ádáz kombinációkat, melyeket rászabadíthatsz a kihívást jelentő ellenségek hullámaira.

Szerepjáték inspirálta karakterfejlesztés: Mindkét karakternek egyedi képességei és képzettségfája van, melyeket a játékosok a játékvilág felfedezése során fejlesztenek.
Hasznos vásárlói értékelések