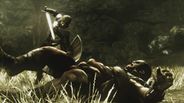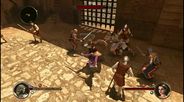 ¡Descubre los secretos que hay tras la Orden del Temple! La edición exclusiva para Steam incluye la misión adicional "La Arena".
Fecha de lanzamiento: 12 de May, 2011
Ver los 2 trailers
Oferta exclusiva de Steam
La edición especial contiene la misión adicional titulada "La Arena":
Estando retenido por el cruel Bizantino, deberás sobrevivir a los peligros de la Arena. Lucha por tu vida, enfréntate al Desafío y lleva a cabo tu fuga. Elige quién estará a tu lado mientras te enfrentas al Bizantino y a sus secuaces.
Acerca del juego
The First Templar sigue la historia de dos personajes: un templario francés y su compañera, una dama noble que ha sido acusada de herejía. Tomando el control de estos dos improbables aliados, el jugador deberá averiguar los misterios que hay tras la Orden de los Templarios, jugar un papel en una gran conspiración y descubrir el secreto del Santo Grial. A cada paso, los héroes se enfrentarán a poderosos enemigos, incluyendo sarracenos, el rey Felipe IV de Francia y la Inquisición.
The First Templar incluye modos para un jugador y cooperativos. Cuando juegue en solitario, el jugador podrá alternar entre los personajes, pasando el control del segundo héroe a la IA del juego. En cualquier momento, un segundo jugador podrá unirse y tomar el control del héroe controlado por la IA.
Características principales
Un extenso mundo de juego histórico: Regresa al siglo XIII, donde la cultura europea se encuentra al borde del colapso. 20 ubicaciones históricamente fieles de toda Europa han sido recreadas para que el jugador pueda explorarlas

Un jugador - Múltiples papeles: Alterna de forma instantánea entre los dos personajes controlables, centrándote en las mejores habilidades para la misión. ¡El modo cooperativo online permite que un amigo te eche una mano!

Un frenético juego basado en la acción: Desbloquea furiosos combos para utilizarlos contra las hordas de desafiantes adversarios

Desarrollo de personajes inspirado en los RPG: Cada personaje tiene destrezas y árboles de habilidades únicas que los jugadores pueden ir desarrollando a medida que exploran el mundo del juego
Análisis útiles de usuarios