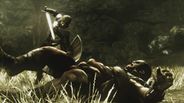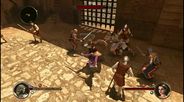 Découvrez les mystères de l'Ordre du Temple ! L'édition exclusive Steam comprend la mission bonus "The Arena".
Date de parution: 12 mai 2011
Regarder les 2 vidéos
Offre exclusive Steam
L'édition spéciale contient la mission bonus "The Arena" :
Capturé par les abominables Byzantins, vous devez survivre aux périls de l'Arène. Luttez pour votre survie, face aux défis et lors de votre fuite. Choisissez qui sera à vos côtés comme vous face à l'Empire byzantin et ses sbires.
À propos du jeu
The First Templar raconte l'histoire de deux personnages : un templier français et sa compagne, une noble déclarée hérétique. Le joueur doit découvrir les mystères de l'Ordre des Templiers, jouer un rôle dans la conspiration et percer le secret du Saint Graal. Les héros vont avoir à faire à des ennemis puissants : Sacracen, Philippe IV et la Sainte Inquisition.
The First Templar comprend un mode solo et un mode en coopération. En mode solo, le joueur peut passer d'un personnage à un autre. L'intelligence artificielle prendra le relais. Un second joueur peut joindre et prendre le contrôle à tous moments.
Comprend
Monde historique étendu : Le XIIIème siècle en Europe. 20 endroits recréés avec les données historiques à explorer

Un joueur, plusieurs rôles : Changez de personnages et utilisez celui qui aura la meilleure capacité pour remplir la mission. Aider un ami en participant au jeu quand vous le souhaitez

Jeu avec un rythme soutenu : Utilisez des combos pour combattre des adversaires en grand nombre

Personnage inspiré par le jeu de rôle : Chaque personnage à des capacités spécifiques qu'il pourra développer au cours du jeu
Évaluations intéressantes des utilisateurs