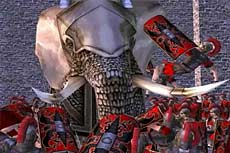 Bestuur en heers het grootste keizerrijk dat de mensheid ooit heeft gekend.
Releasedatum: 22 sep 2004
HD-video bekijken
Pakketten die deze game bevatten
Info over het spel
Als het Romeinse imperium eenmaal onder jouw bevel staat, is het nog geen tijd om het zwaard neer te leggen: de Barbaren komen eraan. Met twee prijswinnende titels van de gewaardeerde Total War-serie, zul je twee keer zoveel obstakels en mogelijkheden hebben om het grootst gekende rijk te controleren en te veroveren.
De Gold Edition bevat:
Rome: Total War
Leid een van de drie adellijke Romeinse families in een eeuwenlange missie om de heerschappij over het Romeinse Rijk te verwerven.
Rome: Total War - Barbarian Invasion
(officieel uitbreidingspakket voor Rome: Total War) Neem zelf de val van Rome waar als de Barbaarse hordes aanvallen, een bittere machtsstrijd tussen de rivaliseerde facties veroorzakend.
Verkozen tot het beste strategiespel van 2004 door IGN, GameSpy en GameSpot.

Vecht aan de zijde van of tegen de grootste leiders van de geschiedenis zoals Julius Caesar, Spartacus en Hannibal om het Romeinse Rijk uit te breiden of te vernielen.

Beleger de Romeinen als Attila de Hun, de angstaanjagende Saksen of andere woeste facties gebruikmakend van hun typische wapens en mogelijkheden.

Voer het bevel over strijdvaardige legioenen in cinematische en epische gevechten waarbij tegelijkertijd duizenden soldaten op het scherm te zien zijn.

Een eeuwenlange campagne waarin spelers strategisch moeten omgaan met de economische, burgerlijke, religieuze en militaire takken van hun rijk.
Systeemeisen
Minimum: Microsoft® Windows® 2000/XP, Pentium III 1.0GHz or Athlon 1.0GHz processor or higher, 256MB RAM, 2.9GB of uncompressed free hard disk space (plus 500MB for Windows swap file), 100% DirectX® 9.0c compatible 16-bit sound card and latest drivers, 100% Windows® 2000/XP compatible mouse, keyboard and latest drivers, DirectX® 9.0b, 64MB Hardware Accelerated video card with Shader 1 support and the latest drivers. Must be 100% DirectX® 9.0b compatible, 1024 x 768 Display Resolution, Internet (TCP / IP) play supported;Internet play requires broadband connection and latest drivers; LAN play requires Network card (Multiplayer)
Important Note: Some cards may not be compatible with the 3D acceleration features utilized by Medieval II: Total War. Please refer to your hardware manufacturer for 100% DirectX® 9.0b compatibility.
Nuttige klantrecensies